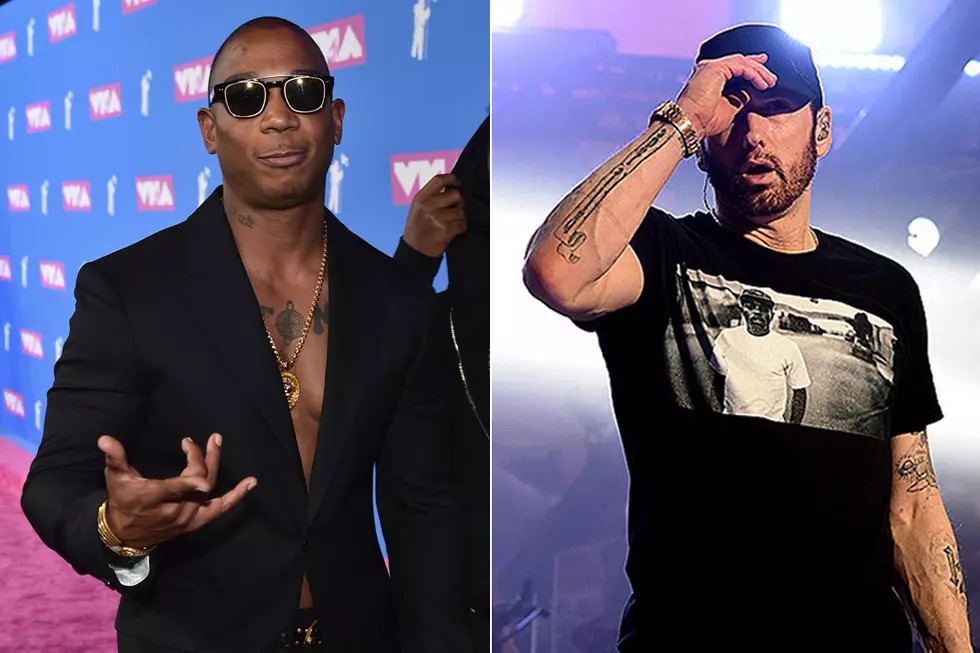 Ja Rule Claps Back at Eminem After 'Kamikaze' Diss
Mike Coppola / Kevin Winter, Getty Images (2)
Before jumping into Ja's response, though, let's take a look at what Em had to say about his rap game nemesis, whom he first started beefing with a result of the New York rapper's feud with his then newly minted Shady Records signee, 50 Cent.
"I hear you talking shit, I'm just too big to respond to it/God forbid I forget, go and jump out the window/Somebody better child-proof it/'Cause if I lose it we can rewind to some old Ja Rule shit," Em raps his Kamikaze track, "Greatest."
If you recall, Em fired at least one diss track at Ja 15 or so years ago, and at the time, the general consensus was that Em and 50 had won that beef. Ja was actually the person who appeared to start the beef on the Em end of things, mentioning Slim Shady's daughter, Hailie Jade Scott, in his 2002 diss track, "Loose Change."
"Em, you claim your mother's a crackhead/And Kim is a known slut/So what's Hailie gon' be when she grows up," Ja rapped at the time.
Replying to a tweet about Ja Rule's Em name-drop, Ja Rule referenced the ferocious set of lyrics aimed at Eminem's daughter Hailey. "Guess that Halie line must be starting to hit home," Ja wrote.
Check out Ja Rule's response tweets for yourself below. Listen to Kamikaze when you're done.
Here's the Ultimate Guide to Rappers With Acronyms in Their Name