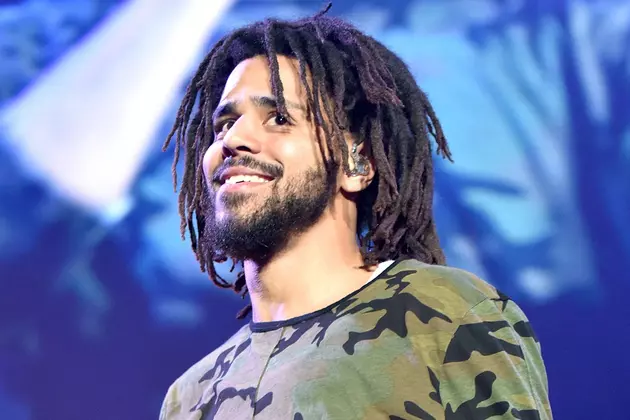 Fans Think Kill Edward Is J. Cole's Alter Ego on His 'KOD' Album
Scott Dudelson, Getty Images
Is J. Cole's new KOD album destined to join his 2014 Forest Hills Drive and 4 Your Eyez Only albums as projects that go platinum without features? The answer to that question depends on two things: one of them is the project's popularity and the other is whether or not you think Kill Edward, who is listed on Cole's newly revealed KOD tracklist as the only featured artist, is anyone other than Cole himself.
In a newly surfaced song called "Tidal Wave (just a little reference)," we hear a rapper by the name of Kill Edward spitting with distorted vocals. While the effects leave open the possibility that it isn't Cole rapping on the understated beat, plenty of fans have already concluded that the mystery of Kill Edward isn't one at all; the rapper is simply Cole's alter ego. XXL heads to Twitter to take a look at the conversation.
"Just searched Kill Edward in Spotify after seeing the album tracklist and this track seems to have been uploaded today, it sounds like Cole," wrote one curious Twitter user. "J. Cole's 'KOD' features kiLL edward. My first instinct said this is probably an alter ego. This year, an artist named kiLL edward released a song called "Tidal Wave (just a little reference)." Guess what? Voice is strikingly similar to Cole's," wrote another.
Other Twitter users have bypassed the whole curiosity thing entirely. "If anyone saw the track list for KOD and is wondering who kiLL Edward is... it's j. Cole lol," one such rap fan wrote.
If Kill Edward is Cole's alter ego, he is just the latest in what's been a lengthy history of rappers creating alternative personas for their projects. Logic's got Bobby Tarantino, Eminem's got Slim Shady—you get the deal.
Earlier today, the rapper revealed the cover art for the project along with the tracklist. At the top of the artwork, a disclaimer reads "This album is in no way intended to glorify addiction." The sentence relates to a painting of J. Cole dressed as a king as kids peak out from a robe he wears, indulging in their drug of choice. They appear to do different drugs like sniff coke and take Xans, and also drink lean. Skulls also appear under the robe as a sign of death. The cover plays on the album's three meanings that Cole previously revealed at his listening sessions: Kids on Drugs, King Overdose and Kill Our Demons. Cole shared the album's title in an impromptu New York City listening session on Monday (April 16.
Listen to "Tidal Wave (just a little reference)" and check out fans' bits of speculation for yourself in our gallery beneath that. Take a look at all we know about KOD when you're done.
 See Tweets From Fans Speculating on J. Cole's Alter Ego