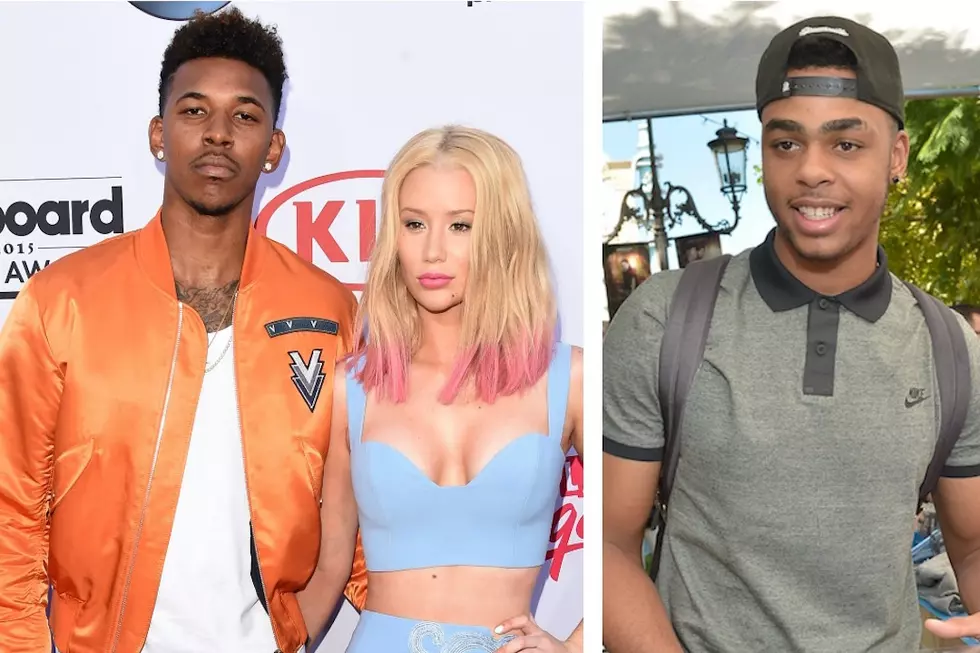 Iggy Azalea Thanks D'Angelo Russell for Recorded Video of Nick Young's Infidelity
Jason Merritt / Charley Gallay, Getty Images
The Los Angeles Lakers have used Kobe Bryant's farewell tour to mask what would otherwise be a disaster of a season, but according to recent reports, the Lakers and their shooting guard Nick Young are in for even rockier waters ahead.
A video has surfaced, allegedly filmed in secret by Lakers rookie D'Angelo Russell, of Young, who is engaged to Iggy Azalea, recounting his own infidelity. While the video no doubt will cause further fractioning within the Lakers locker room, there are further implications for Young and Azalea, the latter of whom acknowledged the video in a tweet published early Wednesday morning.
"Hmmm i see D Angelo Russell is trending..." the rapper wrote. "I actually liked his film. Thanks bro."
Iggy's vocal appreciation seems to suggest that she and Young are no longer on a shared path to the alter. Just last month, the couple appeared to be on different pages regarding their ceremony, with Iggy calling Young out for not wanting to spend any money.
In the video, which is included above, Russell, or whomever is recording, asks Young, or whomever is speaking, "You was 30, she was 19?" and later, "What about Amber Rose, you ain't never tried?" to which the subject of the video responds "She know my girl." Young, by the way, turned 30 last June, and there's no doubting that Rose, who is prominent within the hip-hop community and an ardent supporter of women everywhere, would tell Iggy of Young's advances.
Watch the video above with Iggy's tweet below. The Lakers are currently last in the Western Conference with a 15-59 record that isn't likely to improve with this latest development.
20 Great Albums From Female Rappers