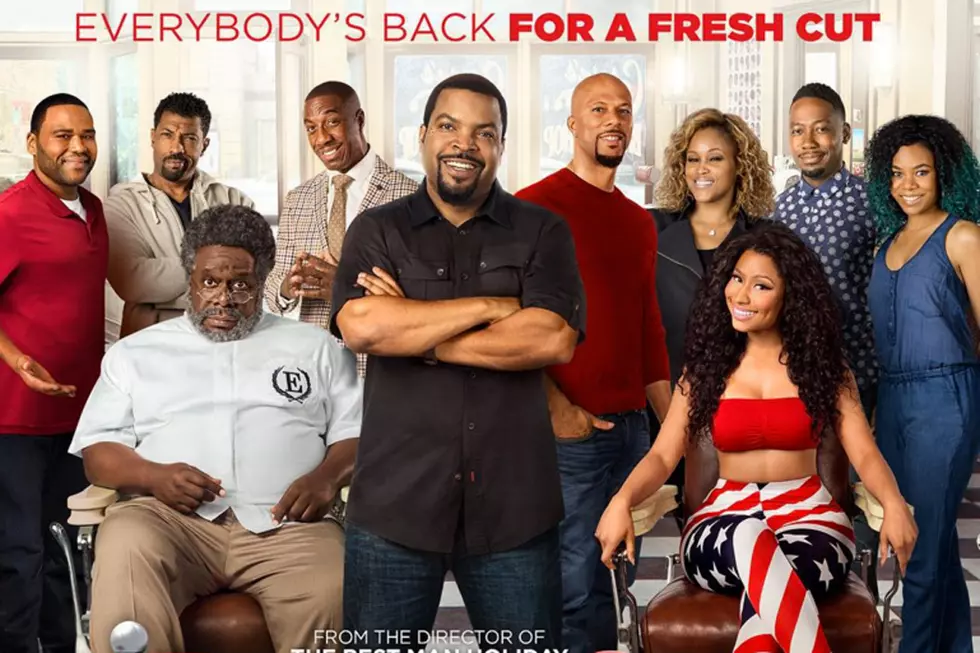 Ice Cube and Common Connect on New Song "Real People"
MGM Studios
With the premiere date of Barbershop 3: The Next Cut fast approaching, Atlantic Records and Warner Bros. Pictures has managed to bring together two legendary MCs for the occasion. Ice Cube and Common link up to look back fondly on their time in the rap game.
Cube and Common go verse for verse on the single, taking time to drop hints at their own former feud. "Me and that nigga, yeah we used to bring the funk/Now we got love and respect like a monk/Understand that we got a lot in common/Homie you in the same boat that I'm in," raps Cube in the first verse while Common chimes in with, "It's a good day when it's me and O'Shea/It's like the times we cheered for O.J/I say "Mike," Cube say "Kobe"/But ain't no more beef, I put that on chief/Blow, a little homie dead in the streets."
The legendary rappers opened up about the new track and how their rhymes were inspired by squashing their own beef back in the 1990s. On Common's 1994 track, "I Used to Love H.E.R.," the Chicago rhymesmith took shots at West Coast gangsta rap, saying it was bringing the quality of hip-hip down. This started a lyrical beef with Cube, one of gangsta rap's creators.
"We've been fans of each other from a far. Our beef happened because of a misunderstanding," explained Cube during an interview with Complex. Echoing his sentiments, Common added that "one thing I know is we got into hip-hop to elevate. There's no need for us to be on that level."
Cube also commented on the beef when he sat down with XXL back in 2010, for the anniversary of AmeriKKKa's Most Wanted.
"Somebody asked me about it a while ago so he might be commenting on what I said, but you know it was a big misunderstanding it wasn't even really no beef. I just misinterpreted one of his records, I spoke on it, he spoke back, [we] squashed it."
Barbershop 3: The Next Cut, which stars Cube and Common as well and Nicki Minaj, Eve and Anthony Anderson, debuts in theaters nationwide on April 15. Check out the new cut above.
See 40 Albums Turning 20 in 2016