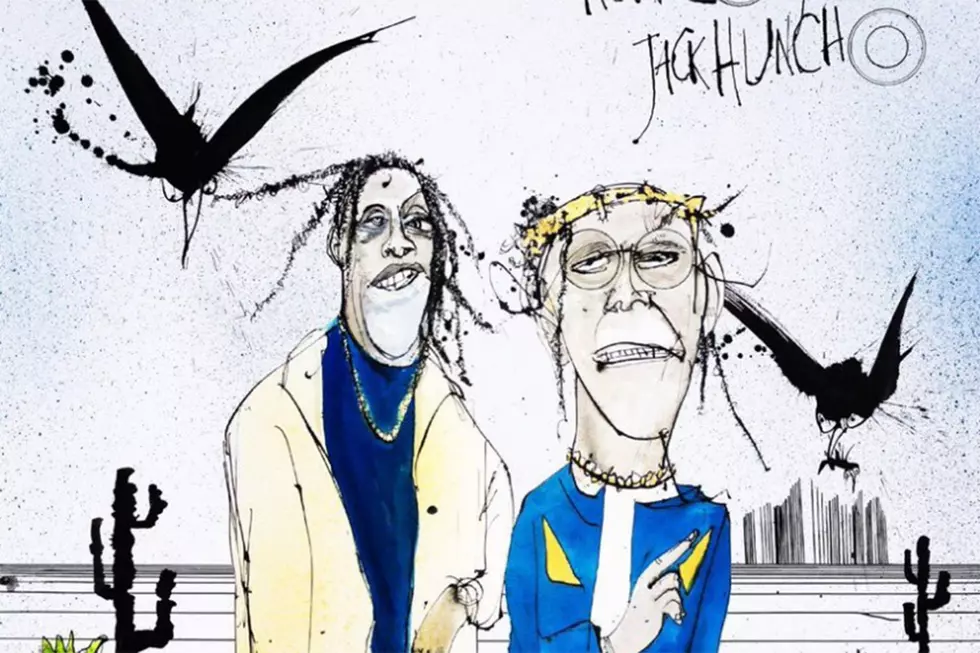 See Tracklist for Quavo and Travis Scott's 'Huncho Jack, Jack Huncho'
Epic Records
The 13-track project is light on features, only including guest appearances from Migos members Offset and Takeoff, but the tracklist features a number of eye-catching titles such as "Modern Slavery," "Black & Chinese" and "Saint Laurent Mask."
Along with the release date, La Flame also shared the album's abstract artwork, which was designed by famed illustrator Ralph Steadman. The artist is known for his work with journalist Hunter S. Thompson and is responsible for the artwork in Fear and Loathing in Las Vegas.
It's uncertain how the collaboration between Steadman, Quavo and Scott came to be, but the "Butterfly Effect" rapper thanked the illustrator on Instagram, writing, "My Man Ralph Steadman thank u. I Love u man thanks for being part of this ride."
While we have yet to hear any songs from the upcoming album, Quavo had previously teased the project, calling it the "biggest collab ever."
Check out tracklist and album cover below.
Quavo and Travis Scott's Huncho Jack, Jack Huncho Tracklist
1. "Modern Slavery"
2. "Black & Chinese"
3. "Eye 2 Eye" Feat. Takeoff
4. "Motorcycle Patches"
5. "Huncho Jack"
6. "Saint"
7. "Go"
8. "Dubai Shit" Feat. Offset
9. "Saint Laurent Mask"
10. "Moon Rock"
11. "How U Feel"
12. "Where U From"
13. "Best Man"
See Photos of Travis Scott's Different Looks Over the Years