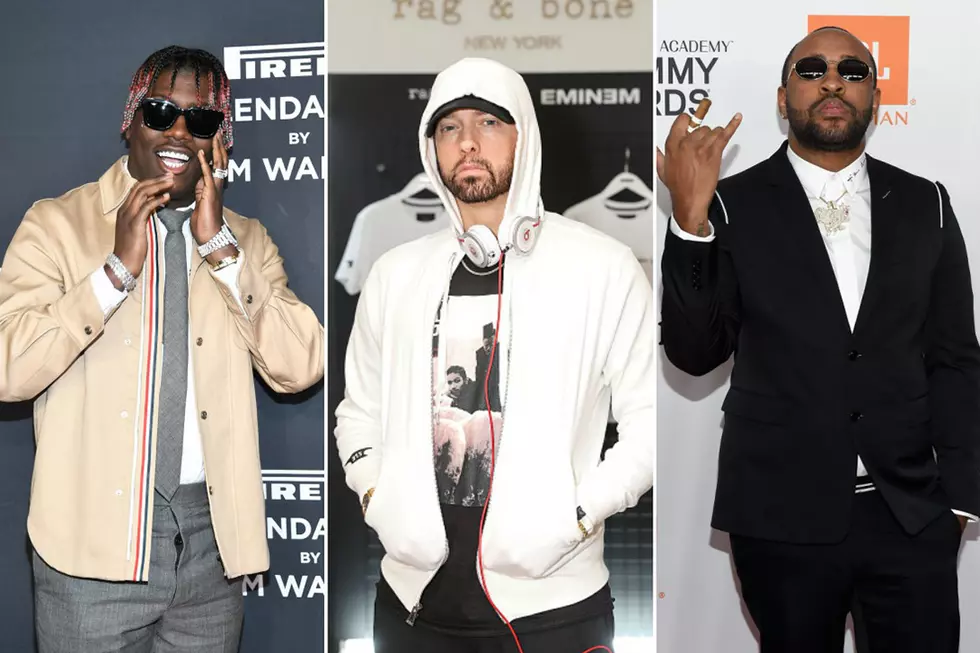 Hip-Hop Reacts to Eminem's 'Kamikaze' Album
Dimitrios Kambouris / David M. Bennett / Nicholas Hunt, Getty Images (3)
Eminem surprised everyone on Friday (Aug. 31) when he dropped his new album, Kamikaze. The 13-track project includes guest appearances from Joyner Lucas, Royce 5'9", Jessie Reyez and more and is already making headlines.
Joell Ortiz also showed love to the album on Instagram, referencing one of the skits on Kamikaze. "No Paul, you were wrong. This was a really good idea," Ortiz wrote in the caption of a screenshot of the song "Paul (Skit)."
Even rappers who were dissed on the album didn't have a problem with the project. "Lmao me personally I think it's fye Eminem took a shot at me.. I fuck wit Eminem," tweeted Lil Yachty.
But perhaps no artist had a better reaction to his name being referenced on Kamikaze than Hopsin. After Em rapped about inspiring the Hopsins, K. Dots, Logics and more on the songg "Fall," Hopsin jumped on Instagram to react.
"YO!!! @eminem thank you for acknowledging me on your song Kamikaze!! HOLY FUCK!! This is seriously the BEST FUCKING DAY OF MY FUCKING LIFE!!" he wrote. "Not even exaggerating! For years I always wondered if you even knew who I was! God damn! Literally. The. Best. Fuckin. Day. Of. My. Fucking. Life!!!! Period!"

Check out some of the best reactions below.