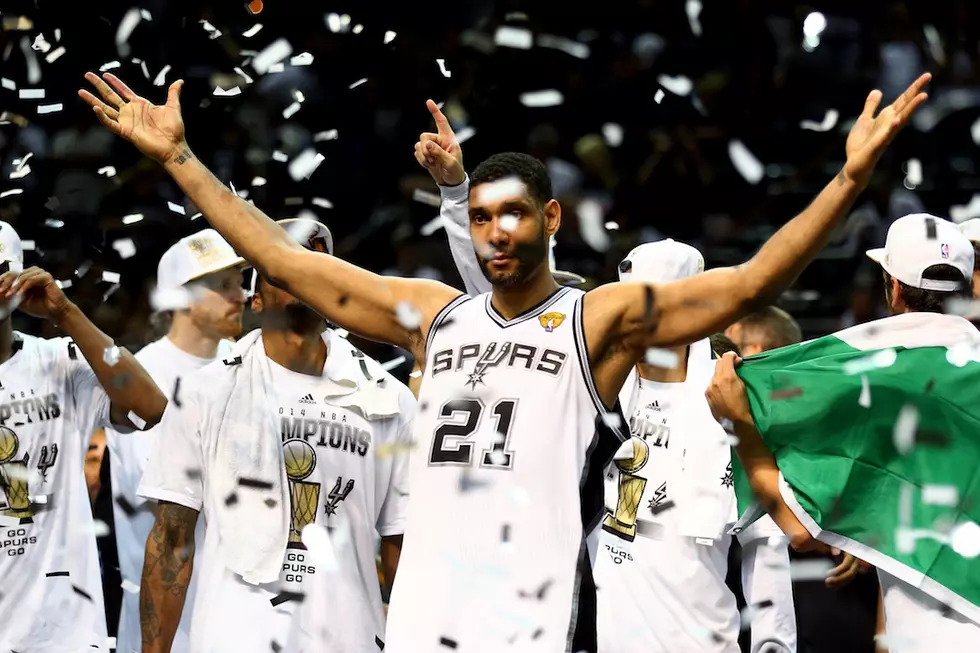 Hip-Hop Reacts to NBA Player Tim Duncan Retiring
Andy Lyons, Getty Images
Tim Duncan, who has won five NBA Championships with the San Antonio Spurs, is a 15 time All Star and is 14th in all-time scoring, has announced Monday (July 11) that he will retire after 19 seasons. Known for his quiet demeanor and commitment to winning, Duncan is widely considered the greatest power forward to ever play the game with some taking that claim further, including Duncan in the conversation for best ever, regardless of position.
While he may not have been the flashiest player or gone out with the same fanfare as Kobe Bryant, Duncan was a staple of the NBA and is receiving his proper respects from the hip-hop community. "Tim Duncan the most low key legend. I respect his hustle and as a fan I appreciate what he brought to the NBA," Rockie Fresh wrote. Chase N Cashe meanwhile shared the pain of seeing another great leave the game, writing, "Damn bruh this hurts me more than Kobe retiring cuz I saw more Tim Duncan games than Kobe games growing up down south."
Duncan and the Spurs last won a title in 2014, beating LeBron James and the Miami Heat. He was a two time NBA MVP, three time NBA Finals MVP, Rookie of the Year and was selected First Team All-NBA 10 times. Nicknamed the Big Fundamental, Duncan, more so than most, prioritized his team and winning above all else, transitioning into a supporting role as his career progressed past its prime. As the league moves faster and smaller, emphasizing three-point shooting, Duncan's decision to leave marks the changing of the guard in the Western Conference and league wide. Check out more reactions to the news of his retirement above.