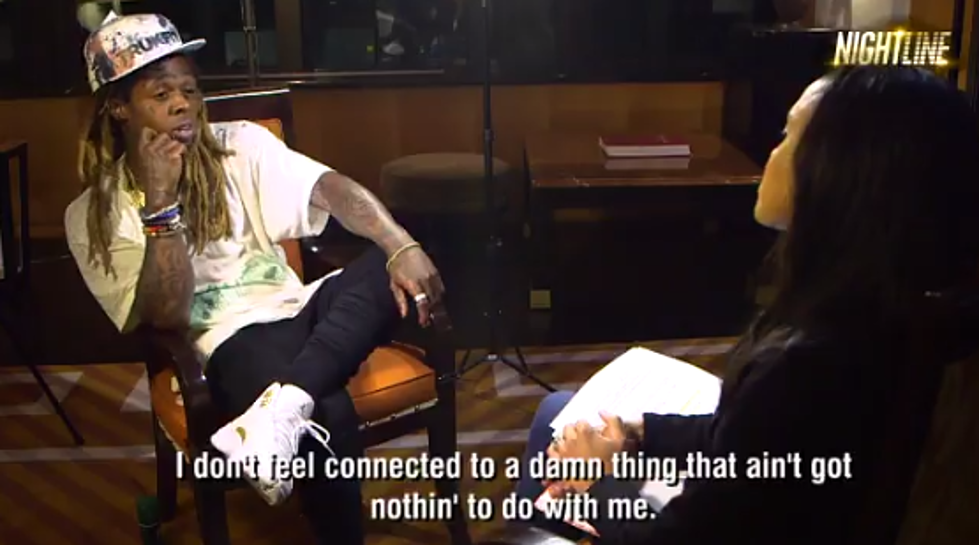 Hip-Hop Reacts to Lil Wayne's Comments on Black Lives Matter
ABC
Late Tuesday night (Nov. 1), Lil Wayne appeared on ABC's Nightline for a new interview. During the discussion, he was asked to give his thoughts about Black Lives Matter, and the answer he gave has caused a storm of controversy.
"What is it? What do you mean? That just sounds weird," he says about BLM. "I don't know, that you put a name on it…It's not a name, it's not, 'whatever whatever.' It's somebody got shot by a policeman for a fucked up reason."
"I am a young, black rich motherfucker," he continues in the clip. "If that don't let you know that America understand black motherfuckers matter these days, I don't know what it is. That man white, he filmin' me. I'm a nigga. I don't know what you mean, man. Don't come at me with that dumb shit, man. My life matter. Especially to my bitches."
By the end of the segment, he's taking off his mic and walking out of the interview. "I'm a gangbanger," he says. "I ain't no f*cking politician."
In the wake of his comments, people on Twitter have been reacting to what he said, trying to parse why Wayne would say such things, or why people are surprised. Some believe drug use played a part in what he said to say, while others simply believe he's never been socially conscious, despite songs like "Georgia Bush" signaling otherwise.
Royce da 5'9", 9th Wonder and Rico Love offered commentary while T.I. had the most vocal reaction to Weezy's comments. Taking to Instagram October 5, Tip proceeded to call Wayne out no–holds–barred. "This is my son & daughter showing me this for the first time & asking me what you mean?," captioned T.I. underneath a clip of Wayne's interview. "I'm at a complete loss of words here. Wayne I've known you over a decade. Our daughters grew up together practically. Reginae' spent countless times at my house with Niq-Niq when you were in prison & you extended my daughter the same courtesy when I was in the same position. Our relationship outside of music is what makes me sensitive to your disposition. I KNOW you wired a bit different than most other responsible adults, but still nigga U TRIPPING!!!! I don't know what you goin thru,or what you are attempting to avoid but this shit is absolutely unacceptable!!!! You're disrespecting yourself,bringing shame on your family name & tarnishing your legacy. You have children (including mines prior to now) that have looked up to you. You have sons & a daughter that depend upon your leadership. Bro if you don't stand for something out here,all the money,jewelry,cars,mansions bandannas & hit records don't mean shit!!!! Our people are being oppressed!!! We are being hunted,captured & slaughtered out here daily!!! You have to get outta that bubble that you've been living in & get out here & educate yourself on what's going on around US!!! I'm always here to share whatever knowledge or understanding I may have to assist your growth & development,but u MUST STOP this buffoonery & coonin' you out here doin. You looking like somebody who has something to gain or lose by pretending like it's not as bad as BLM making it seem & you're not aware of an issue that needs to be addressed. That's what would be considered "Uncle Tom Shit".... I know U,YOURE BETTER THAN THIS!!!!! I've been proud to call myself a fan & a friend of Lil Wayne ,but if that must end in order to stand up for those who can't do it for themselves...So be it. If you're not prepared for a question in an interview,say No Comment Bro. But stop embarrassing yourself & everyone out here who's been supporting you. There is no middle ground. Oppression knows no neutral party, either you're part of the oppressed, or you with the oppressor. There is no such thing as oppression not affecting you. It's #USorELSE out here," he concluded.
See what hip-hop had to say at length in the gallery above.