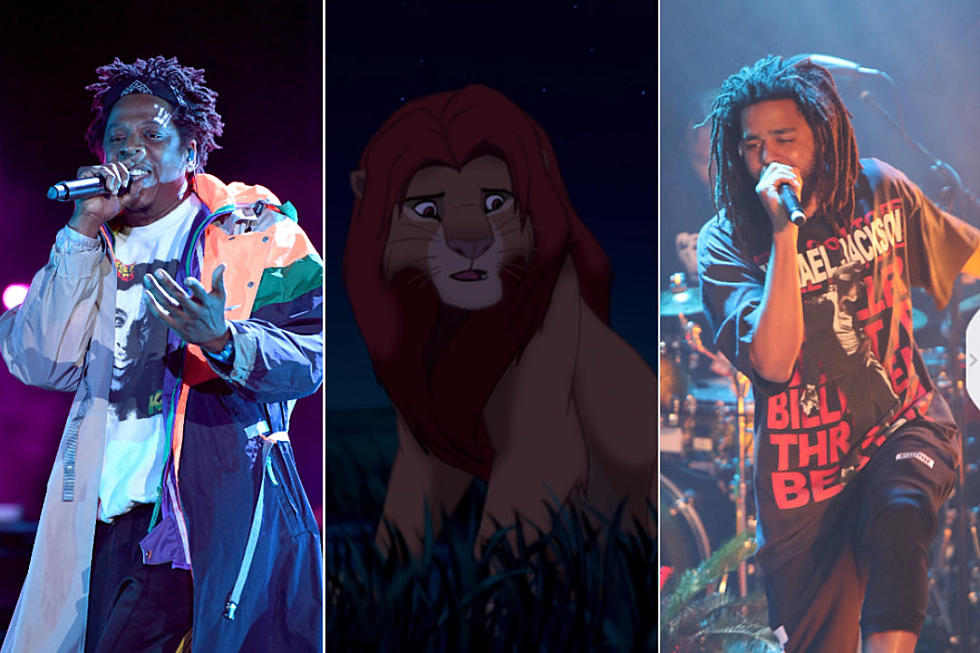 20 Hip-Hop Lyrics That Reference 'The Lion King'
Craig Barritt / HaSanMDD via YouTube / Cassidy Sparrow, Getty Images (3)
The heartwarming 1994 Disney classic The Lion King is regarded as one of the greatest cartoon films of all time and, truth be told, your favorite rapper is probably a fan.
While rappers tend to show off their bravado by name-dropping movies of a more gangsta ilk, The Lion King has gotten tons of lyrical love over the years from MCs young and old.
One of J. Cole's earliest tracks to make noise was the ambitious single "Simba" in 2007, named for the movie's lead character. He would later follow-up with the tracks "Grown Simba" (2009) and "Return of Simba" (2011).
XXL Freshman alum Lil Dicky even has a song titled "The Lion King" from 2013, on which he entertainingly retells the cartoon's legend from the thug's perspective.
"Hard place and a rock, Mufusa caught up in between that/That's his brother but that brother was a mean cat," he raps, recounting the infamous death of Mufasa at the hands of his brother Scar. "And when he threw him off the ledge/Simba couldn't believe that that motherfucker dead/Tears being shed/Scar got up in his head/More dread for the boy, so he ran away and fled."
Smino also has a track titled "L.M.F (Lion Mufasa)" where he continuously references the children's tale.
With Lion King hype again at a fever pitch, XXL compiles a list of hip-hop tracks that reference the classic cartoon.
"Apeshit," The Carters

Reference: Rafiki, 'The Lion King'

"I'm a gorilla in the fuckin' coupe/Finna pull up in the zoo/I'm like Chief Keef meet Rafiki—who been lyin' "King" to you? (woo)" —Jay-Z

"That's a Rack," Lil Uzi Vert

Reference: Simba

"My ice game got cold, got sicker/I'm a Leo like lion, I'm Simba"

"Eggs Aisle," Mac Miller

Reference: 'The Lion King'

"Yeah I'm here, self-claimed deity/Cryin' during The Lion King, that's just the G in me"

"Freaks," French Montana Featuring Nicki Minaj

Reference: Mufasa

"Passa Passa, you ain't got no wins in mi casa/Big fat pussy; Mufasa" —Nicki Minaj

"Oochie Wally Freestyle," J.I.D

Reference: Simba, Pride Rock

"Got my nine cocked, Simba standing on Pride Rock/Poppin' a couple shots at the eye of a cyclops"

"Get Em High," Kanye West Featuring Talib Kweli and Common

Reference: Simba

"With a pimp cup, illiterate nigga/Read the infrared across your head, I'm bred king like Simba" —Common

"How Great," Chance The Rapper Featuring Jay Electronica and Nicole Steen

Reference: Simba, Mufasa, Hakuna Matata

"I was lost in the jungle like Simba after the death of Mufasa, no hog, no meerkat/Hakuna Matata by day, but I spent my night time fighting tears back" —Jay Electronica

"Sideline Story," J. Cole

Reference: Simba

"Not cause my looks, cause my hooks could knock Rocky out/And my lines is designed from the heart/Young Simba been a lion from the start"

"Wait," Chris Brown Featuring Trey Songz and The Game

Reference: 'The Lion King'

"Gotta cold, hit a dose, I'm your doctor/Pink house like a copper, man, I cop the chopper/Lion King in that thing, Mufasa" —Chris Brown

"Real Nega," JPEGMafia

Reference: Rafiki

"Beat 'em like Rhythm Roulette/You niggas scared of the god, bitch, keep that shit on the net/I treat your bitch like Rafiki, I raise the K like a kid"

"The Return," Logic

Reference: Mufasa

"Fuck a rap beef, I promise I want all of y'all to prosper/But deep down you know it's only gon' be one Mufasa"

"What Kind of Love," Childish Gambino

Reference: Simba, Nala

"You like to call me koala/I'll be your Simba, you're Nala/Wherever you go I'll follow"

"Alphabet," Lil Wayne

Reference: Mufasa

"Ooh, she ask me 'What's the reason for the chopper?'/Girl, it's a jungle out there, ask Mufasa"

"Lost Souls," Ski Mask The Slump God Featuring Rich The Kid

Reference: Simba

"I fuck ya bitch when I'm bored (I fuck yo' bitch when I'm—)/Because you drive an Accord (Because you drive)/I am not Simba, but when I do fuck that bitch/I greet that bitch with a roar (Rrr!)" —Ski Mask The Slump God

"Track Two," Ab-Soul

Reference: Nala

"Can't lose, you niggas must admire defeat/You lyin' like Nala, nigga, you know where to find a nigga"

"Dolce and Gabana," Riff Raff

Reference: Mufasa, 'The Lion King'

"Suit made by Cavali/Diamonds on my piece and chain looking like Mufasa/Look like Lion King/Drive a Sebring"

"Holy Ghost," Desiigner

Reference: Mufasa, Simba

"'Stafa, I be feelin' like Mustafa, hey/My son is Simba niggas, call 'em finish hittas"

"Keep It Goin,'" Young Thug

Reference: 'The Lion King'

"I put on my ice and they liking this/Fuck her fast, nitrogen, nitrogen/Roar, bitch, Lion King, Lion King"

"Smuckers," Tyler The Creator Featuring Kanye West and Lil Wayne

Reference: Simba

"We ain't lyin', we the truth, call him Simba, beats his hooves/Tyler, The Creator sweatin' Jesus juice" —Tyler The Creator

"Welcome Back," Polo G

Reference: Simba

"Emotions out of place, head not right, I was traumatized, I was bitter/Moving through that jungle, trynna get back home just to run the land like I'm Simba"