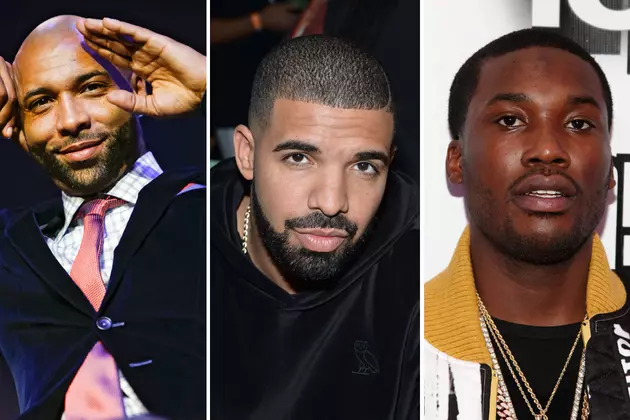 Here Are Hip-Hop's Best Diss Tracks of 2016
Brian Ach / Grant Lamos IV / Taylor Hill, Getty Images (3)
Rappers flexed their lyrical muscle through diss tracks in 2016. So much so that it's kind of surprising when you look back it. The range of the diss records goes from the absolutely weird to the straight up disrespectful to subliminal haymakers.
The most high-profile lyrical beef that carried over from 2015 is Drake and his rap rival Meek Mill. In January, a few hours after the OVO leader dropped his new record "Summer Sixteen," featuring a subliminal jab at Meek and fellow Toronto native Tory Lanez. Then Meek released the first part of his 4/4 EP, which contained the "I'm the Plug Freestyle," a diss record aimed at the man up North. The Philadelphia MC followed up with another diss, "War Pain," off the second installment of his 4/4 EP.
But this wasn't Meek's only beef this year. The Game also had a war of words with him. Things came to a boiling point when the Compton rapper said Meek implicated him while speaking with LAPD regarding the robbery of Sean Kingston's jewelry. They began to trade diss records and Beanie Sigel got involved when he appeared on Meek's diss towards The Game. Beans later turned heel and dissed Meek on wax, not one, not two, but three times.
SpaceGhostPurrp versus Denzel Curry, Joe Budden against Drake and Lil Wayne dissing Bridman every chance he got are just a few of the examples of rappers vocally addressing their issues.
XXL took a look a back at the year to collect the diss records that dropped in 2016. Keep in mind, we did stay away from ambiguous records by MCs who weren't explicitly clear about their target. So no, Andre 3000's verse on Frank Ocean's "Solo (Reprise)" wouldn't count even though most people think the OutKast member may be shooting a jab at Drake. Take a look at some of the best disses the game had to offer this year.
Meek Disses 50 Cent and Drake on "I'm the Plug (Freestyle)"

Meek Mill Disses Drake on "War Pain"

Denzel Curry Disses SpaceGhostPurrp on "(RIP Yams) SpaceGhostPussy"

SpaceGhostPurrp Disses Denzel Curry on "End Of Stan 2″ and "(Training Day) The End of Denzel"

Joey Bada$$ Disses Troy Ave on "Ready"

Troy Ave Disses Joey Bada$$ and Capital Steez on "Bad Ass"

Blac Youngsta Disses Young Dolph on "Shake Sum"

Drake Disses Joe Budden on "No Shopping"

Joe Budden Disses Drake on "Making a Murderer Part 1"

Drake Disses Joe Budden on "4 PM in Calabasas"

Joe Budden Disses Drake on "Wake"

The Game Disses Meek Mill on "92 Bars"

Meek Mill, Beanie Sigel, Omelly and Tak Diss The Game on "OOOUUU (Remix)"

The Game Disses Meek Mill and Beanie Sigel on "Pest Control"

Drag-On Disses The Game on "Game Time Freestyle"

Lil Wayne Disses Birdman on Solange's "Mad"

Beanie Sigel Disses Meek Mill on "I'm Coming"

Beanie Sigel Disses Meek Mill Again on "Goodnight"

Beanie Sigel Drops Third Meek Mill Diss "Gang Gang"

Drake Disses Pusha T and Kid Cudi on "Two Birds, One Stone"

Soulja Boy Disses Quavo on "Beef"

Drake Disses Meek Mill and Tory Lanez on "Summer Sixteen"

Danny Brown Disses Iggy Azalea on "Atrocity Exhibition"

Mickey Factz Disses Joe Budden on "Eye Witness"

Ab-Soul Disses Jay Electronica on "RAW (Backwards)"

Pusha T Disses Drake and Lil Wayne on "H.G.T.V. (Freestyle)"

Lil Wayne Disses Birdman on "Grateful"

J. Cole Disses "Lil" Rappers on "Everybody Dies"