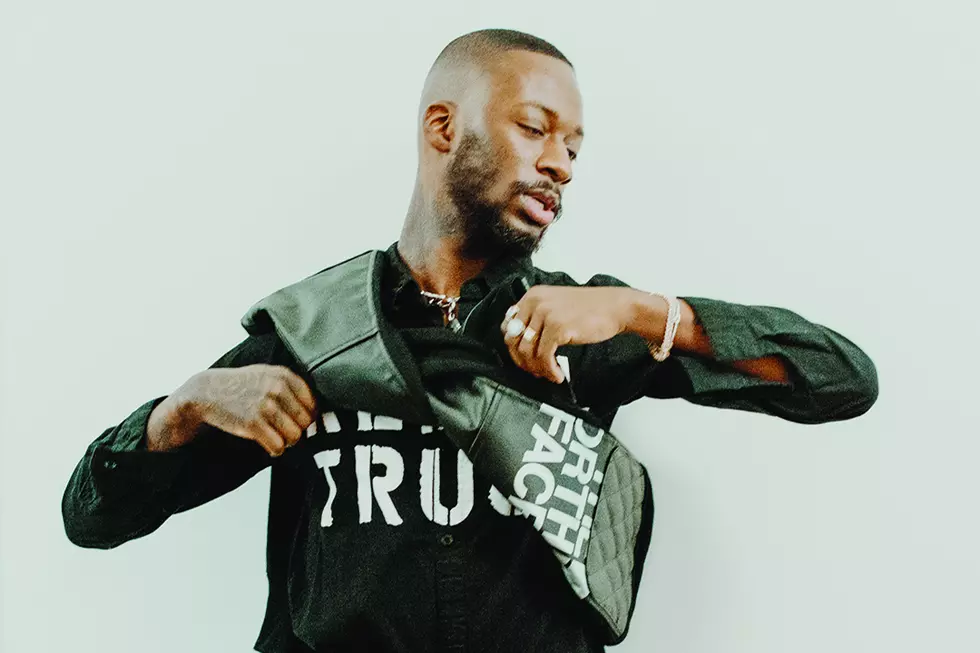 GoldLink Grows Into His Newfound Stardom
Oliver Matthew
No Limit
GoldLink has found his groove, and now it's time for everyone to fall in line.
Words: John Kennedy
Editor's Note: This story originally appeared in the Spring 2018 issue of of XXL Magazine, on stands now.
GoldLink remembers the moment he realized his career had reached a loftier plateau. In August 2017, the Washington, D.C. native popped up for a surprise performance during singer Khalid's tour stop at The Fillmore, a venue in Silver Springs, Md., just minutes away from his native stomping grounds. His breakout hit "Crew," featuring DMV comrades Shy Glizzy and Brent Faiyaz, had been out for nearly seven months but it was just beginning to really swelter. And when GoldLink took the stage to perform, the audience let him know.
"It went crazy, girls were crying and yelling—I couldn't even hear the song," the 24-year-old rapper remembers months after the show over the phone from Washington, D.C. "At a fucking Khalid show. I felt ['Crew'] grow from doing it earlier when [the response] was like, OK, and then going to do a show and you're that nigga. The excitement and everything I've done now is increased."
The Grammy-nominated "Crew" is to blame for much of the recent fanfare around GoldLink, but the man born D'Anthony Carlos has put in his 10,000 hours. After releasing two well-received mixtapes—2014's The God Complex and 2015's And After That, We Didn't Talk—GoldLink dropped his excellent debut album, At What Cost, last March. The project served as a coming-of-age expression of triumph and trauma in D.C., a story that's especially important as gentrification and the demise of go-go threaten the city's cultural tapestry.
Now that GoldLink has encapsulated the experience of growing up in his city, he's focused on continuing to stake his claim far beyond The Beltway. The rapper sat down with XXL to speak about the incredible success of At What Cost, leading a talented new generation from the DMV and the André 3000 collaboration that the world may never hear.
XXL: What's been on your mind lately?
GoldLink: The state of music. It's in an oddly surreal place—a good place. Artists like Kendrick Lamar, Wale, J. Cole, Big Sean, it's almost like watching those dudes become Jay-Z and Nas. It's like watching the artists that we grew up with taking victory laps because their legacy is solidified. Then it's dope seeing me, SZA, H.E.R., Daniel [Caesar], Vince [Staples], Isaiah [Rashad], Post [Malone], [Lil] Uzi [Vert] and all of these new kids coming in and solidifying themselves. Down to Rae Sremmurd. Now we're doing 6,000 tickets, 10,000 tickets, doing our thing and taking the role of what they did while they're doing victory laps.
These past couple years have definitely been pivotal ones for hip-hop.
That's true. The Grammys this year looked like a SoundCloud playlist, low-key. It was definitely a rule-breaking year. It's kinda dope to be part of it.
When you think back on 2017, what comes to mind?
A lot of things have changed. Putting out the new record, everything kind of snowballed; it was so many things happening one after the other. We did Coachella, then our own tour and sold out at least 97 percent of that. Then we did Europe and we sold out 99 percent of that. Taz Arnold, an older cat in the industry, told me, "You guys look at this industry ladder all wrong. You might look at Kendrick and these guys like, 'God, they're so far ahead' when they're not. Y'all are all relatively close." That's what really started giving me perspective. We keeping up with ticket sales of a lot of these cats, cementing ourselves in culture. We're louder than we think we are.
What do you remember about how "Crew" took off to become such a beloved song?
Doing Coachella, we just had a video and it just started going. It was doing really well at an up-and-up pace. You feel like a good amount of people know [the song]. Five months later, everyone knows it; it's everywhere. It took time to go gold, but then it took less than a month and a half to go platinum. I hear it on the radio no matter what state or country. It just seemed like I got approached a lot more. It's weird to explain, but I didn't really watch it grow; I felt its growth. It happened in a matter of months, not on some like Desiigner "Panda" bullshit; it was real-life organic growth. It got deeply rooted in culture and it grew like a tree.
What's the magic of that song? Did you know immediately that it was a special one?
Yeah, absolutely. It was just the effortlessness of the song that makes it so special. It's organic—three niggas from one area and a nigga [Teddy Walton] that nobody knew who made the beat. We did what felt right. Then the video wasn't no props, no paid actors. It was a bunch of niggas I knew, niggas on bikes like, "Hey, pull up." People felt that. That's why it was so special.
People felt the album, too. What does the execution and success of At What Cost mean to you?
It means a lot to me. Believe it or not, at concerts some records go off more than "Crew" does. At What Cost was the first [time] I did something that felt 100 percent right. It was making something that was for us, [for] the DMV area. I just kept it raw and told stories about everybody's life through my eyes and how it went down with me. To see that translated over to so many other people was dope to me. It's a good feeling because it's honest art. We still have tours off the strength of the honesty of me making a very local record.
It comes across as an ode to the DMV area, from the features like Mýa and Wale to the stories you're telling. Was that something you always wanted to do on your first album?
Yeah. I always wanted to make sure that I was in the position and I was the right person for the job. I had to get to a certain point, not just in my career but in my maturity. In my experience of being an artist, to feel like I was comfortable enough to be able to be the spokesperson for the newer generation. Like, Wale did a great fucking job. It's just the newer version of the story.
What let you know that you were in the right space to do that?
I don't know, you just kinda feel like all the stars are lined up and it feels right. And it was so effortless. The easiest part was the words, the hardest part was to see how it would sound all together. That's how I knew it felt right.
There are a lot of different emotions on At What Cost: the feeling of being young and wild, love, lust, hopefulness and hopelessness. How do you think those moods and emotions all tie together?
It's just about being from where we from and being young. It was the mindset of how it was. It was fun, dangerous, cool, lusty, loving. It was dope. I just kinda evoked all the emotions that I felt when I was here growing up. Thought I was in love with a girl, get in a fight over a bitch, go to the go-go, get killed, ride on the train [and] might get smoked. The feeling of being there and too much shit going on. You're like, "Man, am I really even gonna live through this bitch?" All of that shit. I just evoked that emotion, so that's how it all correlated. That's how it really felt being here at times.
Was there anything that you wanted to do on the album that didn't work out?
Yeah, there's a couple records that I lost with a lot of dope people. I had an André 3000 record that I lost due to complications behind the scenes. That was a major one. I lost some Kaytranada beats. I lost another record for Starrah. So it was some really dope-ass shit that would've coexisted really well. I had to replace them with weaker tracks, which is fine because of time's sake. It worked out the way it was supposed to work out. If I had too many things lingering around "Crew," I don't think "Crew" would've been able to shine. Then other things started to jump off the tape and shine the way that they're supposed to. I feel like everything is part of God's plan.
Has the climate of D.C. changed much since Donald Trump became president?
Yeah. Maybe it's because we're older and more aware. I'm 24 years old, so the last eight years of my life before last year [I] had a Black president. I was like 15, I couldn't even vote, so I don't know how equipped I am to talk about this. [But] I don't really think that has nothing to do with D.C. How the streets move, it's been moving the same way. No president really affected that. I was broke as shit when I had a president that was Black. The same ol' shit.
Gentrification has more directly affected the city. What is it like seeing the way the demographics of D.C. has shifted?
It's changed a shit ton, barely looks the same. It's weird that in the last 10 years it changed that much and I'm not even that old. You can literally see imprints of your old neighborhood. It's the exact same building, just with a Whole Foods on it. It's like ghosts. The people aren't the same—they died or went to jail. The go-go era and all that shit died. It took a lot of the soul out of the city. We still have it but they took a lot out of us. You never know what's gonna change.
Is the DMV area supportive of its own?
It's more supportive than it's ever been. It was a point in time when niggas was not fucking with niggas at all, and that's why nobody made it out this bitch. We was banging on other niggas off of the strength of neighborhoods and all types of other shit. We ain't give a fuck about putting our city on. As time allowed itself, a lot of niggas started coming together and making shit—the art scene started thriving. We never had an art scene in D.C. until [the] last six years of niggas doing better for themselves. Now we have Diet Starts Monday, we have fucking Future Sports, we have installations of shit that the natives are making for the people and it's starting to become more creative. Even for me, it's like, D.C. first. If that's not support, I don't know what the fuck is. DJs played it, the radio supported it, we did what we could. They didn't have to do that shit. It took time, yeah, I'd definitely say it wasn't supporting us all the time because I'd be fucking lying. But, when we had something with a little bit of push and they started seeing how it worked, the people pushed that shit. That changed shit around here. If it's not unity, it's a really big step in the right direction.
See Photos from G-Eazy and 21 Savage's XXL Magazine Spring 2018 Cover Shoot