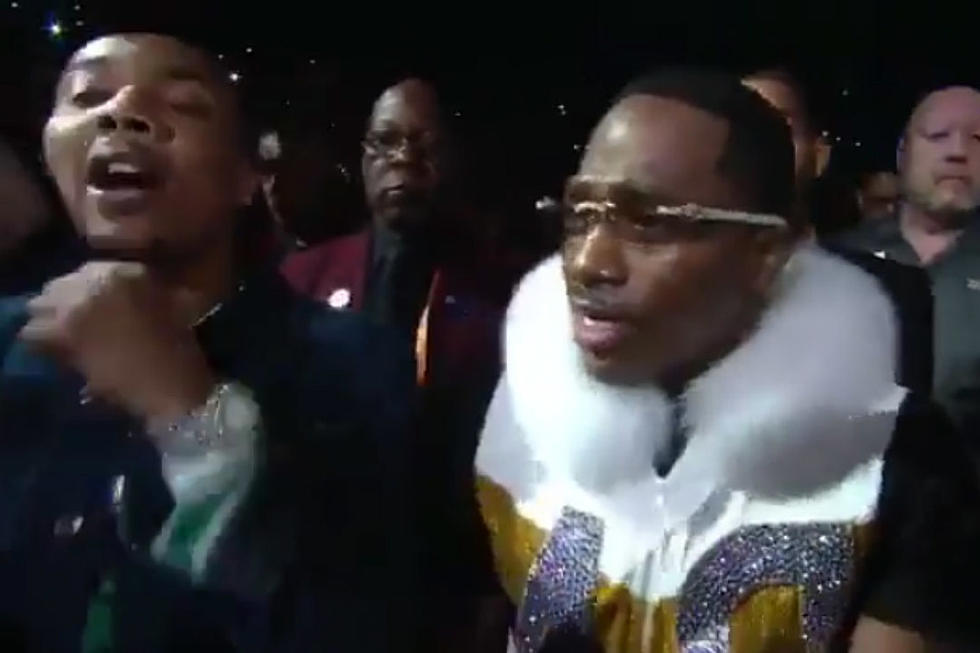 G Herbo Walks Out With Adrien Broner for Boxing Match Against Manny Pacquiao
KingsOfMemphis_Media via Instagram
Adrien Broner and Manny Pacquiao rumbled on Saturday night (Jan. 19) in a bout for the welterweight world title at the MGM Grand Garden Arena in Las Vegas. As with everything AB does, he had to do a little something extra. For his walk to the ring, Broner employed G Herbo and a group of dancers to entertain the crowd.
Broner, rocking a bedazzled boxing robe, and No Limit Herbo excitedly marched to the ring for the bout. The Chi-town MC hyped the fighter up with his "Who Run It (Remix)" track, while dancers wearing neon outfits busted out choreographed dance moves.  Unfortunately, Herbo was not a good luck charm as Broner was defeated by unanimous decision in front of a sold-out crowd. The judges scored the fight 117-111, 116-112, 116-112.
Herbo ran into a holdup while trying to catch his flight to the fight. On Friday (Jan. 18), the rapper posted video on his Instagram Story that showed him being searched by TSA at the Phoenix, Ariz. airport. The agents seemed intent on counting the rapper's money stack, which pissed off Herbo.
"He not counting it, he skimming through the money," a frustrated Herbo says in the video. "I travel with hundreds of thousands of dollars. I travel with so much money and this never happened. Why y'all pulling me over? This probably $10,000, this not even no money. I got over 200,000 flight miles. My flight leave at 2:20, y'all bout to have me miss my flight."
See G Herbo escorting Adrien Broner to the ring for his boxing match against Manny Pacquiao below.
Go Behind the Scenes With G Herbo at 2016 XXL Freshman Class Cover Shoot