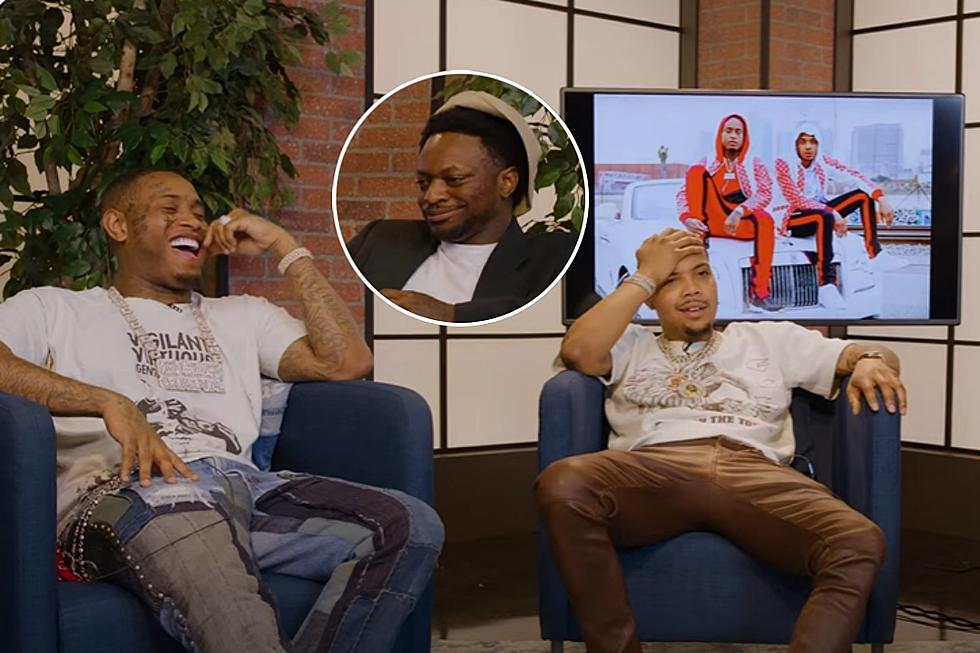 G Herbo and Southside Face Backlash for Super Awkward Interview With Comedian Funny Marco
Open Thoughts/YouTube
G Herbo and producer Southside are facing backlash for their awkward new interview with comedian Funny Marco.
G Herbo and Southside's Interview on Open Thoughts
On Sunday (Oct. 15), Open Thoughts with Funny Marco shared its latest episode with frequent collaborators G Herbo and Southside. The duo appeared to be in troll mode throughout the entire interview, mostly deflecting Funny Marco's shtick of asking zany questions. At times they ignored questions altogether. At one point, G Herbo threw a cup at Marco before making amends. Marco later revealed that the duo broke his $30,000 watch in a deleted scene.
Fans React to Interview on Social Media
After clips from the interview began making rounds online, fans reacted to the cringy sit-down on social media.
"Why did G Herbo and Southside go on Funny Marco show to act like that?? I'm so disgusted," one user on X, formerly known as Twitter, posted.
"G Herbo and Southside was a little too disrespectful in that interview with Funny Marco," someone else posted.
"I'm not a fan of g herbo and idk who southside is, but what they did to funny Marco was really evil," another post reads. "I really feel for him, because you're trying to be professional while these grown men bully you ? Very sick."
Funny Marco Reacts to Backlash
On Monday (Oct. 16), Funny Marco reacted to backlash for the new interview on Facebook.
"I understand a lot of y'all mad about the interview," he wrote. "I was upset while it was going on but I understand I got a job to do & one thing about me I respect people on my show. I didn't want to match they Energy it's so many L's I took on my Journey I wish I could show I don't hide anything so I feel it was only right to put the episode out myself. and just learn from that episode & move on. Thank who support me it's a mindset thing."
Southside Speaks Out
Southside has since defended himself on social media.
"This why I stay off this s**t, because no matter what it is, n***as make me the bad guy on this muthaf**ka when it comes to whatever," Sizzle vented in an Instagram video. "Y'all n****s stop being p**sy. Stop throwing rocks and hiding y'all hands, bro. That go for rappers. That go for comedians. That go for moguls. That go for whoever. I'm on n***as a**, I don't want to hear that s**t."
"For a n***a to get on there and say he scared, you a h*e. You ain't have to put it out, h*e-a** n***a," Southside continued. "Herb wasn't even doing nothing. Herb ain't do nothing to the man. It just is what it is. That's how them folks play. It's cool for a n***a to get on there and say slick s**t to n***as all day and do what they do. Or call a n***a for an interview and you don't know what kind of day a n***a having. Come do an interview and you will say some wig off the wall s**t. Come on, bro. Don't do that."
Watch the episode of Open Thoughts with G Herbo and Southside below.
See Reactions to G Herbo and Southside's Interview on Open Thoughts
See Unnecessary Hip-Hop Beefs That Never Should've Happened
50 Cent vs. Fat, Meek Mill vs. Drake and more.