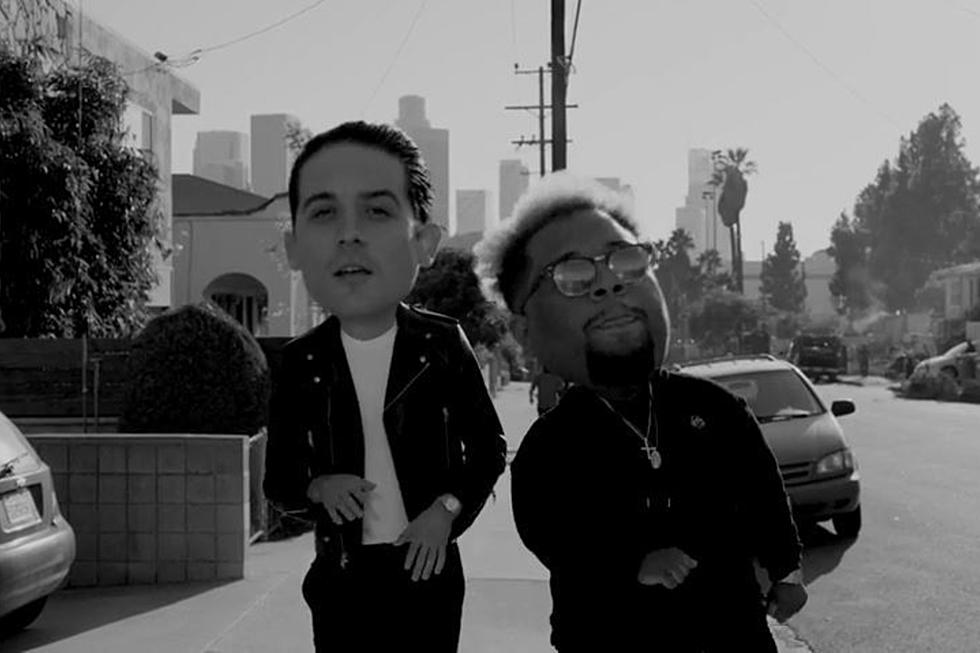 G-Eazy and Carnage Release "Guala" Video, Share 'Step Brothers' EP Cover
G-Eazy via YouTube
G-Eazy is teaming up with producer Carnage for an EP titled Step Brothers. Ahead of its release, the tandem drops a music video for the project's lead single "Guala."
The video sees the two roaming around downtown Los Angeles with giant heads. Carnage portrays his alter-ego Thirty Rack, who rhymes alongside G-Eazy on the track.
"Guala, guala, guala, guala/I'm living like it's no tomorrow/Don't loan my style, won't let you borrow/You thirsty, have a glass of water/I'm killing these beats, there'll be more dead/I put my dick on her forehead/Less conversation and more head/Emergency, this is a code red," G-Eazy raps.
G-Eazy's work with Carnage adds to his growing list of collaborations in 2017. The Bay Area rapper recently linked up with Kehlani for a song on The Fate of the Furious soundtrack. He also teamed up with the legendary Raekwon, who spoke to XXL about how their collaboration "Purple Brick Road" came to be.
"One day, I was in the studio recording 'Purple Brick Road,' and I was thinking about who the fuck can fit the record and the next thing you know, we started throwing some names out and the names weren't sticking," Raekwon said. "I went home later that night I started thinking of more rappers and G-Eazy came to mind. I knew he would body this track because I've been checking him out on the low radar tip, and the next thing you know, I called him, sent over the track to him and he sent it back in 24 hours and I was like, bet. He just went in on the track and made the record crazy."
Watch G-Eazy and Carnage's "Guala" video below and check out the cover artwork for their Step Brothers EP, which drops on March 31.
20 of Your Favorite Rappers Naming Their Favorite Rappers