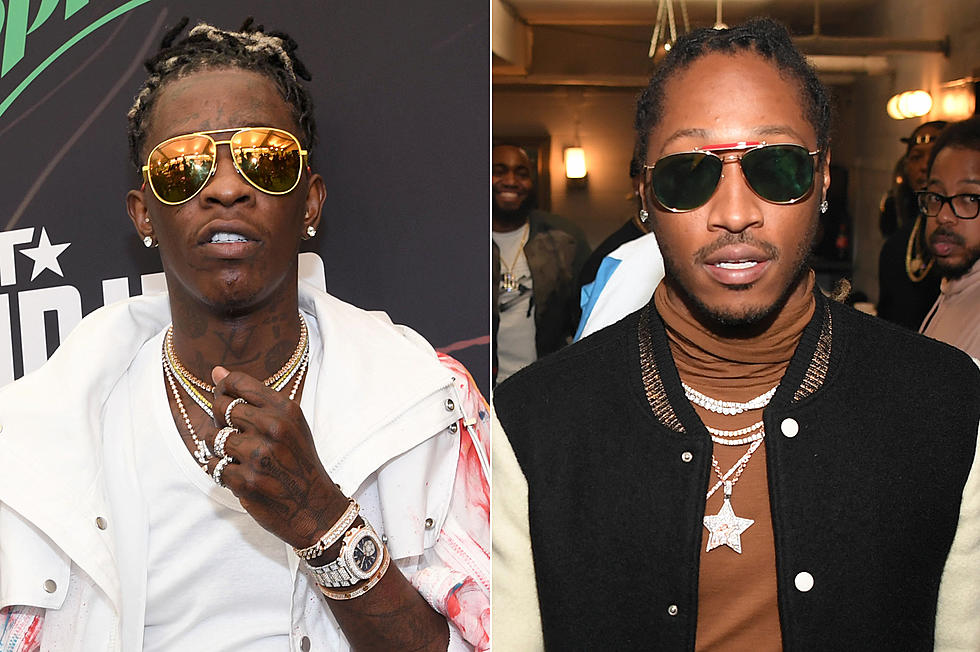 Future and Young Thug Bury Beef to Record New Music Together
Paras Griffin/BET / Prince Williams, Getty Images (2)
Future and Young Thug might have had their little skirmishes in the past via social media, but it looks like that's behind them now, judging by the footage above.
Thug's excellent producer Wheezy (you know his work from Barter 6 and the first two Slime Season tapes) posted a couple videos of himself in the studio with Future, Thugger and DJ Esco in a California studio last night, and the footage features snippets of a new collab from the two Atlanta rappers. Whether we'll ever hear it, only they know, but seeing how Future and Thug had a record on Esco's latest Esco Terrestrial mixtape that dropped just last week, there's a good chance they might make the track public sometime soon. Wheezy also previewed a snippet of Future spitting over some of his production on a different song.
Future and Thug's public tension played out on Twitter months ago, soon after Future announced EVOL. Thug tweeted about a certain artist who needed to slow down with "all that BS music" and Future snapped back, "Yo bitch wish u was me...in real life." "Yo family/team wish u was me lil nigga," wrote Thug in response.
Future and Thug's collab also features production from C4, one of the producers behind "Thief in the Night," and it turns out the song is the exact same one we showed you on Twitter weeks ago. We can't wait to hear this record.
The 27 Best Albums of 2016 So Far