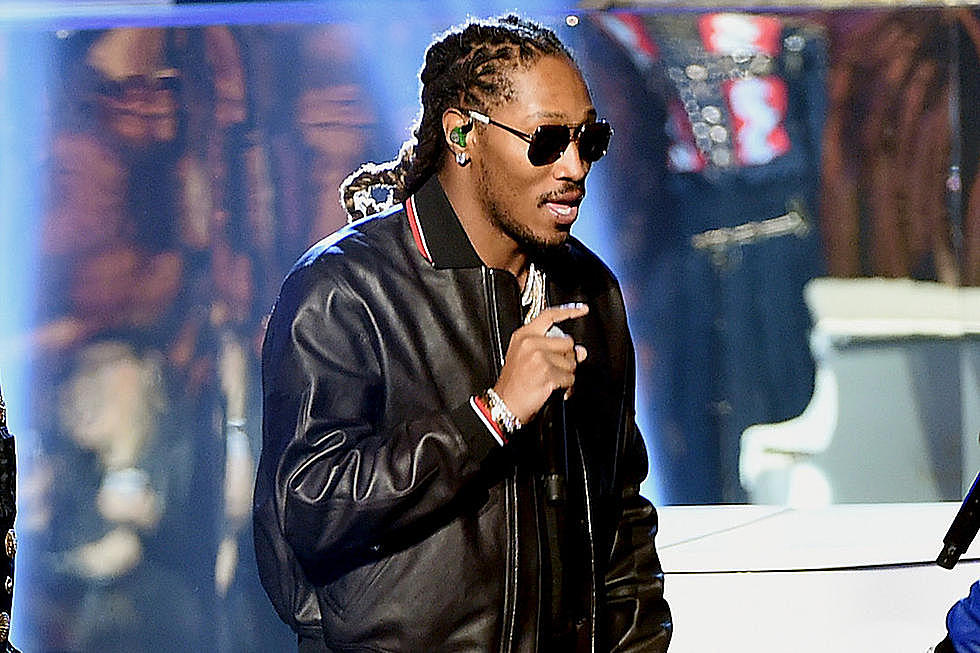 Future May Drop a New Album for NickiHndrxx Tour
Kevin Winter, Getty Images
Not only that—but the tour tickets themselves may have been what gave it away. Fans purchasing tickets for shows in Denver, Houston, Kansas City and Las Vegas noticed that they included an album bundle for Nicki's newest effort Queen, and "a physical CD of Future's forthcoming album (TBA)."
The first of those shows is Nov. 2, so perhaps Future isn't planning on dropping the album until midway through the North American leg of tour. That would certainly be a disappointment to fans at earlier shows, though—so hopefully if there is a new album on the way, he'll unleash it before the tour kicks off on Sept. 21 in Baltimore, Md.
The two plan to have three artists join them on the tour, and announced recently that 6ix9ine would be one of them. His placement makes sense in the context of his new collab with Nicki, "FEFE," that has quickly shot up the charts.
The tour is primed to be a huge success for all the artists involved, and a new Future album would definitely draw in even more fans. Peep all the dates for the tour below.
Nicki Minaj and Future's NickiHndrxx Tour Dates
Sept. 21 – Baltimore, Md.
Sept. 23 – Washington, D.C.
Sept. 26 – Detroit, Mich.
Sept. 28 – Chicago, Ill.
Sept. 29 – Cincinnati, Ohio
Oct. 1 – Toronto, Canada
Oct. 2 – Buffalo, N.Y.
Oct. 4 – Boston, Mass.
Oct. 5 – Uncasville, Conn.
Oct. 7 – Newark, N.J.
Oct. 11 – Brooklyn, N.Y.
Oct. 14 – Raleigh, N.C.
Oct. 16 – Charlotte, N.C.
Oct. 19 – Miami, Fla.
Oct. 20 – Orlando, Fla.
Oct. 23 – Memphis, Tenn.
Oct. 28 – Nashville, Tenn.
Oct. 30 – New Orleans, La.
Nov. 1 – Dallas, Texas
Nov. 2 – Houston, Texas
Nov. 4 – Kansas City, Mo.
Nov. 6 – Denver, Colo.
Nov. 9 – Portland, Ore.
Nov. 10 – Seattle, Wash.
Nov. 16 – San Jose, Calif.
Nov. 17 – Sacramento, Calif.
Nov. 20 – Los Angeles, Calif.
Nov. 24 – Las Vegas, Nev.
Feb. 21, 2019 – Munich, Germany
Feb. 22, 2019 – Bratislava, Slovakia
Feb. 24, 2019 – Lodz, Poland
Feb. 25, 2019 – Budapest, Hungary
Feb. 28, 2019 – Berlin, Germany
March 1, 2019 – Copenhagen, Denmark
March 3, 2019 – Oslo, Norway
March 4, 2019 – Stockholm, Sweden
March 6, 2019 – Brussels, Belgium
March 7, 2019 – Paris, France
March 9, 2019 – Bordeaux, France
March 11, 2019 – London, England
March 14, 2019 – Birmingham, England
March 15, 2019 – Dublin, Ireland
March 17, 2019 – Glasgow, Scotland
March 18, 2019 – Manchester, England
March 20, 2019 – Esch-sur-Alzette, Luxembourg
March 22, 2019 – Frankfurt, Germany
March 23, 2019 – Cologne, Germany
March 25, 2019 – Amsterdam, Netherlands
March 27, 2019 – Zurich, Switzerland
March 28, 2019 – Geneva, Switzerland
See Photos of Future's Different Looks Over the Years