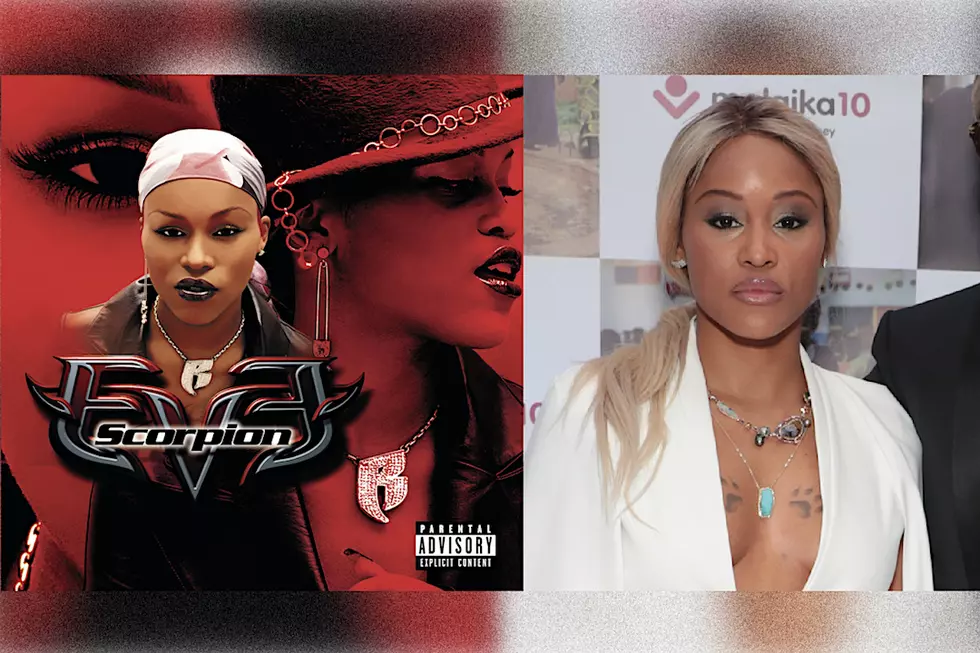 Eve Drops Scorpion Album – Today in Hip-Hop
Ruff Ryders/Interscope Records/Cindy Ord/Getty Images
XXL celebrates 50 years of hip-hop with this moment:
March 6, 2001: On Eve's 1999 debut album, Let There Be Eve…Ruff Ryders' First Lady, the self-proclaimed "pitbull in a skirt" proved she could hold her own among her masculine Ruff Ryders labelmates DMX, the LOX and Drag-On. Two years later, on this day in 2001, Eve released her second album, Scorpion, and showed that she was a vital force in hip-hop.
Riding off the success of her first album, Eve returned with her follow-up LP Scorpion, which is in reference to the Philadelphia rapper's zodiac sign, Scorpio. The 16-track project amassed two crossover hits for her: "Who's That Girl?" and "Let Me Blow Ya Mind."
"Who's That Girl?", produced by Teflon, was Eve's breakout single from the LP. Over a horn blast sample from Demphra's reggaeton hit "Ya No Soy Tu Mujer," the Philly rhymer explained why she's the best rapper in the game. The girl-power anthem skyrocketed to No. 4 on the Billboard Rap Songs chart.
Her second single, "Let Me Blow Ya Mind," featuring Gwen Stefani, elevated her into the mainstream popularity. Co-produced by Dr. Dre and Scott Storch, the funk-pop song peaked at No. 2 on the Billboard Hot 100 chart and earned her first Grammy Award for Best Rap/Sung Collaboration in 2002.
"I got told that that song would not work, that people would be like, 'Why are these two chicks together?'" Eve recalled to Glamour in 2021. "I was like, 'Look, let's try it. If it sucks, no one ever has to hear it.' But of course, it didn't. I knew it wouldn't. Thank God. And you know, I won a Grammy. That was my first Grammy."
The confidence and strength Eve exhibited on Scorpion carried over to her successful careers in fashion, film and television.
Watch Eve's "Let Me Blow Ya Mind" Video Featuring Gwen Stefani Below
See Women Rappers Who Made Hip-Hop History