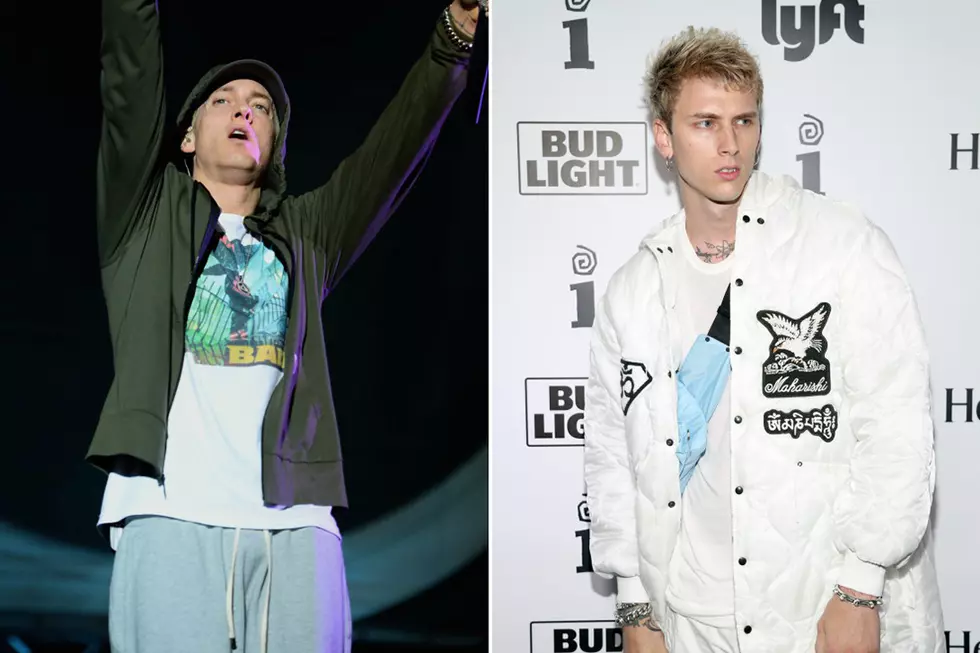 Eminem Teases the Real Reason Behind His Machine Gun Kelly Diss
Theo Wargo / Cassidy Sparrow, Getty Images (2)
Eminem is finally gearing up to respond to Machine Gun Kelly's "Rap Devil" diss, but first, the Detroit spitter will reveal the real reason why he felt inclined to throw shots at MGK on the Kamikaze track "Not Alike."
"You know you go down the wormhole of YouTube and whatever, right?" Eminem said. "So I see, 'Machine Gun Kelly talks about Eminem's daughter' or whatever, right? So I'm like, 'What the f***?' I clicked on it."
Em claims MGK then began doing a press run that was basically about Hailie, which angered him even more. "Then he starts doing a press run, basically, about Hailie. I'm like, 'What the fuck?" Eminem continues. "Yo, my man better chill.' So, that's not why I dissed him. The reason I dissed him is actually a lot more petty than that. Now I'm in this fuckin' weird thing, because I'm like, 'I've got to answer this motherfucker.'"
The interview with Sway cuts off just before Eminem reveals the reason for his diss but a part two for the sit-down is teased. A release date for the second half of the interview has yet to be unveiled.
On "Not Alike," Em doesn't make any references to his daughter but does bring up MGK throwing shots at him on "No Reason" by Tech N9ne. "This little cock-sucker, he must be feeling himself/He wants to keep up his tough demeanor/So he does a feature, decides to team up with Nina/But next time you don't gotta use Tech N9ne/If you wanna come at me with a sub, Machine Gun/And I'm talking to you, but you already know who the fuck you are, Kelly," Eminem raps.
While fans wait for the second half of the video, Em has also teased a music video for one of Kamikaze's standout tracks, "Lucky You" featuring Joyner Lucas. According to a tweet from Shady, the video is scheduled to drop at 1 p.m. EST today (Sept. 12).
Check out Eminem's interview with Sway below.
See Hip-Hop Fans Name The Most Disrespectful Diss Track of All Time