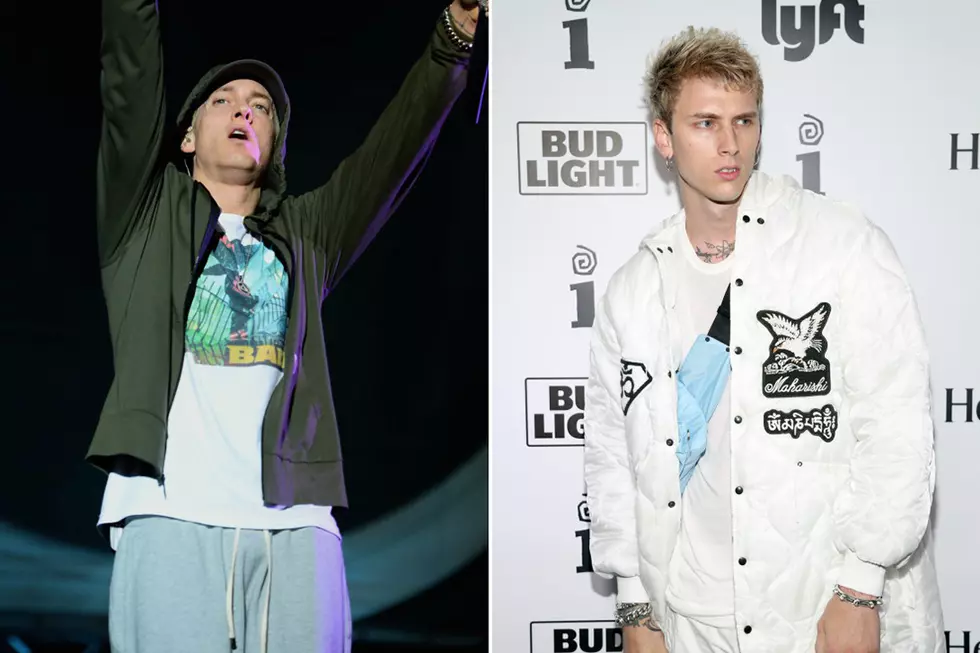 Hip-Hop Reacts to Eminem's "Killshot" Diss Aimed at Machine Gun Kelly
Theo Wargo / Cassidy Sparrow, Getty Images (2)
On the new track, Em does more than the most, dissing MGK while suggesting that Diddy had Tupac Shakur killed. "Killshot, I will not fail, I'm with the Doc still/But this idiot's boss pops pills and tells him he's got skills/But Kells, the day you put out a hit's the day Diddy admits/That he put the hit out that got 'Pac killed, ah," Em spits.
"@eminem, how dare you accuse diddy of killing tupac while you completely look pass jimmy iovine and those who profited from his death the MOST," tweeted Elect. "You best tread carefully Son, before i come tear your ivory tower down like Sulaiman done the Templar Knights. #ripProof."
In another interesting name-drop, Em references Iggy Azalea, rapping, "Got you at your own wake, I'm the billy goat/You ain't never made a list next to no Biggie, no Jay/Next to Taylor Swift, and that Iggy hoe, you about to really blow."
While Em didn't speak on Iggy in the most flattering of ways, the Australian rapper didn't seem to take the name-drop personally. Instead, she served up a quick critique of Marshall's bars.
"Diss songs shouldn't be filled with celebrity name drops to pad out lazy bars," Iggy said in one tweet before posting another that she was just being objective. "Also let's talk about why it's lazy now; but wasn't in the earlier work. The earlier stuff was crazy, twisted and creative.
This stuff feels more like picking names that fit easily into a rhyme scheme. ‍♀️"
In a predictable note, 50 is all for Em's diss, tweeting, "Don't act like you didn't know this would happen oh my what have you got yourself into. get the strap #lecheminduroi @Eminem."
Check out the whole spectrum of reactions to "Killshot" in the gallery below.
See Rappers React to Eminem's "Killshot" Diss Aimed at Machine Gun Kelly