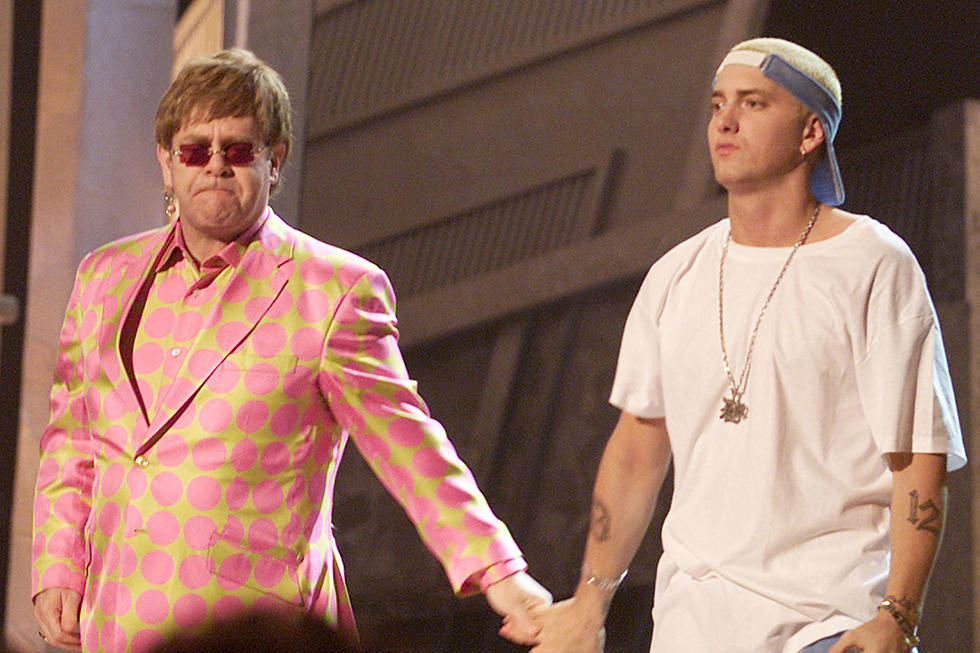 Elton John Recalls the Wedding Gift Eminem Sent That Proved He Wasn't Homophobic
Kevin Winter, Getty Images
Just about 17 years ago, Eminem sent shockwaves through the world of pop culture when he, a perceived homophobe, took the stage with the openly gay Elton John to perform a modified version of The Marshall Mathers LP cut "Stan" at the 2001 Grammy Awards. Now, the legendary singer/songwriter says he and Em are great friends to this day, recalling a wedding gift he feels proved the rapper wasn't homophobic.
Speaking on The Graham Norton Show just a few days ago, the U.K.-based singer revealed that he recently interviewed Em for a magazine and also went into detail about the special gift Slim Shady sent him, though this isn't the first time Elton has discussed the present.
"For my marriage—when David and I did our civil partnership—I got this package from Eminem that shows you how homophobic he isn't," Elton John begins. "We had two diamond-encrusted cock rings on velvet cushions. And I have to say they have remained unused."
Em is currently gearing up for the release of Revival, which will be his first album in over four years. To begin promoting the project, the Detroit legend released "Walk on Water," a Beyoncé-assisted track that marked the project's first single. Skylar Grey helped write the song, which she speaks to XXL about in a new interview. The track finds Eminem reflecting on his place in the rap game while exorcising his writer's block demons. Revival is all set to drop on Dec. 15.
See Elton John remember the special wedding gift Em copped for him in the video below.
See New Music Releases for December