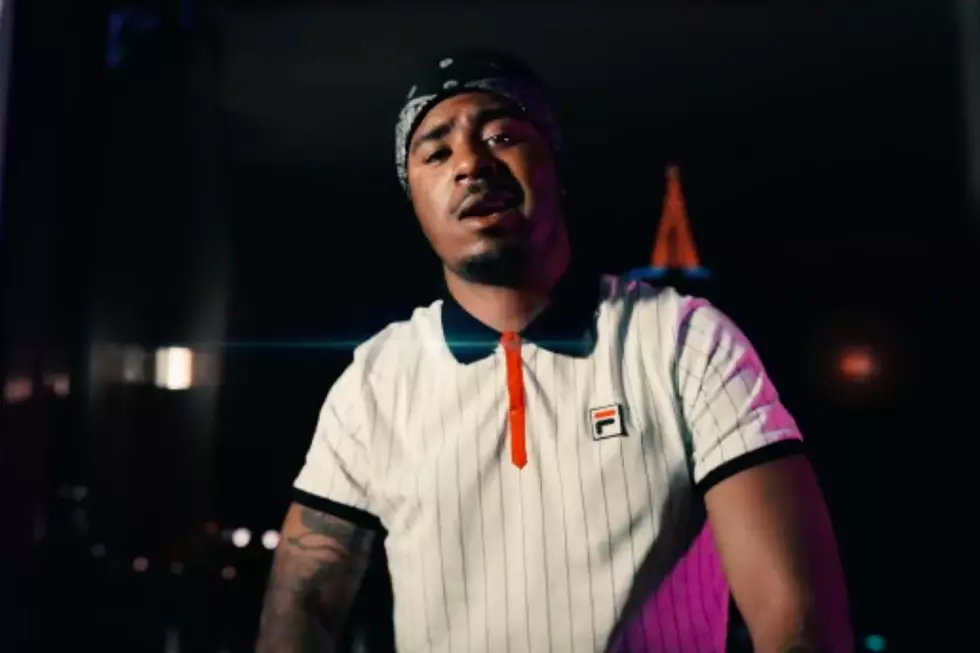 Drakeo The Ruler Hopes Kim Kardashian, Others Bring Attention to His Legal Case
Drakeo The Ruler via YouTube
The original trial, which ended with Drakeo being acquitted of the aforementioned charges but convicted of possession of a firearm by a felon with priors, stems from the December 2016 murder of 24-year-old Davion Gregory, who was affiliated with Bloods, according to Fader. Prosecutors argued that Drakeo (born Darrell Caldwell) and his Stinc Team collective had planned on killing fellow Los Angeles rapper RJMrLA—who also claims Bloods—but RJ never showed up and Gregory was killed instead. Drakeo's friend, Mikell Buchanan, whom prosecutors alleged to be a Crip gang member, was convicted of the killing. A second alleged Crip gang member, who was a juvenile at the time, is still fighting the case in juvenile court.
With a dearth of evidence connecting him to the murder, Drakeo was acquitted of the most serious charges. However, counts of criminal street gang conspiracy and shooting from a motor vehicle left the jury hung, and last month, the DA's office decided to re-try Drakeo on charges of criminal street gang conspiracy and shooting from a motor vehicle.
Drakeo's defense attorney, John Hamasaki, claims the DA's Office is prejudiced against the rapper, also citing California's open-ended gang laws—particularly the California Street Terrorism Enforcement and Prevention Act (STEP Act)—as a reason Drakeo is headed back to trial for the case.
Under the STEP Act, which was ostensibly created in response to rampant gang violence, individuals can be placed into a gang database for any number of reasons, whether direct (arrests) or more broader "indicators" like neighborhood affiliations or friendships. The prosecution has argued that Drakeo's Stinc Team is a gang, but Drakeo and his lawyer have denied the distinction.
The Stinc Team leader feels people should be aware of the STEP Act and its implications. "If they are trying to do this to me then imagine how many regular people who don't have money, who don't have an influence?" Drakeo tells XXL. "[They] are going to get railroaded."
Phoning in from Men's Central Jail in Los Angeles, where he's been held for the past 21 months, Drakeo The Ruler speaks on his trial, life in solitary confinement and plans for his uncertain release.
XXL: Your lawyer points to the STEP Act, which is part of a law where you can be charged in connection to a crime you weren't directly involved in because you benefit from it, as the main reason you're headed back to trial. How is prosecution arguing that you benefitted from the killing?
Drakeo The Ruler: Because they saying it boosted my street cred, a murder that I don't brag about, that I don't care about. Like, this shit is crazy. Their definition says that it boosted my gang's reputation—the gang that is not a gang that is a rap group. Crazy.
It's interesting that a good amount of this case is about your previous beef with RJ and the idea that you tried to kill him. He supports you. 
Yeah, exactly. Which is bullshit, because he knows it's bullshit.
What does his support mean to you?
I mean that's cool. It's cool that he best be letting them know that this shit is bullshit. I been said that shit. We squashed our beef before I went to prison so they whole theory and all that shit that they was trying to come up with was bullshit. If that was the case, I would have been got out tripping and still doing the same shit. I was talking to that nigga in prison so it's like, it's not really nothing. I'm not no hater. I am happy about everybody that is doing they thing right now. I just wish everybody would feel the same about what I got going on. I talked to RJ a couple of times, I seen a couple tweets he put out but, you know, it takes more than that for what I am dealing with.
What more do you think you need to get out of this situation?
More of the right people to look at my case. Law people, more people with influence, bigger rappers. At this point, I have to be past the fact that I done had a couple incidents or rap beefs. I am from L.A. and I am a rapper. What people don't realize is if they let this shit happen to me then imagine how they are going to start treating regular people from out here. The [STEP Act] basically says you just have to be a member from a gang. So if anybody does anything, they can come pick you up and say that you automatically benefited because you are from that gang. In my case, my gang doesn't even fucking exist. My gang is a rap group. Shit is crazy.
People like Kim Kardashian have brought awareness to criminal justice inequities like the one you're experiencing.
Yeah, that's what I need. I need her to tweet something, Meek Mill—somebody. Somebody that deals with this type of stuff. It's not like I got a hung [jury] on a murder, attempted murder [or] a conspiracy. All those was not guilty. But a lot of people don't understand this law. How am I supposed to benefit from a murder I didn't do and I was acquitted of?
Your lawyer says you were put in solitary confinement because of a tweet screenshot that was posted to Instagram. How did that situation unfold?
I said that I didn't want to fucking rap no more and I was going to take my music down because these muthafuckas want to use everything I say against me. I guess that my detective went to another court, not the court that I go to. He went behind my judge back and got some orders signed or something tryna blame me for what muthafuckas were saying in the comments.
I guess he said that people was threatening his family or threatening him. It was 3,300 people in the comments—not all of them said something and I never told them to say anything. Even my judge was like, you didn't post it and you didn't tell them to say it but since you have so much of an influence, you're responsible for what they are saying in the comments. That was their excuse for not giving me my privileges back.
You've been in solitary confinement since January. Can you speak on the experience?
I come out two times a week. Monday from 10:30 to 2:30, then [on Thursdays] from 2:30 to 5:30. We get showers four days out the week. We don't come out our cells. The only way we are coming out is unless we got an attorney pass, we're going to court or we're going to medical or something. And they don't really come down there for medical or none of that shit, so you can count that shit out. The shower is like 5 feet away from the cell. You got to get handcuffed to go to the shower; waist-chained to go to the yard. It's not like no group yard when you get to interact with the people that's in your cell. You're sitting in a fucking cage, just sitting there until it's time to go back down.
This is really solitary confinement. A lot of people don't even know where this place is in fucking jail. I had the police come in here and be like, "I've never been in here before."
Tupac Shakur once said he only wrote one song while he was in prison and that incarceration kills your spirit and your creativity. Have you been able to write any lyrics since you've been behind bars?
I wrote 110 songs already, and none of those songs are about being in jail. Maybe two of them. Because I can't be one of those rappers who get out of jail and then just talk about rapping about jail all day because nobody wants to hear that shit. I try to think outside the box.
Right, so you're not about to do a "First Day Out" or anything like that?
Can you talk about what any of those songs are about?
Most of the songs are just about me reevaluating my life and the life that I was living before I fucking came to jail. I just reimagine all the shit that I did and that's how I fucking started all these songs. I just sit back and think, Damn I did a lot of shit to be my age, so that shit just turn into songs instead of me just thinking about what could happen or all this other shit because that shit'll stress me out and I'll get writer's block and just won't be able to write shit.
Is there anyone you want to collaborate with when you get out?
I like Lil Baby, Gunna, Lil Tecca, the Lil Tjay nigga, Polo G. It's a lot of other people that I like. Probably Juice Wrld. All those type of dudes. Lil Skies.
You were generating a serious buzz at the time you went into jail for this case. Have any labels approached you about signing while you've been locked up?
300 [Entertainment], Warner [Music], Def Jam, Republic. There was a lot of them. I think Alamo. It was too many.
Do you feel a sense of urgency to reclaim the spot you had before you went to jail?  
Yeah, it's still the same but I always know how to adjust to shit. I change words and shit cause muthafuckas like to bite a nigga's shit and plagiarize my shit. So, I got to, you know. But at the end of the day, everybody always want the real thing. And I am the real thing.
See 22 Hip-Hop-Related Police Raids