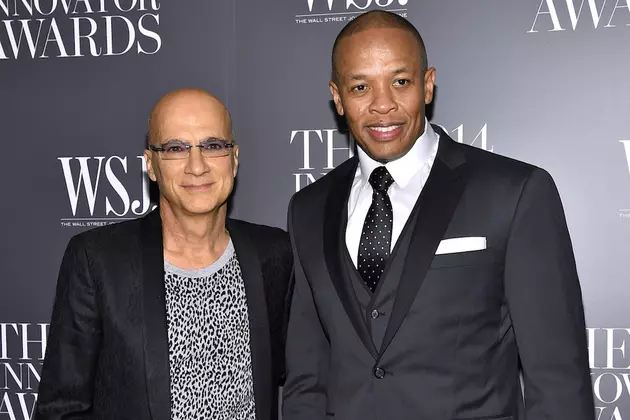 Dr. Dre and Jimmy Iovine Four-Part Documentary to Air on HBO
Mike Coppola, Getty Images
The partnership between Dr. Dre and Jimmy Iovine will be the subject of a four-part documentary series titled The Defiant Ones to air on HBO in 2017, Rolling Stone reports. Interscope Records, which Iovine co-founded, marketed and distributed Death Row Records in the early 90s, with Iovine and Dre partnering to form Aftermath years later. They as well teamed up create Beats by Dre in 2006, the docu-series looking at their roots, history and influence on pop culture. Allen Hughes of Menance II Society serves as Director.
"The Defiant Ones has everything you expect in a great story – drama and humor, tragedy and triumph," Casey Bloys, president of HBO Programming said in a statement, via Complex. "Allen Hughes takes you on a journey through some of the most important flash points of popular culture, and I'm delighted we can bring this unforgettable saga to our viewers."
Hughes filmed both subjects over the course of three years, as well interviewing Bono, Eminem, Nas, Ice Cube, Gwen Stefani, Snoop Dogg, Trent Reznor and others. The film also features behind-the-scenes recording and writing sessions with Eazy-E, Stevie Nicks, N.W.A., Tom Petty and Bruce Springsteen with previously unseen footage.
Dre's past has been rich source material in recent years, the N.W.A. biopic Straight Outta Compton inspiring Death Row singer Michel'le to produce her own film Surviving Compton. He as well figures to play a role int he upcoming Tupac biopic All Eyez on Me, which just received a release date of June 16th, 2017.
14 Sequels to Classic Rap Albums That Took Years to Arrive