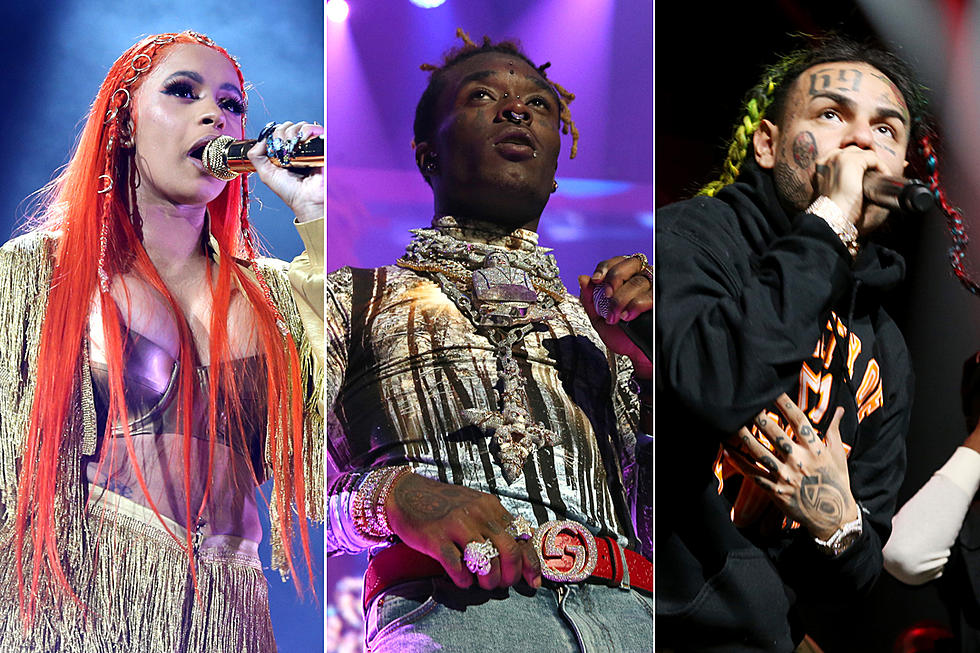 Cardi B, Lil Uzi Vert, 6ix9ine and More Perform at Power 105.1's 2018 Powerhouse
Bennett Raglin, Getty Images (3)
Power 105.1's  2018 Powerhouse took place in New Jersey's Prudential Center last night (Oct. 28), and during the course of the show, folks like Cardi B, Lil Uzi Vert, 6ix9ine and more delivered epic performances.
For her part, Bardi had one of the more memorable performances of the night, opening her set with her Invasion of Privacy intro track, "Get Up 10." Joining Bardi onstage at one point during her set was her friend and co-writer Pardison Fontaine, who joined the Bronx rapper to perform their new collab, "Backin' It Up."
At another point of the show, Uzi delivered an awesome performance for fans. Taking the stage at Powerhouse for the second year in a row, the former XXL Freshman performed his latest single, "New Patek," as well as his amazingly successful 2017 single, "XO Tour Llif3." It's safe to say Uzi gave the fans what they wanted.
In a moment that surprised many, 6ix9ine also rocked the mic at this year's Powerhouse. Displaying his customary energy, the rainbow-haired rapper started things off by sprinting onto the stage to perform his 2017 single "Kooda." The crowd immediately went insane. From that point on, he had his friends join him onstage as he performed tracks like "Tati," "Stoopid" and "Fefe" before closing out with "Gummo."
As big as the scheduled performers were, the 2018 Powerhouse also served as a chance for 2018's most celebrated rap stars to show love to New York artists during their sets. G-Eazy, who performed "No Limit" sans Bardi and A$AP Rocky, invited Dreamdoll and Jay Critch on to the stage with him as he performed.
Also showing love to the Empire State was Juice Wrld, who brought out A Boogie Wit Da Hoodie after serving up an energetic live rendition of his Billboard Top 100 mainstay, "Lucid Dreams." Taking advantage of the momentum, A Boogie performed "Drowning" as the Wrld on Drugs rapper hyped him up. It was definitely something to see.
LouGotCash was on the bill and rapped his part for his Trippie Redd-assisted Louniversal single, "Too Turnt Up for the Party."
Check out performances from him, Cardi B, 6ix9ine and more below.
See 94 Hip-Hop Artists Going Platinum in 2018