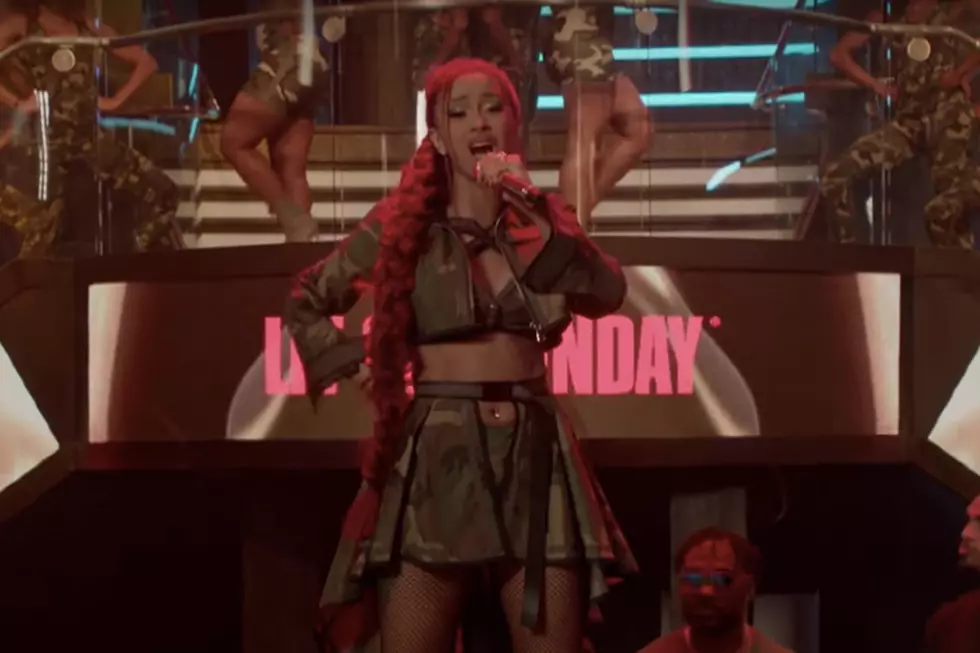 Cardi B Performs "Get Up 10″ and "Backin' It Up" With Pardison Fontaine at 2018 BET Hip Hop Awards
BET
And just like that, Cardi B makes her presence at the 2018 BET Hip Hop Awards known. Earlier tonight (Oct. 16), the folks at BET broadcasted the Bronx rapper's epic performance onstage at the Filmore, Jackie Gleason Theater, Miami Beach, Fla.
While conventional wisdom would have dictated that Bardi performed a track like her ubiquitous Invasion of Privacy single, "I Like It," she opted instead to go with "Get Up 10." With its piano keys and reflective come-up bars from Cardi, it's a track that will definitely go down as one of her more emblematic. With that in mind, it's dope that she got to give the track the big-stage performance it deserves.
Rocking a camo outfit, Cardi appeared onstage with a group of dancers behind her as she marched in place and spit the lyrics that define her career mission statement.
"Look, they gave a bitch two options: strippin' or lose/Used to dance in a club right across from my school/I said 'dance' not 'fuck,' don't get it confused/Had to set the record straight 'cause bitches love to assume/Mama couldn't give it to me, had to get at Sue's/Lord only knows how I got in those shoes/I was covered in dollars, now I'm drippin' in jewels," Cardi rapped in front of an energetic audience.
Peep a clip of Bardi's performance for yourself below.
See Photos of Gucci Mane, Gunna, Asian Doll and More on 2018 BET Hip Hop Awards Red Carpet