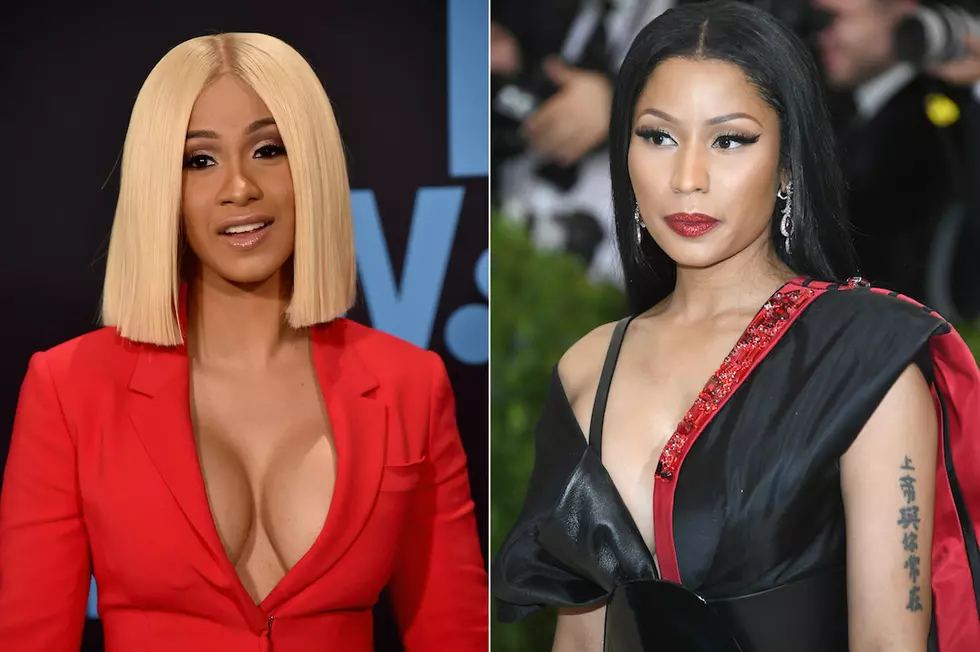 Cardi B Calls Out Nicki Minaj for Claiming Rah Ali Beat Her Up
Alberto E. Rodriguez / Dia Dipasupil , Getty Images (2)
The beef between Nicki Minaj and Cardi B continues. Earlier this evening (Oct. 29), Bardi jumped onto Instagram to clap back at Nicki, who threw a variety of shots at Bardi during the latest episode of Queen Radio this afternoon. In a series of Instagram videos, the Invasion of Privacy rapper sets the story straight on the night of their confrontation at the Harper's Bazaar party, her collaboration with Minaj on "Motorsport" and more.
For her first order of business, Bardi touched on Nicki's claim that her friend Rah Ali had given her a vicious beating.  Speaking into her camera for an Instagram video she uploaded this evening, Cardi lets loose.
"This my thing Nicki Minaj, right? How you saying I got ragged by Rah Ali when there is so many footages of that night, every single angle, and where am I getting ragged at?" Cardi said in one video. If you recall, there was rampant speculation that it was Ali who'd fought Cardi B and left her with a knot above one of her eyes.
Cardi continues, "Why would I be here sitting and lying like 'oh yeah I did this, I did that, knowing that the next day there's gonna be so much footages of that same night?
In another part of her IG rant, Bardi claps back at Nicki for calling her a "disgusting pig" weeks back, while also claiming that Nicki is a liar.
"And second of all, how you say I was the wild animal, I attacked you, you was mortified, humiliated, playing the victim, you need to pick a side?" Cardi says. "Do you want to be the victim or the gangsta? You lie so much you can't even keep up with your fuckin' lies. First, lying that you got the footage but now saying you want to pay someone $100,000 if they give you the footage. Make sense when you talking."
There's a lot to unpack here, but you can check out the rest of what Cardi B has to say for yourself in the videos below.
See Cardi B's Different Looks in 2018