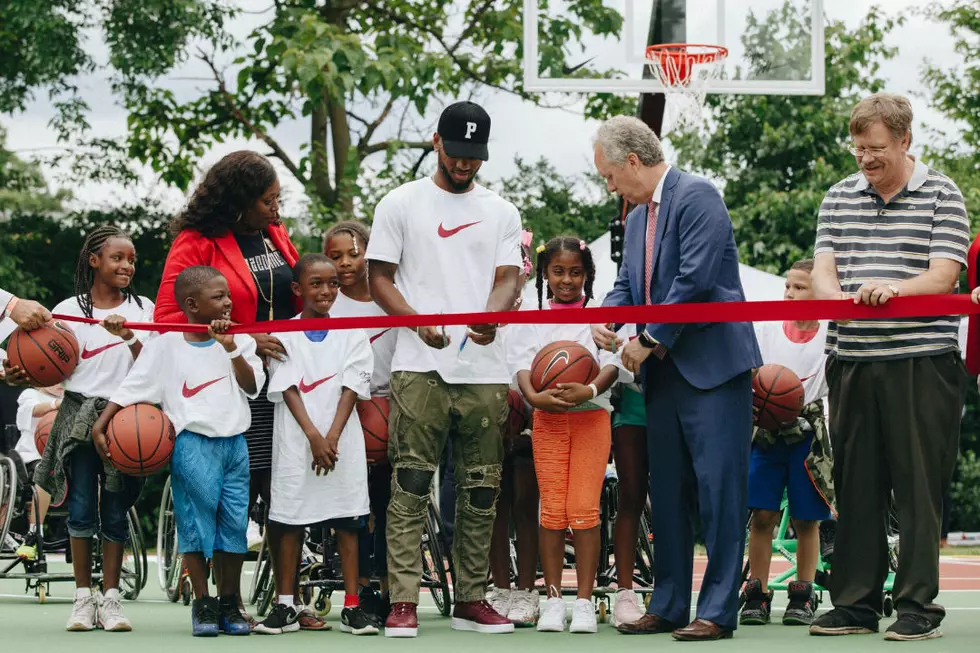 Bryson Tiller and Nike Restore Basketball Court in Kentucky
Nike
As part of his partnership with Nike, R&B singer Bryson Tiller returned to his hometown of Louisville, Ky. on Wednesday, June 7, to present a fully refurbished basketball court in Wyandotte Park.
To help celebrate the milestone, Bryson held a special opening event at the park, which consisted of a three-hour basketball skill clinic for children in the local region. Concluding the festive day with a special, intimate concert at Louisville's Mercury Ballroom, the R&B crooner performed all the hits off of his new album True to Self in front of a sold out crowd.
Giving the courts his own personal touch, Bryson included the following message along the sidelines of the court: "It's Possible Here." The saying has special meaning for Tiller, who said, "Whenever you fly into Louisville, you see a sign that says, 'It's Possible Here.' I remember my first time seeing it... I was working on my debut album, and I just thought, 'Wow, it is possible here.' Everybody always thinks you have to move out of the city and go where the music industry is, but it's possible in Louisville, and it's possible anywhere. You just have to believe."
In related Bryson news, Pen Griffey recently released his sophomore album, True to Self, via RCA Records. As a follow up to his 2015 platinum album, T R A P S O U L, the brand new project features production from Boi-1da, Frank Dukes, Illmind and more, and includes songs like "Run Dry," "Set It Off" and more.
The Top 5 Sneakers Coming Out This Weekend Including Air Jordan 7 Retro Pure Money, Kith x Adidas Ace 16 Ultra Boost and More