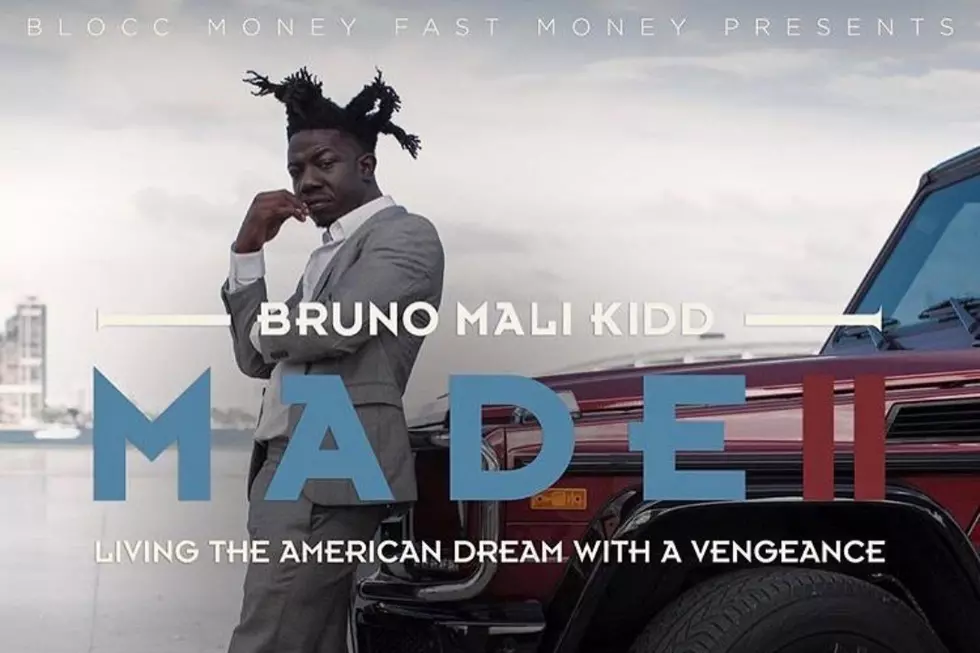 Bruno Mali Kidd 'M.A.D.E. 2′ Mixtape: Listen to New Songs Featuring Mozzy, Currensy and More
977950 Records DK
Bruno Mali Kidd is back. The rising Miami rapper let loose his new mixtape, M.A.D.E. 2, complete with several name-brand guest spots, on Sept. 11.
Mozzy contributes a typically sneering verse on the standout track "Drippy," while Curren$y floats on the aptly titled "Fly Society." Maybach Music Group's Chicago representative Rockie Fresh features on "Karate Kid."
Another MMG affiliate, Young Breed, a founding member of Rick Ross's original group the Triple C's, appears on "Stepson." Fellow South Florida veteran Ace Hood shows out on the piano-driven "Original." Miami Freebandz signee Zoey Dollaz, MainMan Capone, 3D Na'Tee, PC Tweezie and G-Talk also contribute verses.
The mixtape is a sequel to Bruno Mali's May 2017 mixtape MADE, on which Ace Hood and MainMan Capone also appeared. As the rapper explained last March to XXL's The Break, the recurring acronym stands for "Money, Attitude, Direction and Education." This time around, it comes with a subtitle: "Living the American dream with a vengeance."
Peep the M.A.D.E. 2 tracklist and cover while listening to Bruno Mali's new mixtape below.
Bruno Mali's M.A.D.E. 2 Mixtape Tracklist
1. "Scarface"
2. "Too Expensive" featuring Zoey Dollaz and MainMan Capone
3. "Roar"
4. "Take Care"
5. "Drippy" featuring Mozzy
6. "Be Alright"
7. "SGTS" featuring 3D Na'Tee
8. "Fly Society" featuring Curren$y
9. "Karate Kid" featuring Rockie Fresh
10. "Realest Shit" featuring PC Tweezie
11. "Wave" featuring G-Talk
12. "Caught Up"
13. "Original" featuring Ace Hood
14. "LaLa" featuring MainMan Capone
15. "Stepson" featuring Young Breed
16. "Speedy Gonzalez"
17. "Believe"
See Photos of Rick Ross' Different Looks Over the Years