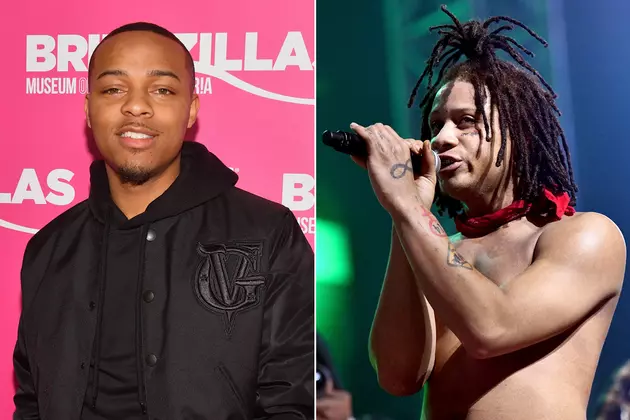 Bow Wow Declares He Won't Go to War With Trippie Redd Because He's a Kid
Dia Dipasupil / Scott Dudelson, Getty Images (2)
Social media is alight with beef this week, and Bow Wow isn't here for it. Trippie Redd has thrown his name in to the ring as to who runs his home state of Ohio. The "Dark Knight Dummo" rapper posted a plethora of clips to his Instagram story last week (March 22), crowning himself and dissing Bow Wow in the process, claiming he's "not from Ohio."
"I don't know who the fuck Bow Wow is, don't bring him up to me anymore," Trippie, 18, said while standing on the counter of a clothing store.
Bow Wow, 31, responded on his Twitter account early Wednesday (March 28), letting fans know he would not be participating in a beef with Trippie, since he's just a kid. "He's a fucking Kid," Bow proclaimed. "What i look like going to war with a kid. Real shit. No respect giving to me for that. Ill let it slide."
The "Yeahh" artist blames the media for turning him into a new person. "Its anger. Its what yall turned me into," he explained to a fan on Twitter. "The media. The bloggers. The people. This is what y'all wanted. I was the red and blue spiderman. Now im the all black spider man."
Shad is still hard at work preparing to release his highly anticipated final album, NYLTH, as well as Greenlight 6, later this year. Moss had previously teased the mixtape in February.
The Like Mike star went on a lengthy tirade on Twitter on Weds. (March 28). Check out the highlights in the gallery below.
Bow Wow Explains Why He Won't Beef With Trippie Redd
Bow Wow Explains Not Beefing With Trippie Redd and Issues With the Media