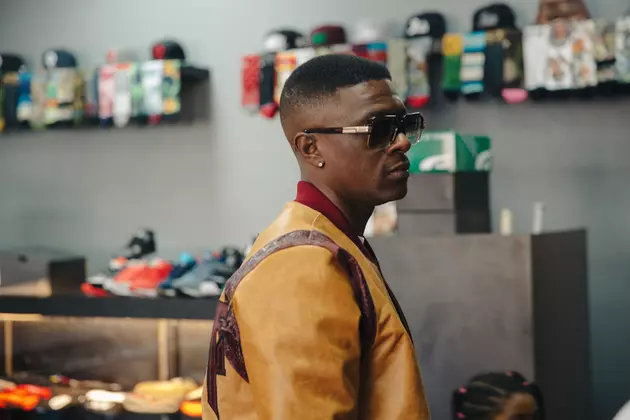 Boosie BadAzz Previews New Song "I Remember Webbie" Off 'BooPac' Album
Diwang Valdez
Boosie BadAzz is putting in work on his new album, BooPac, and recently decided to share some of the fruits of his labor with his fans on Instagram, previewing a new song titled, "I Remember Webbie."
On the heartfelt, piano-driven track, the Baton Rouge rapper reminisces on past times and crimes with his homie, Webbie. "Cancer hit I got scars on my stomach I remember all the nights you was stressing 'bout ya mamma/It made me pick my phone up and call my motherfucking mamma and say I love you mamma," he raps.
It looks like Boosie has also picked a release date for the project, and it's slated to be dropped in the fourth quarter. He captioned the first video, "#Boopac "I REMEMBER WEBBIE" Dec.15th."
Boosie first announced plans to drop the BooPac album back in April. "I know it's gon' be a big ol' thang, but it's in my heart," he said in an interview with DJ Vlad. "That's what I want to do. I'm naming it BooPac. It's a double disc, 26 songs. Because I'm my generation's 2Pac. A lotta people didn't grow up on 2Pac. Lotta people didn't grow up on Biggie. Those who love that kind of music grew up on me. That's one reason I'm [doing it]. Another reason is the 'Pac music is forgotten about now. That real music that touch you, that feel like he was brought into yo household witchu like he was yo cousin. That music is forgotten about right now."
In a more recent interview on Sway in the Morning, Boosie further expounded on his feelings for the late rap icon and his reasoning for the album's title. "2Pac the only artist that ever made me shed a tear," he said. "And when I go to concerts every weekend, people crying for me. 2Pac made me want to rap, he made me want to speak my ghetto story and not be ashamed of it. A lot of people in my era didn't grow up on 2Pac, they grew up on me. So when I go out, they say I am their 2Pac."
Check out the snippet of the new track, "I Remember Webbie" below.
Here Are the Best Projects Released From 104 Past and Present XXL Freshmen