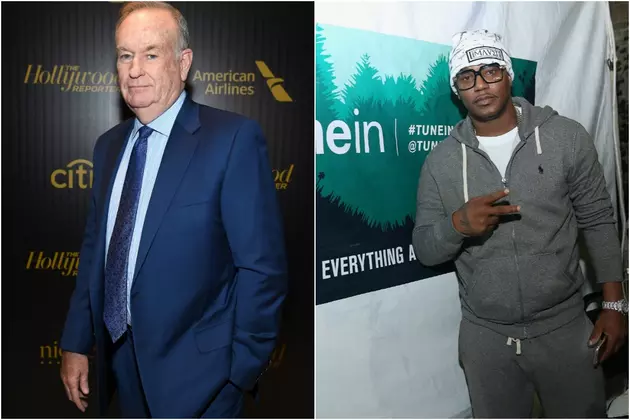 Here Are 10 of Bill O'Reilly's Most Infamous Hip-Hop Moments
Dimitrios Kambouris / Robin Marchant, Getty Images (2)
And just like that, Bill O'Reilly's lengthy (and polarizing) tenure at Fox News has come to an end. Today (April 19), the parent company of the news channel revealed in a statement that the controversial political commentator would not be returning. The controversy stems from settlements involving sexual harassment allegations against O'Reilly.
"After a thorough and careful review of the allegations, the company and Bill O'Reilly have agreed that Bill O'Reilly will not be returning to the Fox News Channel," reads an official statement from 21st Century Fox, which is the parent company of Fox News.
While O'Reilly has a complicated legacy, hip-hop lies within his storied past. Indeed, as one of the leading conservative political commentators, the recently ousted host of The O'Reilly Factor has seemingly bashed hip-hop on national television at least a few times a year, stretching back at least 15 years.
In 2002, O'Reilly publicly criticized Pepsi for using Ludacris in their commercials, claiming the rapper degraded women with his lyrics. Ultimately, the beverage company ended up dropping Luda, and it was allegedly because of O'Reilly's comments. Two years ago, O'Reilly went a good bit further, blaming hip-hop for causing a decline in Christianity.
"People of faith are being marginalized by a secular media and pernicious entertainment," he said at the time. "The rap industry, for example, often glorifies depraved behavior, and that sinks into the minds of some young people—the group that is most likely to reject religion. Also, many movies and TV shows promote non-traditional values. If you are a person of faith, then the media generally thinks you are a loon."
Today, XXL takes a look at the polarizing media personality's 10 most infamous hip-hop moments. Check out our list below.
Gets Ludacris Dropped From Pepsi Endorsement

2002

Ludacris was one of the world's biggest rap stars in 2002, and Pepsi was proud to have him appear in their commercials—until they weren't. That point came after Bill O'Reilly bashed the company for using a rapper whose lyrics he claimed "degrade" women to promote their drink. A short time later, Pepsi succumbed from the public pressure and dropped Luda from their ads. Of course, Luda is doing just fine after the incident. Just look at his movie and music career if you need a reminder.

Debates With Cam'ron and Dame Dash

2003

O'Reilly hosted a debate over whether or not rap music was harmful to inner-city students. The participants included Cam'ron, Dame Dash and a school principal by the name of Salome Thomas-El in 2003. Unfortunately, the debate quickly devolved into a shouting match between Cam and O'Reilly, and we think you know what happened next.

Calls Out Eminem for Dissing Sarah Palin

2009

Back in 2009, Eminem poked fun at former vice-presidential hopeful Sarah Palin in his "We Made You" video. O'Reilly took him to task for it.

Claims Jeezy and Jay Z Celebrating President Obama's Presidential Win Was Inappropriate

2009

Hov and Jeezy were riding high off Barack Obama becoming the first ever Black president in 2009, and they dropped "My President is Black" to celebrate—and why wouldn't they? Well, O'Reilly didn't like that, and he called the rappers out for it a short time later.

Calls Lupe Fiasco a "Pinhead"

2011

Lupe Fiasco called Barack Obama a terrorist in 2011, and surprisingly, O'Reilly defended the former President and called Lupe up to debate on his show before calling him a "pinhead."

"Mr. Fiasco has been invited on The Factor but has declined, possibly because he could not possibly defend that remark, which makes him a pinhead," the controversial media personality said.

The rapper eventually went on the show to face O'Reilly.

Criticizes Barack Obama for Inviting Common to a Poetry Slam

2011

In 2011, O'Reilly engaged John Stewart in a debate over whether or not The White House should have invited Common to their poetry slam. O'Reilly said then-President Obama shouldn't have welcomed the Chi-Town MC because he sympathized with a "cop-killer" like Assata Shakur, who's been in exile and lived in Cuba for decades now. Stewart, of course, disagreed.

Argues With Russell Simmons Over Beyonce's Image

2014

The Fox News host is not and has never been a pop culture expert, and he's definitely not a sociologist. So it's no surprise some folks rolled their eyes when he claimed Beyonce's "over-sexualized" image was doing more harm than good. That in conjuction with his track record of rap-bashing and perceived racism, not too many people were having this including Russell Simmons, the person he debated the matter with about three years ago.

Calls Out Al Sharpton and Lil Wayne

2013

Bill O'Reilly argued that Lil Wayne's lyrics were harmful to young Black kids in 2013. You can see some of what he had to say below.

Says He Wants to Get Rid of Jay Z and Kanye West

2014

Sitting down for an interview with then-President Obama's former senior advisor Valerie Jarrett to discuss the then- Commander-in-Chief's My Brother's Keeper initiative, O'Reilly said that rappers like Jay Z and Kanye West had to "knock it off" if young men of color were going to escape the cycle of poverty and violence.

"You have to attack the fundamental disease if you want to cure it," the Fox News host said back in 2014. "You're gonna have to get people like Jay-Z, Kanye West, all these gangsta rappers to knock it off."

Claims Hip-Hop is Causing a Decline in Christianity

2015

About two years ago, O'Reilly claimed hip-hop was responsible for a decline in Christianity, which was a trend unearthed by the folks at the Pew Research Center. During a study, conducted from 2007 to 2014, the research institution found Christianity's population had dipped from 78.4 percent to 70.6 percent between 2007 and 2014. "People of faith are being marginalized by a secular media and pernicious entertainment," he said, and named hip-hop as the root cause. It's not a stretch to say O'Reilly's claim was a tenuous one.