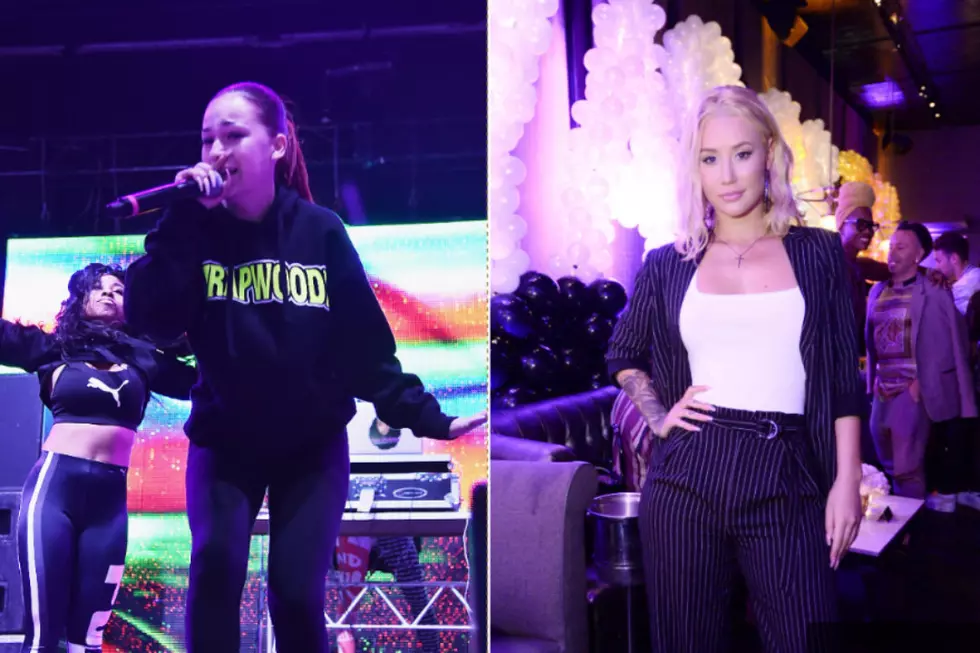 Bhad Bhabie Invites Iggy Azalea to See Her Perform After Aussie MC Appears to Shade Teen Rapper's Tour
Theo Wargo / Andrew Toth, Getty Images (2)
Bhad Bhabie proved even before her rap career started that she bites her tongue for no one. On Friday (Nov. 9), she had a short social media exchange with Iggy Azalea after the Aussie MC appeared to throw some shade at her tour with Lil Yachty.
The drama appeared to start when someone put up an Instagram post asking if people were going to see the 15 rapper on her cross-country trek.
"Are you?" Iggy questioned in the comment section. It is unclear if this was just a question or actual shade, but Bhad Bhabie took it as the latter. She responded in kind: "u should come. would be a good memory for u of what a sold out show looks like."
Boat and Bhabie's The Disrespect Tour kicked off on Oct. 24 in Baltimore, Md. With 23 shows in all, the jaunt will touch down in Pittsburgh, Cleveland, Memphis, New Orleans and more before closing out on Nov. 28 in Santa Cruz, Calif.
Iggy was set to go on tour in promotion of her Survive the Summer EP, but the outing was canceled. She recently expressed her disappointment over the cancellation on Twitter a couple weeks ago. "Believe me - i was really excited for this tour... and im genuinely disappointed it cant happen this year," she typed. "The choice was out of my hands and not my call to make. I hope I will get to see you all in person one day. I love you."
Check out the shade between Bhad Bhabie and Iggy Azalea below.
See Hip-Hop Fans Name The Most Disrespectful Diss Track of All Time