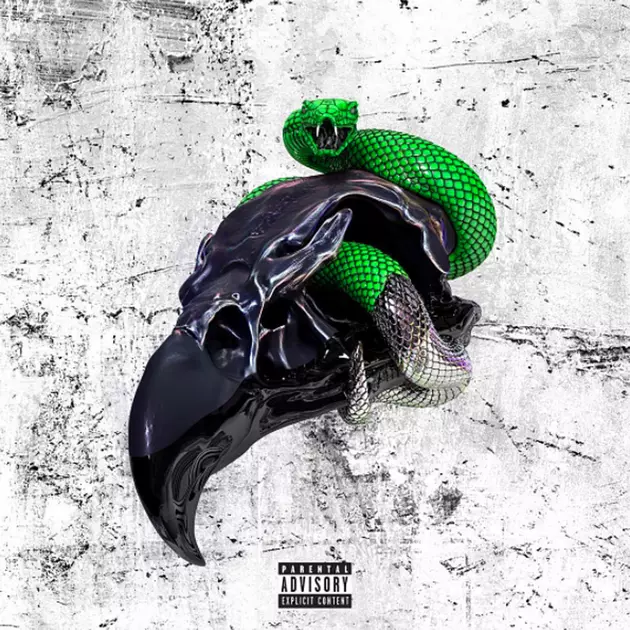 20 of the Best Lyrics From Future and Young Thug's 'Super Slimey' Mixtape
Epic / 300 Entertainment
In spite of hip-hop being a competitive, gladiator sport at its core, some of the best moments in the culture's history have been the result of collaboration. In addition to appearing on songs with one another, some artists take it a step further and decide to join forces for a full-length project, instances that create a certain air of anticipation beyond the average release. This, in essence, turns these album releases into seismic events for the fans and the hip-hop community as a whole, eager to see what the latest superstar pairing has been able to come up with in the studio and if their styles will be able to mesh.
After years of whispers and hints at a possible collaborative effort on the part of Atlanta natives Future and Young Thug are the most recent tandem of rap stars that have linked up in an attempt to deliver upon their respective fans' request. Titled SUPER SLIMEY, the project captures the two warbly yelpers matching wits with each other over production from the likes of Southside, Zaytoven and Mike Will Made-It and contains a mix of solo cuts from both artists as well.
Future himself is no stranger to collaborative projects, having worked with Gucci Mane and Drake in the past, with the latter scoring a platinum plaque. However, his pairing with Young Thug, whom he most recently collabed with on the Beautiful Thugger Girls cut, "Relationship," is arguable his most intriguing to date, and one where both shine in their own right.
XXL gave Future and Young Thug's latest release a spin and picked out 20 of the hottest lyrics from SUPER SLIMEY.
"No Cap"

Future and Young Thug

"Rolls-Royce, I'm a gorilla/Getting dome at Coachella/Yeah, hop out the coupe and titty fuck her/Yeah, free Bobby Shmurda, motherfuck the Rikers/I'ma lean back in the 'Bach, she suck like lolli-suckers/I lied when I said I love her, backstabbed the bitch, like I'm Myer Michaels" - Young Thug

"No Cap"

Future and Young Thug

"I made 'em quit they jobs, then I gave 'em to my niggas/I gave a little start-up money and put her in a rental/I send my Ethiopian to go pray at the temple/I flood her heart with diamonds, just to pray, it's so expensive/She tasting holy water, so, for me, it's beneficial/She caught the holy ghost when I gave her the presidential" - Future

"Three"

Future and Young Thug

Trippin' 'em up like a referee up with these gators/Trip on my spot, it was no more basic cable/I mixed some Act with some yellow Tuss like a Laker/Three shot 'em like a mothafuckin' Pacer/Never lose like my mothafuckin' McGregor, ya heard?/Inside the whips come red like ketchurp/Count this money up with glasses like a nizzerd/Codeine laboratory like on Dexter" - Young Thug

"Three"

Future and Young Thug

"'Cause these niggas, they ain't loyal, they been chillin' with the opps/Doe Boy came in that 450 Spyder straight from off the block/Had to throw my crack a few times, don't fuck with ho or no cop/Check on Google, I'm out my noodles/I feed shrimps to all my shooters/Ay, my bitch a bad bitch, so I turned her to a recruiter" - Future

"All da Smoke"

Future and Young Thug

"Pyrex, cook it up like Kyrie, trade you off/Green and white like Celtics, don't play with me, play with a fork/I'm superior, I'm imperial, I ain't feelin' ya/I been eatin' me some heroin, oh about a brick/I got Barry Bonds on my wrist/Blowed your college fund on my bitch" - Future

"200"

Future and Young Thug

"I bought my moms a car, it felt amazin'/My niggas bangin' burgundy like the Redskins/I got all type of tattoos on my fuckin' shin/I was in a white and red Maybach like peppermints/I've been blown a mil' on jewelry, but it's past tense/Super charge it, make it sound like it's raggly/I'm ridin' with the cutter, I'm Blood like my brothers a Mack 10" - Young Thug

"Solitaries, ain't nothing, to me/Coughin' these like I got leukemi'/For real, la familia, I go gorilla, I'm part of the Bape team/Fuck you thought? Supreme on the quilt, hang low, it's a drag queen/I'm in a bronze Benz, I think it's the wagon/Ever since mom's titty, bitch I was flaggin'"

"Patek Water"

Future and Young Thug Featuring Offset

"The Rollie on Ric Flair, my wrist is just wet up/The plug just called like "What up?", nigga don't let up/The diamonds are yellow the day, you gotta catch up, yeah/Money on the floor with these hoes, these niggas can't pose with us/How the fuck you sound old, you never grown with us/Diamonds in the ear got big, look nigga, I told you" - Young Thug

"Patek Water"

Future and Young Thug Featuring Offset

"Back to back Lambos, repeat it, you like to run when it's heated/AR-15 with the coolant, just in case it get too heated/Hop on the wave and drown, my momma been Cartier bracelet down/Ah, face it down, dirty in my soda, I hate the brown/Hold it down 'cause the plug is illegal/Ridin' 'round with a dub and a eagle/I heard that money get evil, prayin' to God to keep me from demons " - Offset

"I got local ho, but I shipped her out the country though/Ain't no giving up, you already know how I give it up/Sippin' out the coffee cup, my presidential face a hockey puck/Feed me dope, I get wavy like a boat/Feed me dope, and I start seeing ghosts/I'm off the porch, I'm skippin' court/Skip to my lou, trapping a sport"

"Drip on Me"

Future and Young Thug

I'm doin' the same thing/Lickin' molly like ramen//Getting head on the private plane/Cost me 23 thou' like LeBron James/Might put me some gators on and get in the 'Lac and just blow the brains/I fuck on her face, I came fast like when Sonic came" - Young Thug

"Real Love"

Future and Young Thug

"It's true I said I love you but I didn't promise/We came from grippin' the K's, our fingers got bunions/Keypad, no key to my doors and we made love!/All this fake love got me damaged/I can't take it, I just popped another Xanny/I'm fuckin' on your bitch when I land in the States from another planet/Fly as a bitch when I make mistakes, and I don't plan it" - Young Thug

"Real Love"

Future and Young Thug

"I fucked her friend, I would never tell her/I feed the swoop peanut butter, jelly/Up a hundred mil', let my nigga tell it, up a hundred mil !/I done cracked the seal, let these haters tell it/But I cracked the seal/I can get 'em killed, yeah Kill Bill/And I got diamonds from my toes up to my ears" - Young Thug

"Real Love"

Future and Young Thug

"You gonna get scarred, you don't get eternal life, nigga/Ballin out for X before I rolled dice, nigga/The agent just called and said the Hawks was available, I'm ready/You don't know about the hawk nigga, that G5 is quality/It's pink, way more than I ever imagined/I didn't measured it so I'm higher than Aladdin" - Future

"I'm drinking a fifth a day, and I'm rocking my ice, nigga/You see my plain Patek, cost Jerry Rice, nigga/I spent over 80K, just last night, nigga/Death can't get in my way, don't believe the hype, nigga/Now myself impeccable, and I'm so precise, nigga/It can be in the day time, we don't stop at the light, nigga/When I woke up at noon, I had went past the moon/Got a seven car garage, I done ran out of room"

"I ain't gotta walk around with my steel 'cause the streets made me/I still keep a chopper at arm's reach, 'cause I stay faded/Them percocets got my homie arm itching, I'ma still take 'em/I can finesse him without pulling out my gun, how he gone still hate me?/I'm a nine figure nigga, we ain't never worried about murder cases/My Slime nigga, I'ma buy 'em a Bugatti on your birthday"

"Killed Before"

Young Thug

"I ain't got no heart when it come down to my bro, yeah/She is not my dresser, she just irons my clothes, yeah/Pulled off in a Tesla, pulled back in a Porsche, yeah/Bought the Maserati, you'll get burnt like toast, yeah/I get on that bullshit, you'll get it started, yeah/Six kids with me, didn't think bout abortions"

"Mink Flow"

Future and Young Thug

"Up, up out of here, gone to Mercury/All Chanel stores around the globe heard of me/Might as well give it 'em now and catch the first degree/Steven Spielberg shit with the currency/Rock them dog collar chains, P. Diddy/I can't let her go nowhere, she too pretty/She gone have a bad day, she ever think about crossing me/I done paid all the lawyers, but they can't talk for me" - Future

"Group Home'

Future and Young Thug

"Yeah, I robbed a nigga in broad daylight the first day I had Jacoby, yeah/He don't know I finessed him, cause the homies, they was 'bout to murder him/Went out the backdoor, took the blame/'Cause I knew T-Money was gon' blow out his brains/I'm back from the grave, I'm damn near insane/I saw so much crack, I got yayo still in my veins" - Future

"Group Home"

Future and Young Thug

"'Bout to WCW my bitch friend on two rooms/Got a black 45 FN, I don't do chrome/Fuck these niggas, I'm kickin' 'em out the loot, woah/I just got a Plain Jane Patek and it's two-toned/I dress up like it's elastic/12 cartridge for these bastards, swiggy swaggy, I'ma devil/I got the shits in Cali/I got the kids a Denali/I bulletproof all the windows/I'm bulletproofin' the mattresses" - Young Thug