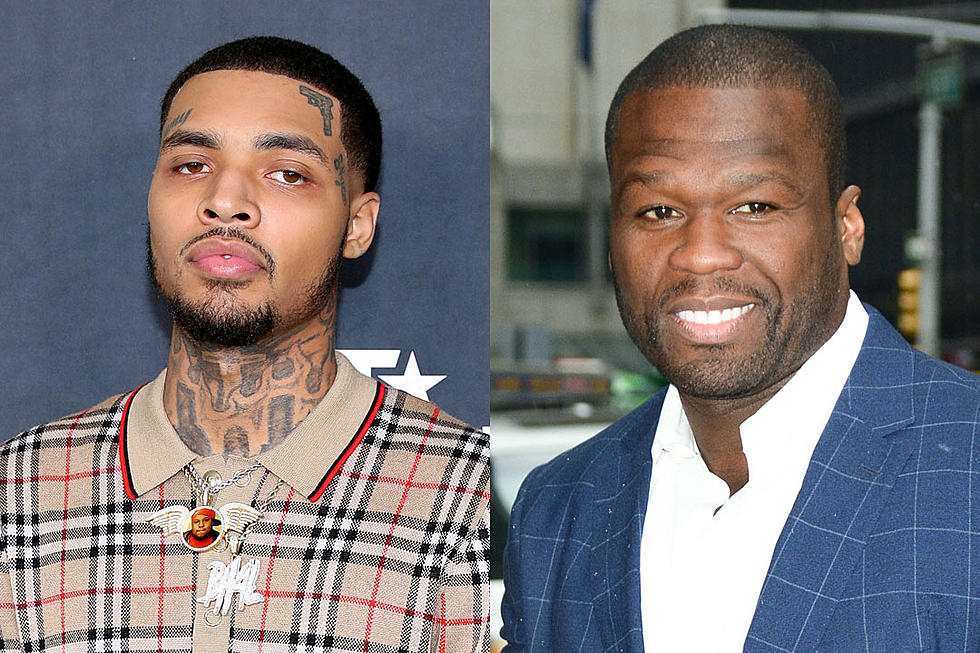 Bandhunta Izzy Salutes 50 Cent for Inspiring His Own Version of "How to Rob"
Bennett Raglin, Getty Images / Patricia Schlein / Star Max, GC Images
Hip-hop has always been inspired by its past, thanks to rappers who aren't afraid to pay homage. Baltimore's own Bandhunta Izzy did just that recently when he reworked 50 Cent's controversial single "How to Rob" by updating it with a new beat and name-dropping some of the hottest rappers of today. The focus of the original 1999 song by Fif made a stir by featuring the then-hungry young rapper calling out rappers like Ol' Dirty Bastard and Slick Rick by any means. Izzy channeled that same energy, and even got The Madd Rapper on the track, who also appeared on Fif's version. Today, Bandhunta Izzy speaks to XXL about how he came up with the idea to make the track his own.
Izzy was inspired by Fif's demeanor and how he moved like he was untouchable by fearing no one. "I chose to do the 'How to Rob' because I really liked the way you carried the whole situation," Izzy, 22, says, speaking straight to 50 Cent. "You basically bullied your way in the game. You just showed you don't care and I feel that's how people look at me." Capturing that same energy of never holding back was instrumental in Izzy's version of "How to Rob."
Interestingly enough, Izzy didn't actually plan to remake "How to Rob." "Me and my homeboy, Young Crazy, we was in the studio together, we was drunk," he admits. "My homeboy Pyrex, he was just making a beat on the side." Crazy and Izzy came up with the idea of just mentioning all the rappers on wax. Crazy took a look at DJ Akademiks' Instagram page and Izzy started coming up with bars for each rapper that his friend scrolled by on the account.
There are plenty of artists out nowadays, so did Izzy purposefully leave any names out? According to him, he didn't spare anyone—6ix9ine, Lil Uzi Vert, Gunna and Meek Mill, to name a few. "I really wanted to rap about every rapper," Izzy reveals. "But the only rappers that I excluded, it's only because I couldn't think of nothing to rhyme with what they had going on." He surely didn't cut any names to avoid beef or any issues. "Probably half of them I have spoken to personally. If somebody really had a problem with it, they coulda hit me up."
One such rapper who spoke to Bandhunta Izzy was BlocBoy JB. "I fuck with him for real," Izzy shares about the Memphis rapper and former XXL Freshman. "He was like, 'Damn, cuz, why you gon' rob me? I thought we was supposed to be brothers for real?,'" Izzy explains. "He really eased the tension from it, showed that it can be fun and games." BlocBoy took it as a joke between friends, and so far, none of the rappers involved have taken issue with the track.
Watch Bandhunta Izzy below to see him speak on how 50 Cent inspired his own version of "How to Rob," and listen to both songs below.
See 20 of Your Favorite Rappers Naming Their Favorite Rappers