A$AP Talks Iggy Azalea, Says They're Not Dating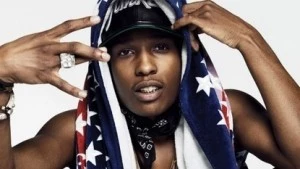 Jenny Boom Boom of Hartford, Connecticut's Hot 93.7 had the opportunity to speak with A$AP Rocky during last week's 2102 BET Awards. The interview started off with the Harlem rapper complementing the Caucasian radio host about her appearance. Then, Jenny Boom Boom immediately followed up with a personal question towards A$AP Rocky, referring to his relationship status with the Australian rapper (and former XXL Freshman), Iggy Azalea.
The response from A$AP Rocky was fairly nonchalant as he casually replied, "No, I'm not dating her. But I do like blondes." The radio host quickly followed up asking if the relationship between the two rappers was over. Rocky, however, dodged the query and responded with a question of his own: "How do you know there ever was a relationship?"
Reports of the two up-and-coming rappers involved in a romantic relationship initially surfaced last year when series of photos featuring Rocky and Azalea were posted online. Though the two rappers have never confirmed the alleged relationship, both fans and media outlets have been speculating about their status. Iggy Azalea has also showcased a tattoo on her little, ring, and middle fingers with inked characters: LIVE, LOVE, A$AP.
The short segment between Jenny Boom Boom and A$AP Rocky, in regards to the rapper's relationship status with Iggy Azalea, also includes A$AP jokingly dodging claims of having sexual intercourse with the Australian rapper.—Jaeki Cho