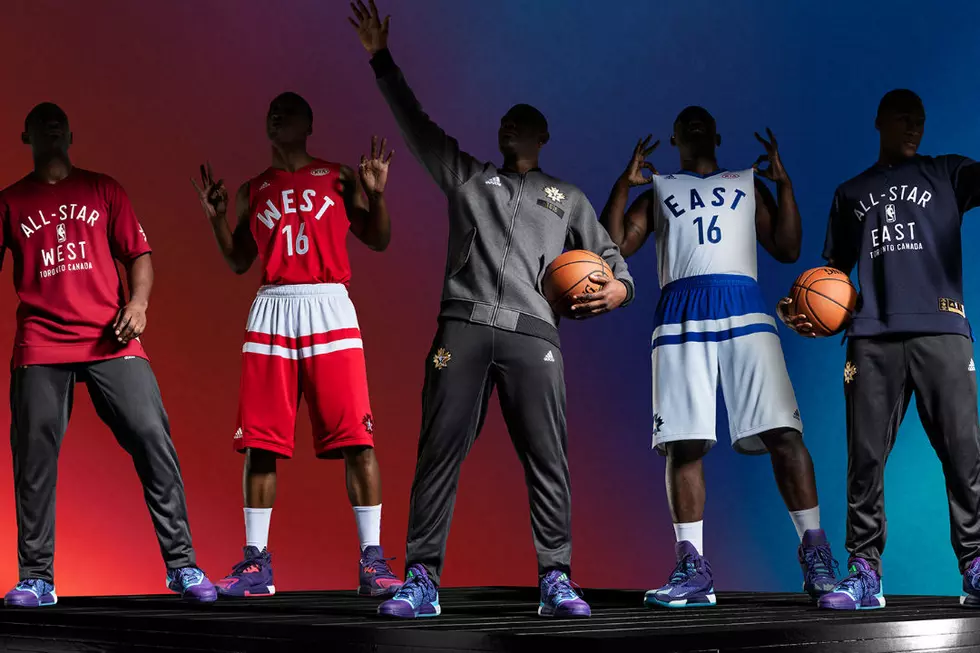 Adidas Unveils NBA All-Star 2016 Uniform and Apparel Collection
adidas
adidas today unveiled the uniforms and apparel collection for the 65th NBA All-Star Game taking place on Feb. 14 in Toronto. The uniforms are designed with elements native to Canada and pay homage to Toronto's NBA history and passionate basketball fans.
The red-and-white Western Conference and white-and-blue Eastern Conference uniforms feature a maple leaf overlay on the front of the jerseys as a tribute to the national symbol of Canada, while Toronto's cityscape is featured across the back of the uniforms to represent the host city. The single-layered fonts are a nod to the NBA's early days in Toronto. A star patch incorporates a combination of the maple leaf and NBA logo, which are displayed on the upper back of the uniforms while black-and-gold jock tags feature the Toronto Raptors' alternate team colors and claw logo. The colors of the nations' flags represented at NBA All-Star intersect in a grid detail featured on the jersey's neck liner and the shorts' draw strings.
The NBA All-Star jerseys will range between $70 - $110 will be available on NBAStore.com in January in addition to a full range of NBA All-Star apparel including adult and youth T-shirts.