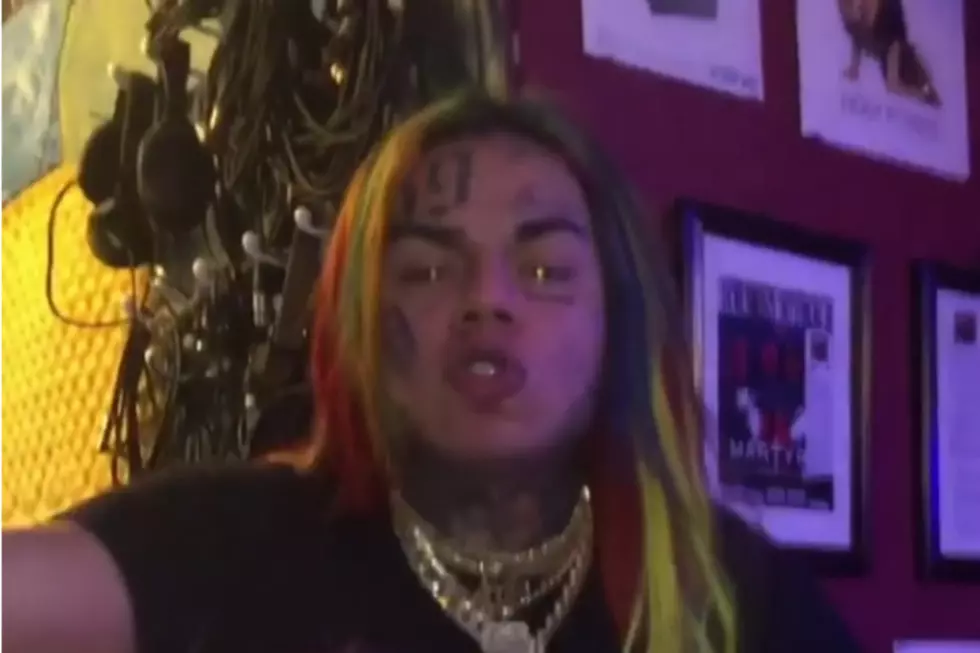 6ix9ine Teases Music From Upcoming Debut Mixtape
6ix9ine_ via Instagram
6ix9ine continues his takeover. With his debut mixtape coming soon, and the ears of the people, the Brooklyn rapper teases a new track off the upcoming release.
Late last night (Feb. 9), 69 uploaded a video snippet of a new song he has that might feature Cuban Doll, on Instagram. In the clip, both rappers enthusiastically perform the cut for the camera. Per usual with a 69 track, the tone of the single is turnt. "These niggas say they heard of me, I ain't heard of you/Get the fuck up out my fucking face 'fore I murder you," they rap. "Bitch niggas always talking Blood, but I know they food/Whole squad full of fucking killas, Ima killa too/Send shots, shots, shots, shots, shots, nigga/Everybody getting popped, popped, popped, popped, popped nigga."
"BILLY 🅱️🔴🔴 BILLY 🅱️🔴🔴 BILLY 🅱️🔴🔴 NEW SONG ‼️‼️‼️, " 69 captioned the video clip. "THIS IS THE FIRST SONG ON THE TAPE 4/4 ON BILLBOARD CANT WAIT TO SHOW YOU ‼️‼️‼️ FEBRUARY 23rd @cubanndasavage 🌈🌈🌈."
Dallas, Texas native, Cuban Doll, has been making a name for herself recently. Her breakout 2017 single, "Let It Blow" has garnered nearly 2 million views on YouTube. Newer tracks "Racks Up" and "Playa" are also making noise.
Check out the song preview below.
Check Out the 2018 Hip-Hop Music Festivals You Need to See