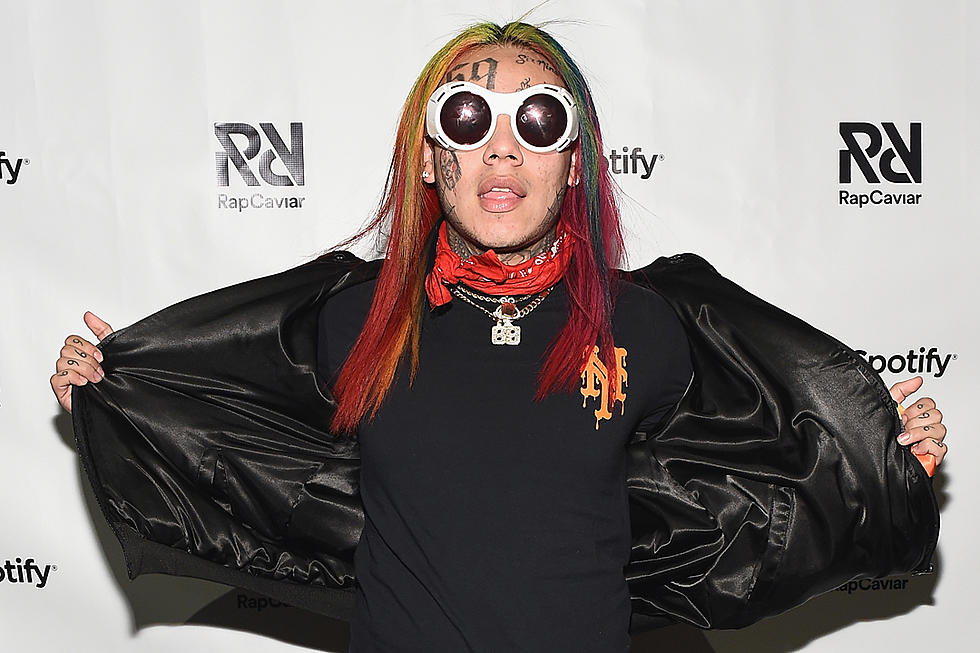 6ix9ine Denies He Was Shot or Stabbed at Yams Day 2018
Ilya S. Savenok, Getty Images
On Thursday night (Jan. 18), fans and rappers from varying corners of the rap world gathered in The Bronx at the New York Expo Center to celebrate the legacy of A$AP Yams for Yams Day 2018. Unfortunately, chaos erupted toward the end of the night as a result of a brawl inside, causing fans to evacuate. The cause of the fight is unknown but 6ix9ine has been linked to the incident, in which rumors included he was shot and stabbed. Now, the Brooklyn rapper has stepped forth to deny the reports that have run rampant on social media.
In a now-deleted Instagram video he posted of himself fleeing the scene at Yams Day, 6ix9ine dismissed claims that he was harmed in any way during the star-studded celebration, which was attended by the likes of A$AP Rocky, Playboi Carti, Nav, Lil Yachty and more. "Ya will never see a video of me getting touched," he captioned the now-deleted post. "Ya want something bad to happen to me so bad."
Fans and social media users reported gunfire at Yams Day, but the NYPD denied that any shots were fired. There's a chance that the noise that helped cause the chaos were actually the sounds of security gates falling and clanking together.
"For everybody that's putting my name in that Yams Day situation, that had nothing to do with me," the controversial rapper said. "I'm perfectly fine. That had nothing to do with me. It's crazy, you know what I'm saying, the amount of hate that just goes around in this world, man. Yams didn't deserve that. It was a charity event, you know what I'm saying, for Yams' family. That had nothing to do with me... I wasn't in no fight. My hair is still laced, this perm. I got into no altercation... You can see my face. I wasn't shot, I wasn't stabbed. Stop making up stories..."
According to 6ix9ine, Rocky, who hosted the event, talked to him after the show. Apparently, everything was all good.
"I have so much respect for the A$AP Mob," 6ix9ine offered. "And me and Rocky spoke and it was nothing but love, you know what I'm saying? It's bigger than me. Rest in peace A$AP Yams and the hate needs to stop. This world is full of hate... This is not about Tekashi 6ix9ine. This is about A$AP Yams."
Take a look at 6ix9ine giving his take on the events of last night below. Peep his Instagram post dedicated to Yams beneath that.
See New Music Releases for January 2018