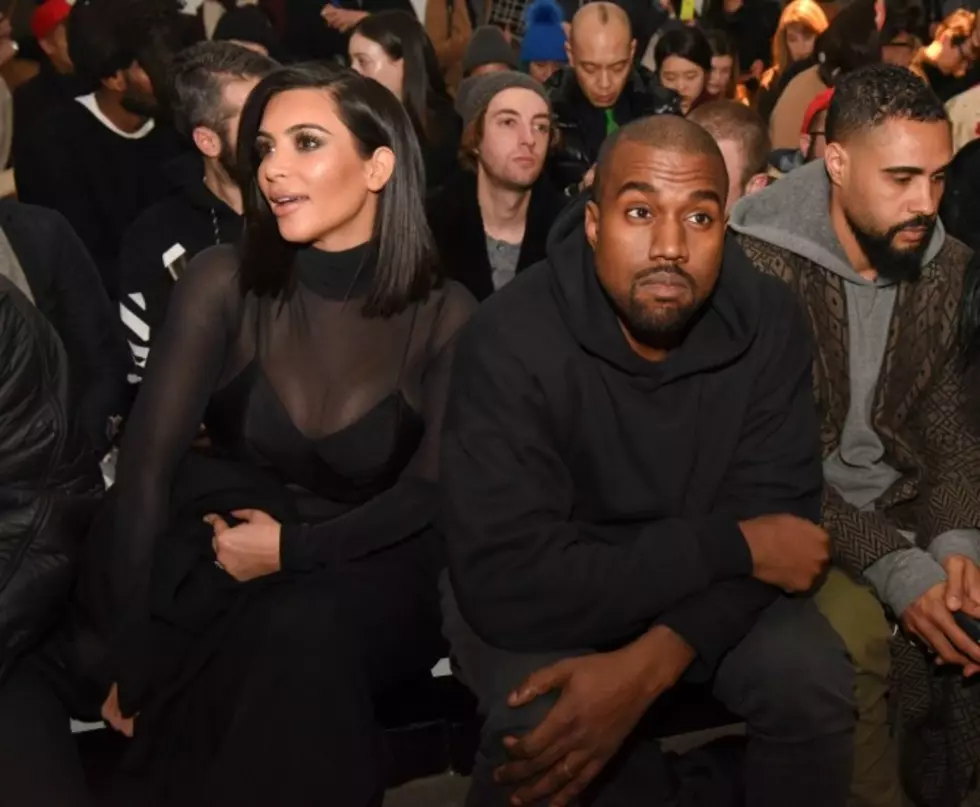 The 47 Best Quotes From Kanye West's Interview on The Breakfast Club
On the price of the Yeezy BOOSTs:
"I didn't want them to be limited, actually. That's something that the company did. I really want as many people to get them as possible. I don't want the price to be 350. I don't want to play this sneaker culture game, where they be reselling them for high prices. I just want people to have what I make. Ain't no limited release of The College Dropout."
On utilizing the talent around him:
"I just came from the Ralph show, and I was talking to Ralph, and I was like, 'Man, I need your help. Because you know how to make clothes, and I think I know what my generation wants'."
On creative control in his Adidas deal:
"Any relationship that starts off, you ain't going to have all the control. It's a marriage--usually the first year of any situation is the toughest. Then when you guys start to communicate, you know, it could be powerful."
On slow, deliberate marketing:
"Steve Jobs always had the iPad in his head, but you couldn't do that coming from the keyboard and the floppy disc. You have to walk people into this."
On his Achilles heel:
"You can actually play basketball in [the new Yeezy shoe] one better than the other one. First of all, this has got BOOST, which is the best technology, and I'm not just saying that contractually with Adidas, I'm saying that as someone who goes to the gym; if I wear my BOOST, I actually feel better, because I have problems with the back of my Achilles from performing so much."
On Uggs:
"I'm really working on trying to make a sexier Ugg."
On humility:
"Humbly, I would say I'm the most influential person in footwear right now. [Charlemagne: "There's no way to humbly say that."] Truthfully, I'm the most influential person in footwear right now."
On his speaking voice:
"I'm not that clear a speaker. I had this car accident and everything. Ever since then I've been a mumble mouth."
On segregating society:
"I think this idea of being better than the next man is the wrong mentality in the first place. We were born into a broken world that's been separated by race and religion and class."
On saying Beck was disrespecting Beyonce's artistry:
"That was completely hypocritical. The other day I went to dinner, I sat down with Taylor Swift, and ironically, they were playing the Beck album. Maybe they did it on purpose so I could finally hear it. I was like…'man, this is kind of good!'"
On displaying his Grammys:
"If you go to my house--I'm going to hit the stunt button for a second--you see my 21 Grammys that my wife made me take out of the bathroom and put in one place. I think I deserve more."
On airport travel:
"Me and Kim, we can [fly] private, but we wanna be an airport. We wanna be next to the people. I get inspiration when I see what people are wearing, I get inspiration when I see what people are going through. When people are walking in the line slower, when people are getting patted down. I gotta tell you this one story about class: I was going to London, and I was in the first class line, and it was real crowded. I looked over at the coach line for customs. We went over to the coach line and got through right away. Everyone was sitting there with their Hermes belts and their big hats. They didn't want to lower their class to get through faster, when time is the only luxury."
On sticking to his roots:
"I'm from Chicago. My wife got a big ass. I'm gonna stay ghetto."
On speaking with Beck:
"I got his number and I was supposed to call but I just keep forgetting."
On recognizing greatness:
"If you see something great, you've gotta respect it. I remember I was trying to get on the basketball team in eighth grade. I hit every free throw, hit every layup, and I looked at the list and I wasn't on the list. And then the coach just gave me the Kanye shrug."
On whether Beyonce needs his help:
"People look at Beyonce because she's rich--respect to Hov--she's a beautiful woman, she's talented, and so they figure she's got everything so you don't even need nothing else. But I think she needs the proper accolades because she's an inspiration."
On what he learned from Taylor Swift:
"Taylor was talking to me about this. She was saying that when she was the victim she won every award. Now she's powerful and the biggest selling artists, and she's not winning awards anymore."
On the purpose of being rich:
"Us as rich people, our focus shouldn't be on how we get a new Phantom, how we get a bigger house. Our focus should be on how we help the middle to the lower class to have a better life. Any time a rich person gets the piss taken out of them it's cool. Just don't do it to me all the time."
On the ozone layer:
"The world is moving. 10 years from now, 20 years form now, every person of color, or female, or any minority that comes into power will eventually shift it. You got the ozone layer, you got all this stuff, you see in 100 years from now, the entire world might be Black, just to seven survive on Earth, period."
On Kim's Paper cover and body image:
"Respected art can break class. One of the things that shut up a lot of people [about Kim Kardashian's Paper cover] is the fact that Jean-Paul Goude shot the photograph, who used to shoot Grace Jones. And Grace Jones' figure, physique, was as new and different as Kim's. Our position of power, we're not gonna accept the physique that was given to us, that was told to us was the proper way to look. My daughter has a chance of being shaped like my wife. So between this age and the age when she's like that, I'm going to be fighting for that shape to be the highest of class, or at least equal to how someone looks at a skinny model."
On her nudity:
"She can get naked if she wants to. It's not illegal."
On Amber Rose:
"She's just soaking in the moment. Nobody feel compelled to do nothing. If Kim had dated me when I first wanted her, there wouldn't be an Amber Rose."
On whether Kim sent him naked pictures while he was dating Amber:
On the transition between relationships:
"I had to take thirty showers before I got with Kim."
On bringing Nori to Fashion Week:
"No one can tell me where to have my child or not."
On why he let Dame Dash present him with his achievement award:
"Because he presented me to the world. I wouldn't have a record deal if it wasn't for Dame Dash. Dame is like the original person who understood culture. You've gotta definitely say that Dame's a real nigga. When he came over to the crib, I just saw him, and I missed him. I missed the good, I missed the bad, I missed all of that. All of that tension is what created The College Dropout. It's what created Late Registration."
On how Drake pushes him:
"I went to this Drake concert in Germany, I flew to the concert to go see it. He's got this one line where he says, like, "People be falling in love with famous girls and they don't be rapping as much" [from "Draft Day"]. But he was right. I've gotta get on my job."
On finishing "All Day" at Q-Tip's house:
"Last night, when I was working on "All Day" at Q-Tip's house, it was me, Vic Mensa, Q-Tip, and we was building on culture, culture, culture instead of trying to write bars. We built on that, and then I started writing bars, they just started coming."
On generational differences:
"No matter how hard I try, Drake is gonna speak to a generation in a way that…I might not have been at that same basketball game, that same high school game, watched that same TV show, been to that same club."
On Tyga's relationship with Kylie Jenner:
"I think he got in early. I think he was smart."
On what to expect from his new album:
"Bars. Songs. Cookouts. Music that just feels good. My last album was a protest of music, I was like 'I'm gonna take my ball and go home. If y'all ain't gonna let me play what I wanna play and do clothes and do this, forget y'all.' I just let y'all have a little music on "Bound" and that was it. But this album is just embracing the music, embracing joy, being of service to the people."
On working with younger artists:
"A lot of the reason I'm successful now is that the people who worth with me now grew up on The College Dropout."
On his silence after the murders of Michael Brown and Eric Garner:
"My dad emailed me and said, 'Stay out of it'. My dad is a thousand times smarter than me, a thousand times more social than me.  He literally lived at a homeless shelter. That's my only parent, so I have to listen to him--sometimes. I think he was just trying to be protective of his son. I can't run in front of every bullet."
On how close he is to completing his album:
"I think 80% [finished]. I'm trying to get it finished. I'm trying to get it to the people as soon as possible."
On when to expect it:
"Release dates is played out."
On coping with the White establishment:
"The thing that they hate most is the angry Black man. Even though they could cause you to be angry--they hate that. In a boxing match, if you get angry, you lost. If I'm angry all the time, I've already lost. I got enough to be happy about to focus on that."
On whether Kim and Beyonce get along:
"They love each other. They respect each other. When Beyonce's working on her album, she's got pictures of Kim on the wall, because Kim represents powerful women. Kim's playing the "7/11" video for our daughter. [Pause] Maybe there's a LeBron James-Kobe [Bryant] element to it."
On making an album with Drake:
"The 'Wolves' song came from a conversation that me and Drake had where we was gonna do an album together, and the album was called Wolves."
On working with Young Thug:
"I got this one record with Young Thug that we're gonna put on Rihanna's album."
On perseverance:
"I'm the dude with the pink polo and the bad attitude. And I'm still here."
On the legend of Beanie Sigel showing up and brandishing a gun to dissuade would-be robbers while Kanye ate at a restaurant in Chelsea in the early 2000s:
On giving back to hip-hop:
"I believe I'm going to be the head of the first trillion-dollar company. When I get to that point, no rapper would ever have to worry about anything again."
On 'Nori' vs. 'N.O.R.E.':
"'Only One' has nothing to do with Noreaga, but everything else in my life does. [laughs]"
On using "Only One" as a single instead of "All Day":
"People ask me, why did I go with 'Only One' over 'All Day.' Well 'Only One' made me feel like me. It made me feel like this is the song I had to play back at the studio if Cam'ron and Jim Jones played thirty Dipset records, what am I gonna play in the pink polo, what am I gonna play that's gonna stand out? What point do I have?"
On standing out from the pack:
"I love Cruel Summer, I think it's amazing, but I felt like I started blending in with the pack. It's important for me to innovate."
On Kim's acting success:
"Reality [television] is like rap. It's so futuristic. My wife is a visionary. SNL wanna make skits, but I don't know nobody who's as successful at what she's doing as her."
On having opinions:
"Who am I to have an opinion? [Charlemagne: 'You're Kanye West.'] Exactly."