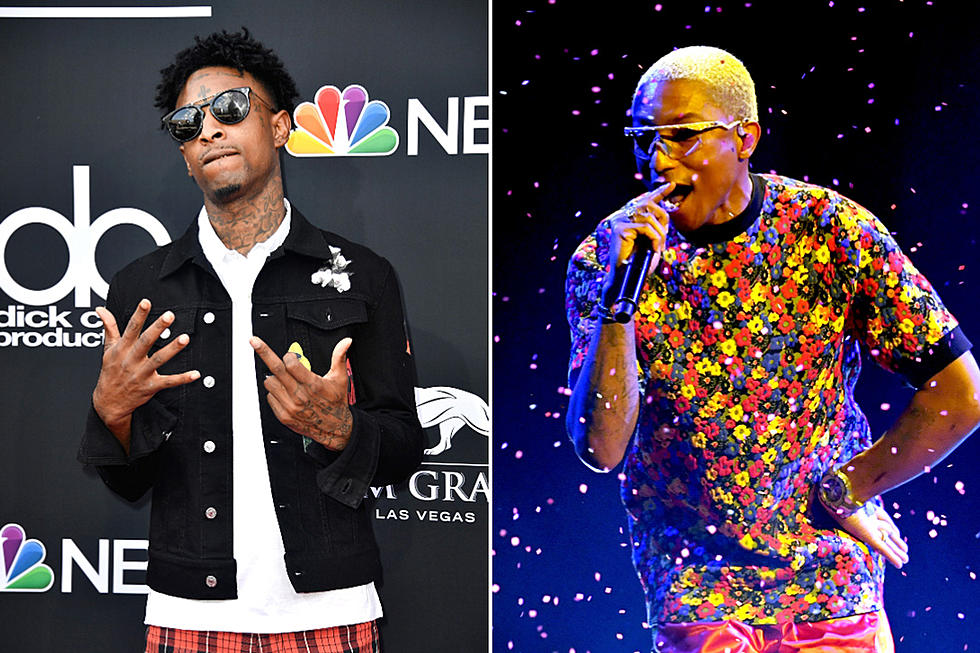 21 Savage Has a Hit With Pharrell in the Works
Frazer Harrison / Kevin Winter, Getty Images (2)
It's no secret that 21 Savage has wanted to collaborate with Pharrell, but now the Atlanta rapper says the two have a hit in the works. Speaking with Billboard at the 2018 Billboard Music Awards red carpet on Sunday (May 19), the "Bank Account" rapper confirmed he's in the studio with the producer but wouldn't reveal any more details.
When asked what he and Pharrell are working on, 21 Savage played it coy, simply replying, "Hits. Hits." As for a release date, Savage wouldn't reveal one, instead saying, "To be announced."
XXL previously caught up with 21 Savage for the spring 2018 cover story and the rapper spoke about wanting to work with Pharrell, telling us, "Yeah, I wanna fuck with Pharrell. Not necessarily for this [sophomore album], I just wanna work with him." He added, "He just a creative-ass motherfucker... He ain't lost the touch... And I like that 'Stir Fry' song."
"This is pretty cool stuff, man," Post Malone said. "Thank y'all so much. This is my first award by the way... I just want to say thank you to everybody for supporting me, to my fans, Savage for doing this song with me. I guess my mama, my daddy. Everybody else, thank y'all so much... y'all rock. I don't know what to say, man."
Check out 21 Savage discussing his upcoming collaboration with Pharrell below.
See New Music Releases for May 2018