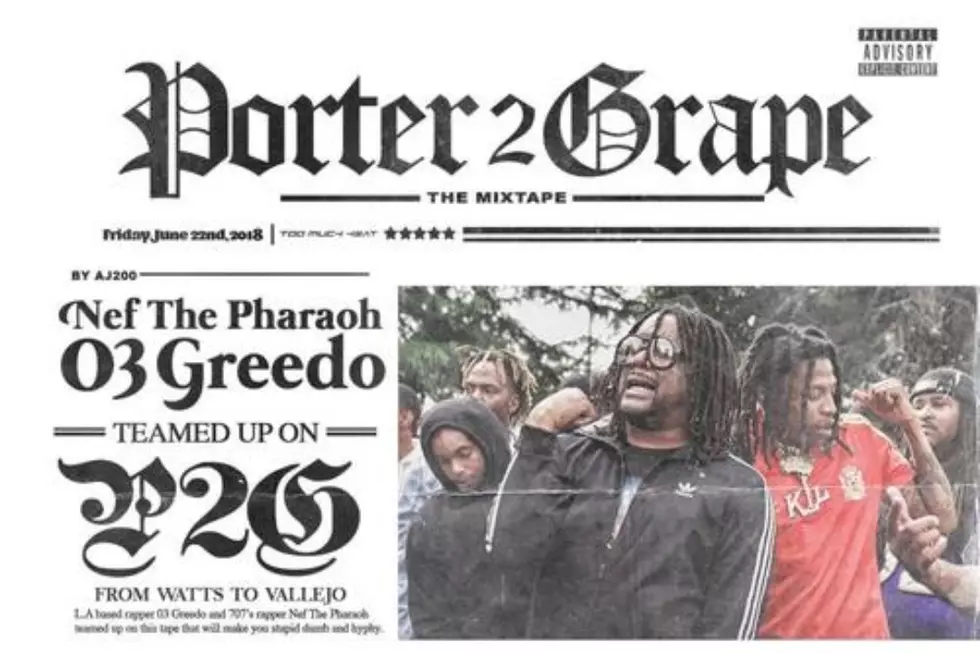 03 Greedo and Nef The Pharaoh Drop New Song "Ball Out" From Forthcoming Joint Project
Porter 2 Grape
03 Greedo's prolific 2018 continues with a new collaboration with fellow Cali spitter Nef the Pharoah. Today (June 14) the two rappers dropped "Ball Out," featuring Oakland's ALLBLACK, and announced that the song will land on a forthcoming joint EP titled Porter 2 Grape.
The track places the trio over the type of post-hyphy production full of bass stabs, digital claps and empty space favored by all three artists. Nef leads with tricky flows that detail his preference for risky behavior and gold.
"Yeah I know I'm out of pocket, I was playing with life/Black and shiny all gold, hold the ice/I'ma keep my jeans at my ankles and keep my all my mics/Driver's seat I'm getting rolled like a bike," he raps.
Greedo follows, sounding frantic as ever, taking pride in his come-up and all he's survived, "All these niggas focused on is having sex with bitches/Project niggas, I'm the one who made it out the trenches/Since the age of 18 I've only seen 03 Thanksgivings."
Listen to Nef The Pharoah and 03 Greedo's "Ball Out" below, where you'll also find their project's cover art and tracklist. Their EP is available for pre-order now.
Nef The Pharoah and 03 Greedo's Porter 2 Grape Tracklist
1. "Pluto"
2. "Ball Out" featuring ALLBLACK
3. "Choosy" featuring Chris O'Bannon and ALLBLACK
4. "Blow-Up Bed"
5. "Feeling You"
See 22 Hip-Hop-Related Police Raids