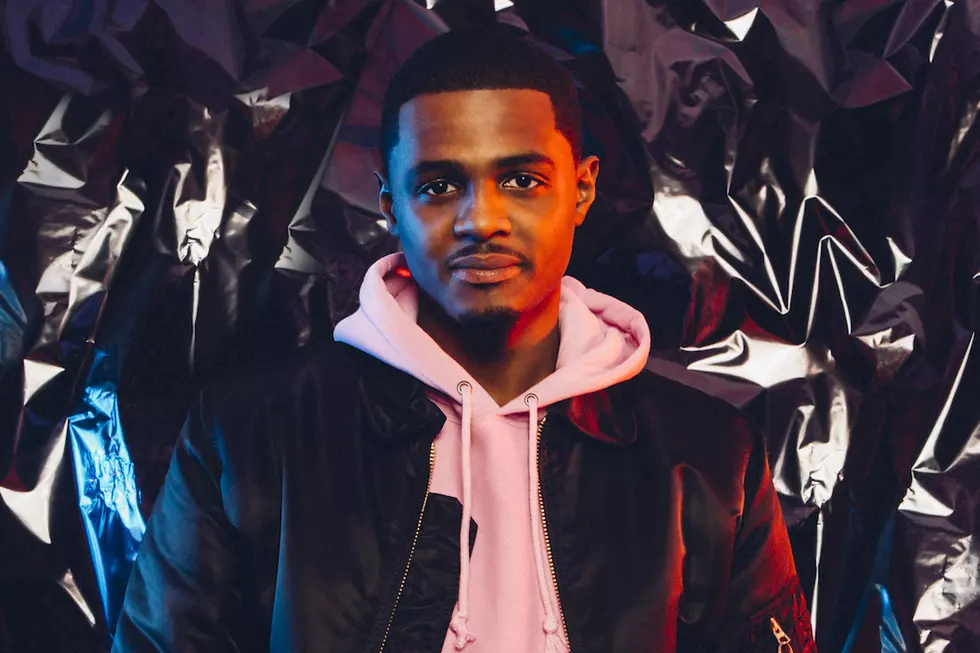 The Break Presents: Yuri Joness
A. Galvillet
The funny thing about a big break is that it's often a right-place-right-time happenstance can be sparked at any moment. For rapper Yuri Joness, the catalyst for his viral fame came courtesy of a preteen who he met in a skate park back in 2016.
The Amityville, N.Y., native had just released his single "Same Dude"—a song that forecasted his own humility after attaining fame and fortune—and was promoting it to anyone who'd listen. He encountered a then-11-year-old boy named Tello and left such an impression that the young'n learned the words to his song and recorded a video of he and his friends rapping along in the backseat of his aunt's car. Yes, even the curses.
"It posted it on Facebook, and the next day it was everywhere," Yuri tells XXL, adding that the breakout single generated 150,000 streams in just two days. It's sitting at 4 million plays on SoundCloud. "It went from Facebook to Instagram to Worldstar, and the numbers just started going up."
Up until that point, Yuri had made modest strides in his musical career. He started writing raps in high school when he and his friends battled a rival crew. ("We had teams," he remembers, "so everybody had customized shirts with [a] Twitter name on it.") Once he graduated, the 22-year-old artist began taking his craft seriously, linking up with a Queens engineer who he met through Xbox, paying $30 per hour for studio sessions. Thanks to Yuri's melodic and relatable rhymes his music began to bubble on SoundCloud, led by "Same Dude." He subsequently landed a deal with Columbia Records.
Yuri Joness is poised to keep the momentum going in 2018 with his latest single, "G-Star & Bape," the next step in fulfilling the prophesy of "Same Dude." "I can't be that guy who had the hit song and then stops, and I'm just working a regular job—nah, I gotta go now," he says. "When it comes to my music, I'm promoting to anybody; old or young."
Hometown: Amityville, N.Y.
My style's been compared to: "When I first started, people compared me to Fab a lot—I guess how I was rapping, the mellow tone. But I can't really compare myself to anybody; I feel like my voice just sounds so different. I wouldn't be where I am today if my voice wasn't different or I didn't do something that stood out."
Most people don't know: "I love dogs, like, OD. I have three dogs. We've had a dog since I was 4. If you add me on Snapchat you'll see I always post my dogs [laughs].
"What else? I'm a nasty driver. On some real cockiness, I'm probably the best driver you'll ever meet [laughs]. I'm confident in my driving, especially once I got my [commercial driver license] and started driving trucks. My friends still try to say they drive better than me; I be like 'Nah, y'all buggin. Y'all never parallel parked a big-ass truck—not no box truck; a real cement barrel truck,' shit like that. I ride bikes, too. I'm into that real outdoors stuff. I was never really an in-house kid, I always wanted to go outside. I was the only kid in the projects with a dirt bike when I lived in BK. I just love doing fun stuff."
My moment to date has been: "I signed a deal and don't even have 10K on Instagram, so I feel like that says a lot. It's not like I'm out here trying to get lit, doing extra stuff like dyeing my hair and all that craziness. I'm just being myself."
My goal in hip-hop is: "To influence a lot of people, show that you don't have to copy other people. Stop trying to be like someone you look up to. It's always good to have an influence, but you have to understand that you are yourself. Nobody else can write your future for you. You can't sit here and be like, 'Oh, this guy did this, so I'ma do it exactly like that,' 'cause everybody's different. Literally, every human is different—twins are different.
"I just wanna influence people to be yourself, and whatever your gut feeling is about something, that may be a hidden talent. It could be that one thing that you just have a knack for, you just gotta figure out how to make that a hustle. And I feel like that's all life is, it's a big track. Everybody got their own track."
I'm going to be the next: "Big thing. I feel like the supporters that I have now really believe in me; they hear the music I have, they see what I post on Snapchat—like, unreleased music—and I feel like they have a strong confidence [in me].
"I be getting DMs like, 'Yo, you're the G.O.A.T.… You're about to be this… Why do you only have this much followers?... Why are you not famous yet?' People be getting mad at me 'cause I'm not lit [laughs]. I keep doing it for them."
See New Music Releases for January 2018