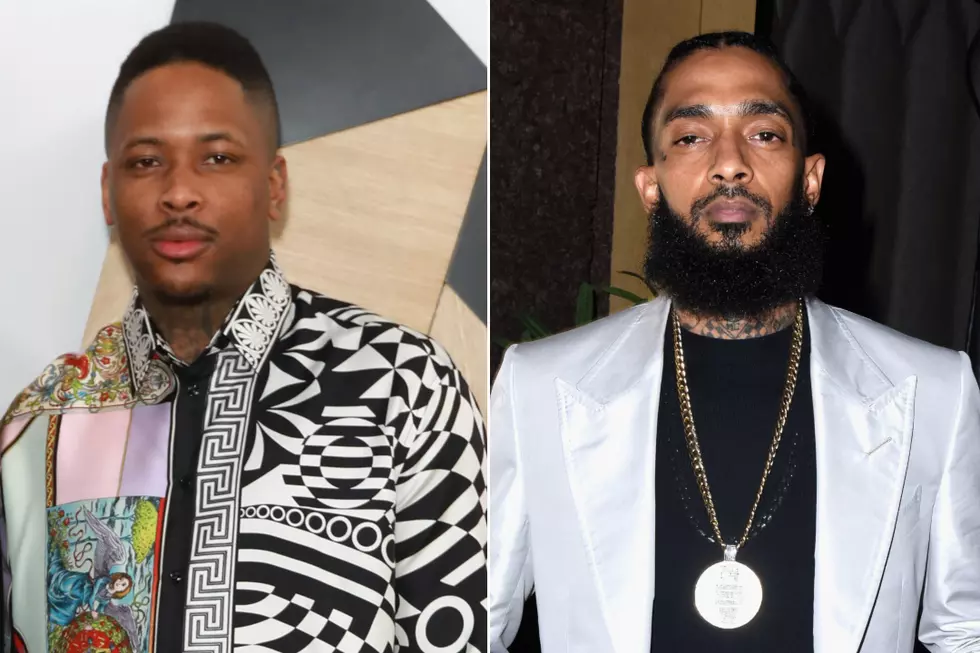 YG Donating Percentage of Every Song on New Album to Nipsey Hussle's Kids
JC Olivera / Vivien Killilea , Getty Images (2)
Though YG and Nipsey Hussle were from the opposite side of the tracks, they had a very special bond. In the wake of Nip's passing, YG plans to donate to the late rapper's kids with some proceeds from his new album 4Real 4Real and forthcoming releases.
On Thursday (May 23), Mr. 400 sat down for an interview with Big Boy of Real 92.3 in Los Angeles, where he gave details on his plans. He first talked about how Nipsey's death weighed on him and caused him to push back his album. "I'm fucked up. So I'm like, damn, my music ain't 'bout to represent this shit," he said. "It was just weird, but I was like, I still got to put it out. The marathon continues. I was talking to bro family, like Blacc Sam and them, when it happened. Like, 'Bro, I can't even put this music out. I feel weird and shit.' They like, 'Bro would want you to put your music out and turn up.' So I'm like, 'You right.' I'm like, 'For sho.'
He added, "I put that 'In Loving Memory of Nip' on the album 'cause I'm giving his kids a percentage of every song on the album. So, by the time they get 18, from me, they gon' have a bag."
It sounds like this won't just be a onetime thing. "We gon' keep that going, probably six more albums," he revealed.
Check out YG talking about giving to Nipsey's family, his new album, acting and more below.
See 10 Rappers' Purchases That Broke the Bank