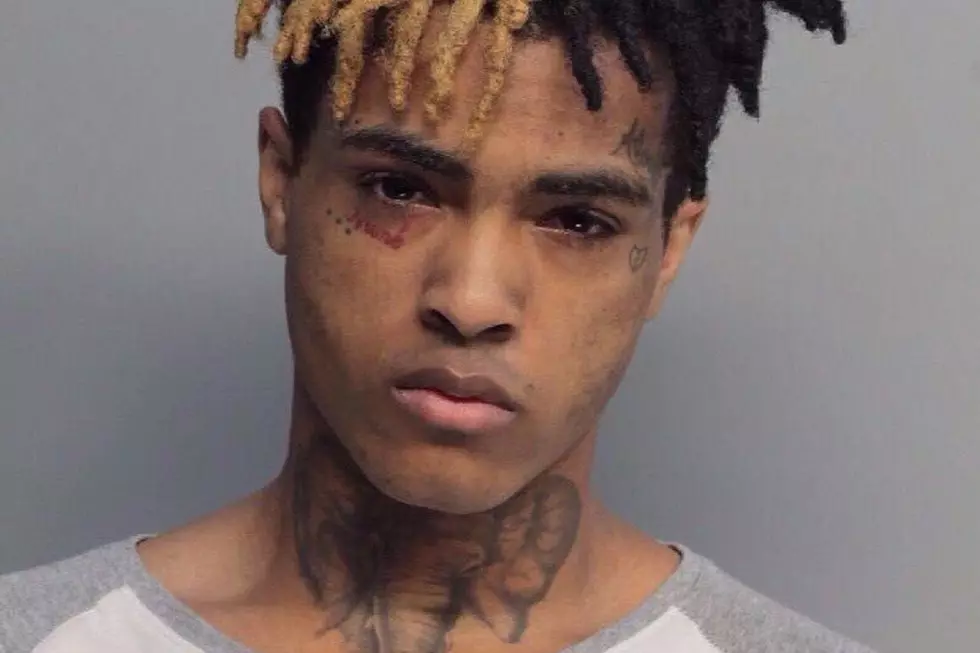 Here's What XXXTentacion Plans to Do Now That He's Free From Jail 
Broward Detention Center
XXXTENTACION is ready to make an impact now that he's been released from jail. The Florida rapper chose to speak directly to his fans by using Periscope and going live from Miami radio station 103.5 The Beat in addition to inside a vehicle. During the conversation, X shared what he plans to do now that he's a free man.
He confirmed his plans to drop three solo projects as well as the third volume of his crew's Members Only series. "There's three projects I'm coming out with: 17, I Need Jesus, Revenge and then there's gonna be Members Only Volume 3 project," X said on Periscope. "Right now, it's gonna take quite some time. I'm gonna give you guys one song, and I need you guys to be patient."
The 19-year-old "Look At Me" rhymer also addressed the war between his old fans and new supporters, which have grown exponentially since he's been locked up.
"Obviously my music is getting a lot, lot, lot, lot bigger and we all know this now," X stated. "With all the attention, to my core fans that don't like the new fans, remember, this is a family. We are supposed to become a huge community, so, you guys can't get mad at the new fans and want to like be pissed off. Instead of getting mad at them for listening to 'Look At Me' because it's the biggest song guide them towards the rest of the music and show them the really good songs and really put on for me, you know what I'm saying?"
As a way to help others reach a bigger audience, X revealed he's been doing reposts on Twitter for $100 to $200 under the username @INFO_BADVIBES -- though he incorrectly said the Twitter handle in the Periscope video. "I'm reposting people so that way they don't have to go to all the labels and do all that extra shit. So they can get 10s of thousands of fucking views so I can help. This is why I'm doing it. Obviously I gotta eat... So that's why I'm charging people. But I'm trying to help in the best way I can."
There's another way he plans to give back to people. "I'm gonna be doing something to where every month I'm gonna pick two to three people that I'm gonna go buy food," X explained. "So if you don't have food in your kitchen I'm gonna pick a random few you just gotta ask me, hit me up. I'm won't publicize it. I'll just come to you... I'm going to come to your house, fill up your whole fridge, fill up your whole cabinet. I mean, take you out to eat, help out your whole family. I'm just tryna help."
He feels "blessed" to have a strong fan base and said he appreciates their support when Drake seemingly bit his flow. "You guys are awesome. When Drake tried to steal my shit, y'all had my back," he shared. "I love you guys, bro."
X, who is now on probation, previously spoke to XXL about the projects he planned to drop while he was still behind bars. The buzzing rapper aims to deliver a different sound with each release.
"I got this really really, really good album called 17. That's more of an alternative, R&B sound," he told XXL. "Then I've got this mixtape called I Need Jesus, which is mainly rap and the underground sound I did. So I'm trying to give my fans and anybody that comes in and listens to me everything with the mixtape and album. And then I want to come out with Members Only Vol. 3. People are gonna be really surprised about the shit I drop."
In XXXTENTACION's Periscope stream, he revealed that he's actually been out of jail for three days.
Check out everything that X had to say below.
Fans Name Rappers They Think Will Blow Up This Year