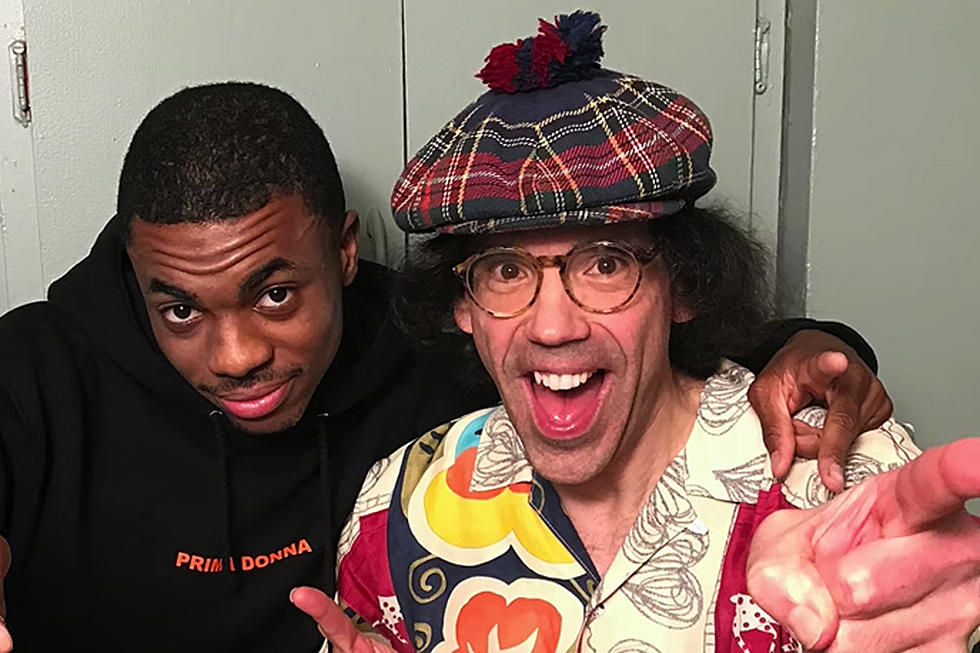 Vince Staples Tells Nardwuar Who the Best Long Beach Rapper of All Time Is
NardwuarServiette via YouTube
You gotta give credit where it's due. While Vince Staples was in Vancouver, B.C. for a performance stop on his Life Aquatic Tour, he was caught backstage by Canada's favorite kooky interviewer Nardwuar. And although the Human Serviette is known for having the ability to obtain the most obscure details about his subjects prior to a interview, Vince tried to convince him he had the rapper pegged all wrong.
When Nardwuar repeatedly handed the young MC Malcolm X and KKK articles, Vince just laughed off these gifts. Staples did, however, warm up when it came to talking about his city's hip-hop timeline. Though there were mentions of No I.D. and Battlecat, Nardwuar got the best response when he handed the artist an old piece of Eastsidaz merch, a purple foam finger. This prompted Vince to drop some West Coast rap history for the folks at home.
"I'mma talk to Snoop about this. If we the Eastsidaz, bro, we can't throw up the W, bro. That's backways, bro. I don't know what you niggas was thinking, bro," laughed Vince. "But I love Tray Deee. Tray Deee is the best rapper in the history of Long Beach."
Big Tray Deee was a member of West Coast rap trio Tha Eastsidaz back in the early 2000's, a group that consisted of Tray, Snoop Dogg and Goldie Loc. Together the guys dropped two studio albums before parting ways in 2003 due to Tray's legal drama and Snoop's solo stardom.
Elsewhere in the ten-minute clip, Nardwuar made the rapper reminisce about a weird/funny childhood trauma: the time he peed on himself in a wave pool because he thought he was drowning. Oddly enough, Vince remembered hearing a Ja Rule and Ashanti song, which helped him make it through the ordeal.
"I was like, 'I'm about to die.' Ja Rule and Ashanti's 'Always on Time' was playing in my head, and then the lifeguard picked me up on his shoulder and walked me out. And then I ate a sandwich with my mom," remembered Vince. "Technically, yeah, Ja Rule saved my life, featuring Ashanti, we gotta give her credit."
Since dropping his Prima Donna EP last year, the former XXL Freshman has been busier than ever. Vince is currently on his first ever headlining North American tour featuring Kilo Kish, is gearing up to take over New York's Panorama Festival this year and has been teasing even more new music. The LBC rapper shared the new track "Bagbak" in early February just as he was about to head out on tour, and his new album is "coming very soon."
Check out Vince's full Nardwuar interview below.
40 Hip-Hop Albums Turning 20 in 2017