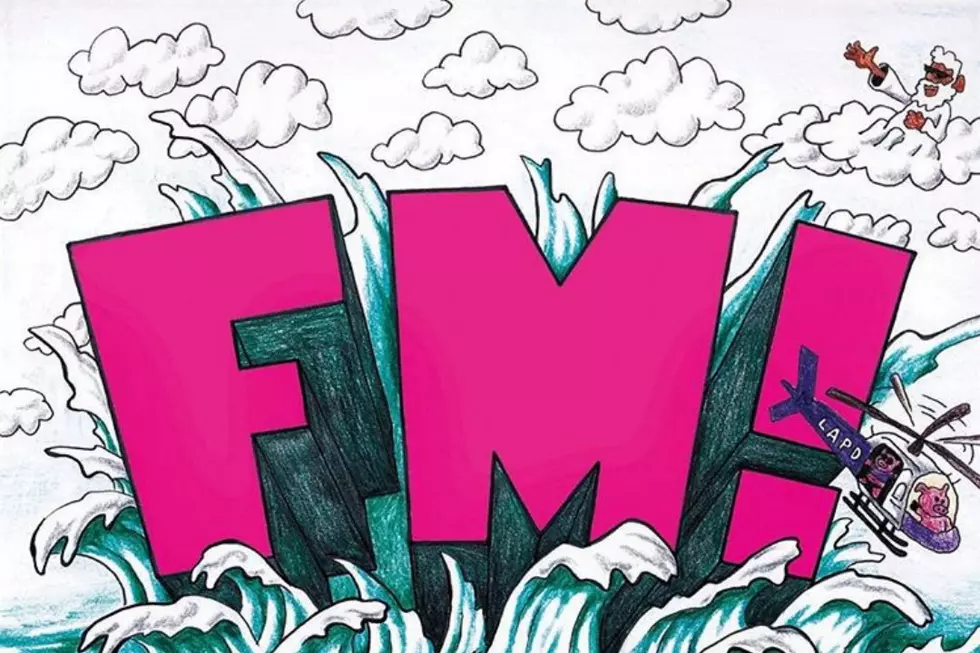 Vince Staples 'FM!' Album: 20 of the Best Lyrics
Def Jam
Vince Staples has low key been making some of hip-hop's most well-rounded projects over the past few years. Summertime '06, deemed by many a modern-day rap classic, set a personal benchmark for Vince that he has continuously tried to hurdle since its release. Last year's Big Fish Theory tapped into Vince's experimental side to continue pushing boundaries, matching brazen industrial production with scripture-worthy raps. The Long Beach rapper's keeps it going with his new album, FM!.
FM! packs a hard lyrical punch. There are a few featured guests like E-40, Ty Dolla $ign and Kamaiyah, all of whom add vocal variety to the 11-song surprise project. But for the most part, Vince handles the bars in full. There are times where he bobs and weaves through intricate production by Kenny Beats, who steers the music on the entire project. Elsewhere, Vince slows it down to ensure listeners feel his rhymes down to the last syllable. Vince has proven to be less-is-more MC and on this project he ensures that he gets his point across as such.
"I took time off from recording my next album to make a very special project dedicated to my biggest fan and supporter since day one," Vince wrote as a caption for a childhood photo of himself. "He said he needed something that represented him and where he comes from so here it is. Thank you for years of loyalty, I do this for people like you."
XXL combed through FM! to highlight 20 of the best lyrics. Check them out below.
"Feels Like Summer"

Vince Staples Featuring Ty Dolla $ign

"All he got was a plot and a bottle from the Winco/Still Norfside, Parkside, Vince stole/Two wins, new friends, we skip those/Try finessin' my way into heaven, might hit that gate/Might fall from a big splat" —Vince Staples

"Feels Like Summer"

Vince Staples Featuring Ty Dolla $ign

"Still struggle with the past, I'm strapped/Somebody gotta watch my back/Everybody wanna count my bag/Ease off me, these streets taught me/Speak softly, please don't taunt me/Knowin' Vic and them stayed on 8th/If they killed me, then I'd be great/Now they lookin' at me" —Vince Staples and Ty Dolla $ign

"I'm out there, on Johnny head, you lackin'/I'm on yo' ass, we packed in/He ran on line, we catch him, we gon' blam his mind/No cappin', Park gangstas backed in/At my Uncle Phil house with the Mac-10/Up at momma Trice house that's street doubt/Little young, now niggas better calm down" —Vince Staples

"Young and livin' gorgeous, reinforce wish/Prolly can't afford this, we in orbit/We gotta space and my face with the court shit/Never love, never trust, never gone switch" —Vince Staples

"Don't Get Chipped"

Vince Staples Featuring Jay Rock

"Can't wait 'til I'm rich, I'm finna buy a whole crate of guns/From 'round 90 Crips, shit I really came from the slums/Time to represent, let me see you bang, where you from/Don't be acting spooked, I'm a troop, I don't give a fuck/I just wanna live it up, used to make 'em give it up" —Vince Staples

"Don't Get Chipped"

Vince Staples Featuring Jay Rock

"I throw a party on your block, like I'm Tommy the Clown/$100,000 car, bet you proud of me now/Took my mama out the set, house as big as my mouth/Started yelling out regrets, so I shot in the crowd, pow!" —Vince Staples

"Do you really wanna know about some gangsta shit?/In the city, sittin' pretty where it's dangerous/Watch me talk that Bunchy Carter, that Karenga shit/Watch your back, or boy, these crackers try to hang you quick" —Vince Staples

"Baby went to Howard, got a B.A./Had her baby shower in her PJs/Got her baby daddy for a GTA/On the GTL, tryna beat the case/Crime, he kept it silent, least that's what he say/From direct deposit to the lawyer plate" —Vince Staples

"New earlsweatshirt (Interlude)"

Vince Staples Featuring Earl Sweatshirt

"You be on that tough shit, it ain't caught up with you yet/16 with that bald fade, Sean John on my chest/16 with that bald fade, nigga/I sat by the bench when that lost fades on the island/Rest in peace to my pops and the boy Riley/Gotta speak for the dead homies when they time end" —Earl Sweatshirt

"Run the Bands"

Vince Staples

"I'm... on it, shut it, California/Run it if you want it/Car so big it's haunted/Car so big it's Tongan/House so big need Kanye lipo/Nikes Off-White like half-time Michael/Him no play, him Bateman psycho" —Vince Staples

"Run the Bands"

Vince Staples

"Brand new shrink, had a breakthrough/Brand new mink for the great room/Don't bring knives to the gunfight/We bring knives to the day room/Norfside, right by the Popeye's, popped out/Ran from the cops but the cops get shot now" —Vince Staples

"FUN!"

Vince Staples Featuring E-40

"My black is beautiful but I'll still shoot at you, dawg/Tupac, death tells all/Watch out for the niggas in the Lakewood Mall/Bitch, you touch, Nobu brunch/No bit change, no blue Chucks/Just big things, cuz gon' bust" —Vince Staples

"FUN!"

Vince Staples Featuring E-40

"I'm so Norfy, my loves go viral for me/Ride slow, hop out, get hyphy/Think I know why he no like me/He broke, we know, citch/He told, he on print/Black and white like old flicks/We blam, these bands like goldens, I'm hopeless" —Vince Staples and E-40

"No Bleedin"

Vince Staples Featuring Kamaiyah

"Dead homies, where they at?/We be slidin' with the wop/Dead homies, see the rat/He be sidin' with the cops/Dead homies, where they at?/Don't be hidin' with a sack/Dead homies gettin' slick/If you actin' out of pock'/Feds on me, hit the gate/Double back and hit the block/Feds on me, skippin' state/I'ma buy another spot/Bread on me for the case/I ain't never gettin' caught" —Vince Staples

"No Bleedin"

Vince Staples Featuring Kamaiyah

"I want whatever that you want, let's get it brackin'/Ain't with that talkin' bullshit, I want that action/I need it all up front, that's what I want/Play and get stumped, I get active/No I cannot stay in, I go dumb outside" —Kamaiyah

"Brand New Tyga (Interlude)"

Vince Staples Featuring Tyga

"Ha, rippin' Harley when the chopper blast/Lil Cheese, put the silence on the rat/My niggas will kill, they the real men in black/And that's no cap, like a undergrad" —Tyga

"Tweakin'"

Vince Staples Featuring Vonnie, Buddy and Kehlani

"When Jibari died was off the porch for homicides/Then when Hefe died, I bought some things to pass the gas/But when Johnny died all I had was shows booked/Down to burn in hell, I don't care how my soul look/I know you gon' tell, I can tell by your fro's look" —Vince Staples

"Tweakin'"

Vince Staples Featuring Vonnie, Buddy and Kehlani

"Niggas emotional nowadays/Lyin', they hide their coward ways/Crying in court when they catch a case/Off of the porch at 11 grade/Call in the week, when my mama prayed/Prolly why none of my karma came/Just put the Benz in my mama name/Family first, I can't get re-raised" —Vince Staples

"Tweakin'"

Vince Staples Featuring Vonnie, Buddy and Kehlani

"Woulda been a lot more useful shit/Who up in the pulpit truthful shit/Bunch of poor people gon' use the shit/Might as well go and get used to it/Tryna get rich, get everybody fed/But everybody dead" —Vince Staples

"We just lost somebody else this weekend, no no/Think that I am jumping off the deep end, yeah yeah/Nothing out of something I was leaving/Tryna find my piece of mind, it's litting" —Kehlani