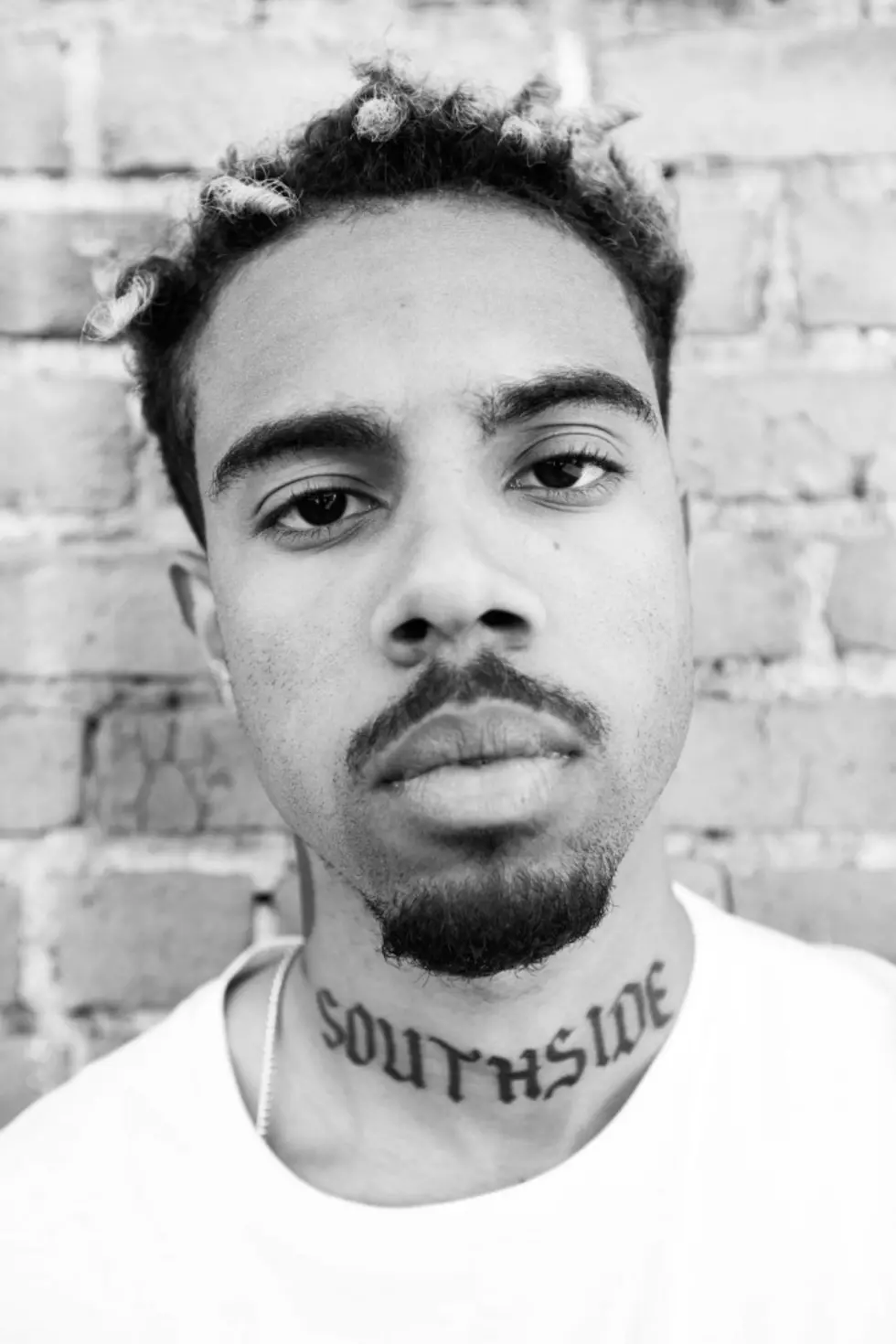 Vic Mensa Describes His Debut Album as Melodic, Vulnerable and Raw
Photo Credit: Brock Fetch
Rise 'N Shine
Two collabs with Kanye West and a new Roc Nation deal have Vic Mensa on the fast track to success.
Words Dan Rys
Image Brock Fetch
Editor's Note: This story originally appeared in the Summer 2015 issue of XXL Magazine featuring our 2015 XXL Freshman Class. Check out everything from our Freshman issue right here.
This time last year, Vic Mensa was flying high off his solo debut project, Innanetape, and an appearance as part of XXL's 2014 Freshman Class. Twelve months later, what had started as a growing national buzz has exploded into a full-fl edged movement. This February, Vic appeared on Kanye West's single "Wolves" and performed the song alongside Yeezy and Sia at the star-studded 40th Anniversary of Saturday Night Live three days later. In April Kanye returned the favor with a feature on Vic's "U Mad," which paved the way for a deal as a solo artist on Roc Nation finalized later that month. Now with his debut album Traffic due this summer, Vic's ready to conquer the world.
XXL: Why did you sign with Roc Nation?
Vic Mensa: Roc Nation is fresh. The industry is a corny place, so you link up with like-minded people that have an ear and an eye for innovation and the next step for us as a culture. You know, it's not traditional, I'm not traditional. It made sense.
Was there anything surprising about working with Kanye?
Shit, you know what was surprising was finding out that I was on "Wolves" and that they had looped my part. I didn't know until the day of his Adidas Collection show [in February]. I mean, it's a muthafuckin' surprise all the time with those guys. They keep everyone on their toes. It was dope.
How can you describe the type of music you're making for this album?
Melodic. Vulnerable. Anthemic. Raw. Just a lot of things I say in a lot of songs that sometimes make me a little uncomfortable, make people close to me uncomfortable. Because there's really moments where I'm just putting it all out there.
What do you want to get across with the album?
My goal is to speak to the people like me and those that can relate and let them know that whatever they might be going through, there's always a sun shining in the morning. And not only that, dreams can become reality. I'm just trying to be me. I'm telling my life in very much detail for the world to interpret how they want to.
Is it hard to balance hanging with Kanye and Jay Z with your friends in Chicago?
I try to take the game that I get from my idols and bring that right into the circle with my family. I try to make sure that we're all learning from what I'm being exposed to. Shit, it ain't hard to balance though, because I'm just, in my opinion, a real nigga. Just because I was in Paris or whatever with whoever last week, doesn't mean that when I come back to Chicago if you see me on the street I'ma diss you.
Sometimes I do get fuckin' tired of people though. It's a gift and a curse, because I gotta have love for anybody that fucks with me, 'cause my music is more or less all I got. So anybody that supports that, they keep me afloat. Sometimes it's just hard taking a path where you are required to talk to so many people. I'm a loner dude anyway; that's just my thing. Sometimes it hurts when home don't feel so much like home. But I know I got some real ones with me, so I'm always good.
Have you been thinking about getting into other things outside music?
I'm definitely making strides into fashion and film. I wanna do some physical art installation shit. I've been having some ideas since I went out to Art Basel looking at halfway painted fuckin' street signs and shit and I'm like, "Man, I got ideas, too!" [Laughs] I'ma have a gallery though, for sure.
Check out the rest of our interview with Vic Mensa right here.