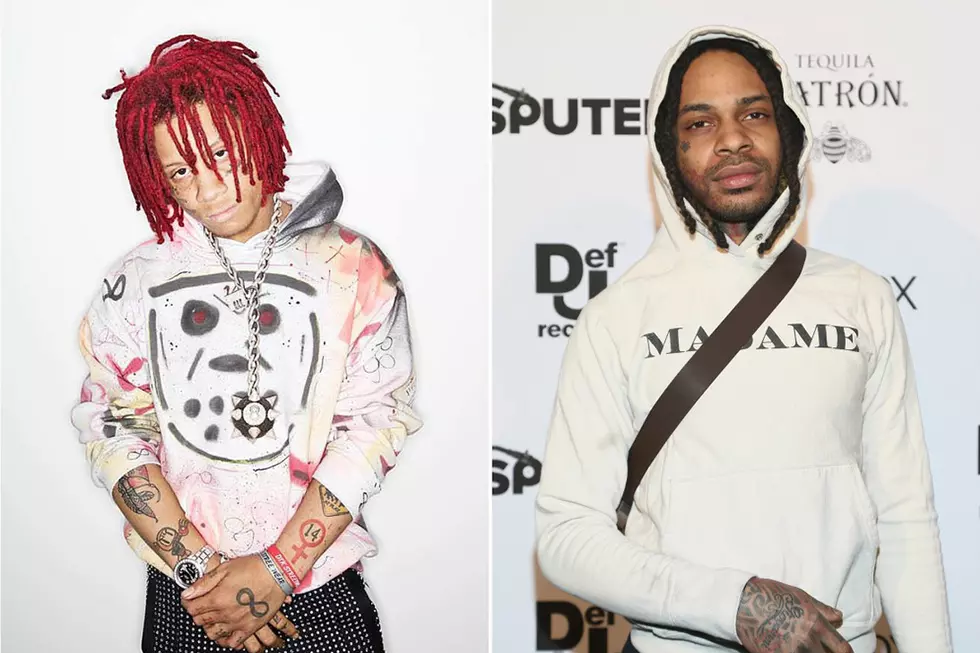 Trippie Redd Thinks Everyone Is Biting Valee's Sound
Akira Ruiz for XXL / Tommaso Boddi, Getty Images
On Monday (Aug. 6), the Canton, Ohio native hopped on Instagram and claimed rappers are taking Valee's flow. "Shout out to the boy, Valee. I see everybody biting your sound," Trippie said. "How's it feel? It should feel amazing 'cause you a fucking goat! Remember that. Welcome to the game, baby."
Valee caught wind of Trippie's IG post and appeared to agree with the "Love & Drugz II" rapper, reposting the video on his Instagram page and adding a goat emoji.
While Valee only has two projects under his belt, it's not hard to see that his flow and style is being used by other artists. Tyler, The Creator's flow on "Okra" is very similar to the way Valee raps on Z Money's "Two 16's." 6ix9ine and Nicki Minaj also appeared to borrow the rhyme pattern, rapping the same way on their hit collaboration, "Fefe."
But the comparisons don't stop there. Smokepurpp's flow on the ChaseTheMoney-produced "Nephew" sounds just like Valee's rhyming pattern on the Cassio-produced "Womp Womp."
The similarities have even led to ChaseTheMoney, who frequently works with Valee, to calling out some of hip-hop's biggest names on Twitter. "Pay homage fuck nigga @murdabeatz_," he tweeted at the producer. "I want smoke @6ix9ine," he wrote in a separate tweet.
Check out the Instagram posts from Trippie Redd and Valee below.
See Behind-the-Scenes Photos of Trippie Redd at the 2018 XXL Freshman Cover Shoot