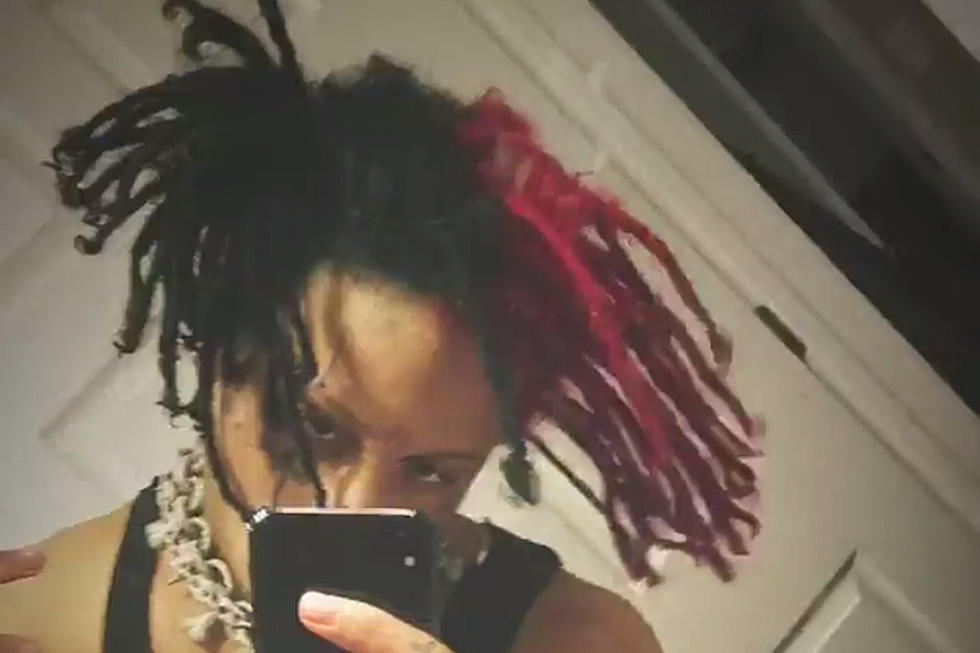 Trippie Redd Dyes His Hair Like XXXTentacion in Memory of Late Rapper
@trippieredd via Instagram
The Canton, Ohio native showed off his XXXTentacion-inspired hairstyle in his Instagram Story on June 20, dying his hair half red and half black. "We are 1 now @xxxtentacion," he wrote on the pic. The rapper also showed off another look on Instagram, which was inspired by X's signature half-black and half-blond dreadlocks.
The "Dark Knight Dummo" rapper showed love back to X, writing on Instagram, "I love you too bro thanks for this it takes a real man to speak on shit and really apologize for their actions u a smart ass guy just remember I'm always in your corner and I also apologize for anything I've said about you I don't hate u zzz @xxxtentacion hml."
But things between the two went south again in May when Trippie claimed X stole his style, as well as Ski Mask The Slump God's. "X the same type of nigga though," the Ohio native said. "Fuck X, too. He a bitch, too. He stole Ski Mask [The Slump God] style. He stole my style. He just collided with his shit. All you nigga's bitches, bro. All you nigga's hoes."
XXXTentacion was shot and killed on June 18 in Deerfield Beach, Fla., shortly after leaving RIVA Motorsports. According to authorities, X was approached by two armed suspects and at least one of the men opened fire, hitting the rapper. While one suspect was arrested on Wednesday (June 20), TMZ reports there are two more arrest warrants out for suspects, but that is yet to be confirmed by authorities.
Check out Trippie Redd's XXXTentacion-inspired hairstyles below.
See Behind-the-Scenes Photos of XXXTentacion at the 2017 XXL Freshman Shoot