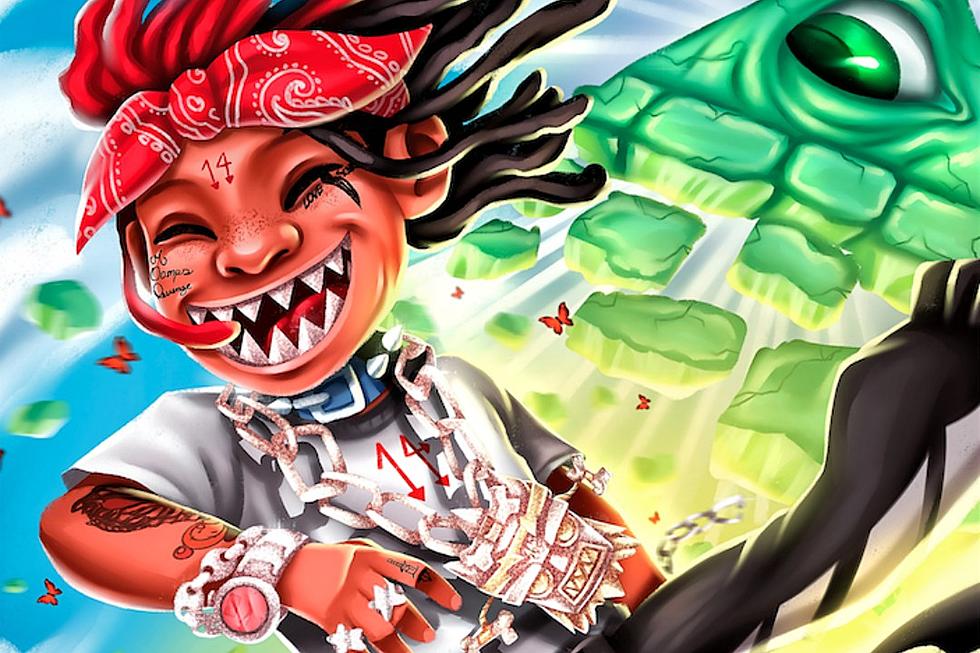 Trippie Redd's 'A Love Letter to You 3′ Album Tracklist Features Juice Wrld, YoungBoy Never Broke Again and More
TenThousand Projects
Trippie Redd rounds up a crew of the game's newest artists for his upcoming album, A Love Letter to You 3.
The 2018 XXL Freshman began teasing the third installment of his popular mixtape series on social media shortly after dropping his debut album, Life's A Trip. After releasing the video for "Black Magic" last week, today (Oct. 30) Trippie Redd confirms the tracklist and reveals the official release date and album cover.
The cover of A Love Letter to You 3 shows how insanely animated Trippie can really be. The 16-track project features contributions from Kodie Shane, Youngboy Never Broke Again, Nel-Denarro and Juice Wrld. Trippie previewed the collab with Juice a few weeks back.
Along with the album details, Trippie also debuts the video for "Topanga," the first single from the project. In the clip, the Ohio native dons the same white robe featured on the song's cover art. Trippie is surrounded by beautiful ladies as he raps. "You in danger, I might take your lil ass to Topanga/Just don't move like no muthafuckin' stranger," he delivers while smoking.
A Love Letter to You 3 is set to hit music streaming services everywhere on Nov. 9. Check out the official tracklist, album cover and the video for "Topanga" below.
Trippie Redd's A Love Letter to You 3 Album Tracklist
1. "Topanga"
2. "Fire Starter" featuring Emani 22
3. "Toxic Waste"
4. "Negative Energy" featuring Kodie Shane
5. "Can't Love"
6. "Love Scars 3"
7. "Emani Interlude" featuring Emani 22
8. "Blastoff"
9. "Elevate & Motivate" featuring YoungBoy Never Broke Again and Nel-Denarro
10. "I Tried Loving"
11. "Wicked"
12. "Loyalty Before Royalty"
13. "1400 / 999 Freestyle" featuring Juice Wrld
14. "So Alive"
15. "Talk That Shit" featuring Nel-Denarro
16. "Camp Fire Tale"
See Behind-the-Scenes Photos of Trippie Redd at the 2018 XXL Freshman Cover Shoot