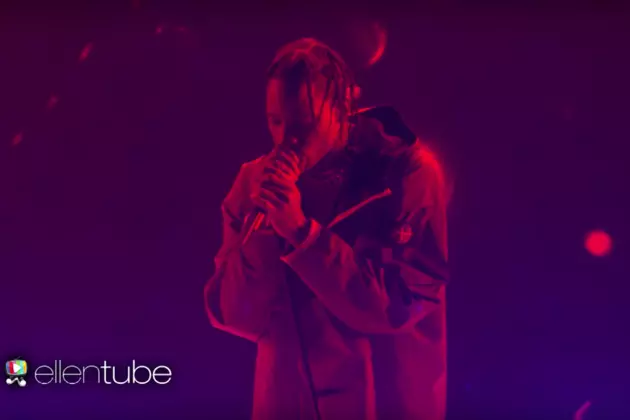 Watch Travis Scott Perform "Goosebumps" on 'Ellen'
TheEllenShow via Youtube
Coming off of a high from his surprise performance at the 2017 Coachella Music Festival during Kendrick Lamar's headlining set this past weekend (April 16), Travis Scott hit up Ellen to give another major performance. The G.O.O.D. Music signee was recruited by the talk show host to perform his latest single "Goosebumps" off of his 2016 album release Birds In The Trap Sing McKnight. Watch the performance below.
While he wasn't exactly greeted with the typical mosh pit crowd that he's become used to for his Birds Eye View and Rodeo tours, Scott was still right in his artistic element on stage for his first solo performance on the talk show, bringing producer Mike Dean out to join him. The Houston rapper kept things much more mellow for the TV performance, starting out crouched down in a red light setting, looking at himself in a mirror before serenading the crowd to the romantic turn-up anthem. While K. Dot is the guest feature on the original track on the album, the Compton rapper did not join him for the televised performance this time around, though the two gave Coachella attendees a brilliant show of the song in full over the weekend.
Previously, Scott hit up Ellen and was joined by Miguel for their joint performance of "Waves" in February of 2016. This week marked the first solo performance on the show for the Texas native.
The 24-year-old hitmaker is currently on the road for his Birds Eye View tour in support of the No. 1 album, which started last week on April 12 in Santa Barbara, Calif. He is slated to hit a total of 25 cities in the United States, wrapping things up in Manchester Tenn. on June 11. His new project AstroWorld is coming later this year.  
See Photos of Travis Scott's Different Looks Over the Years